There's no reason that dating on a budget has to feel, well, cheap. With Valentine's Day just around the corner, planning a romantic weekend getaway might be something on your mind. Here are a few ideas that are sure to impress without making a serious impression on your bank account.
 
1. WORK UP A SWEAT
North Lakes Recreation Center has a lot to offer if you and your date like to stay active. You can play for free on open courts ready for pickleball or tennis on a first come first served at the Goldfield Tennis Center. If golf is your thing, hit the North Lakes Driving Range that features, 32 hitting areas and an 18-hole putting green. Range cards allow golfers to enjoy contactless play and start at $25.
 
2. GET CAFFEINATED
If intimate conversation with a little atmosphere and a lot of coffee is your thing, consider stopping by Golden Boy Coffee Co. The Gold Room offers just the right amount of low lighting and drink options to enjoy a casual date. They also regularly host events, from crafting classes to live music, so be sure to check out their calendar.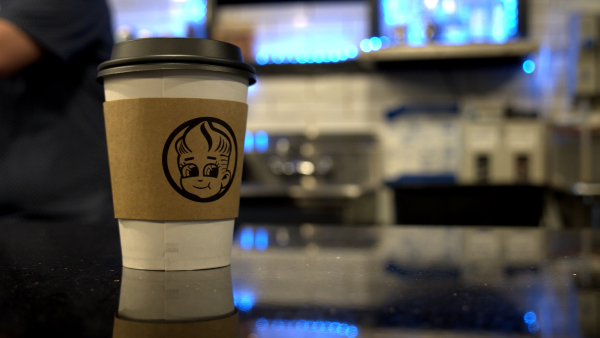 A coffee sits on the counter at Golden Boy. Photo by Conrad Allen.
3. TAKE A (WINE) WALK
Downtown Denton is a great place to walk, wander, and window shop. There are so many local options for spending a few dollars. However, if low-budget is your plan, enjoy people watching and historic architecture with a picnic and some wine (no ordinance prohibits drinking on the courthouse lawn).
 
4. FIND A ROOF WITH A VIEW
With beautiful views of the downtown square, an outdoor mural that changes annually, and outdoor heaters when the weather gets chilly, there is a lot to take in on the roof of LSA Burger. Split a tray of fries, a margarita flight, and toast the sunset as you listen to the bustle of downtown Denton with your sweetie.
5. ENJOY LIVE MUSIC
There is a reason that Paste Magazine has called Denton the "Best Music Scene" in the United States. You'll find shows almost every night of the week at Dan's Silverleaf, Rubber Gloves, and other venues around town. The covers are never steep, and supporting local arts is well worth the cost of admission while you create lasting memories.
 
6. TOUR PUBLIC ART
You'll find murals all over the city of Denton and on nearly every block surrounding the square. Capture memories with your valentine on a self-guided mural tour. Be sure to tag @discoverdenton and use the hashtag #DiscoverDenton for a chance to be featured on our IG.
 
7. PLANT ROOTS
Create an indoor garden together at True Leaf Studio. Their wide array of plants and soils, barks and mosses, stones, bones, and more are all the tools you will need to create your very own terrarium. Leave with your own little nature-scape to brighten your home.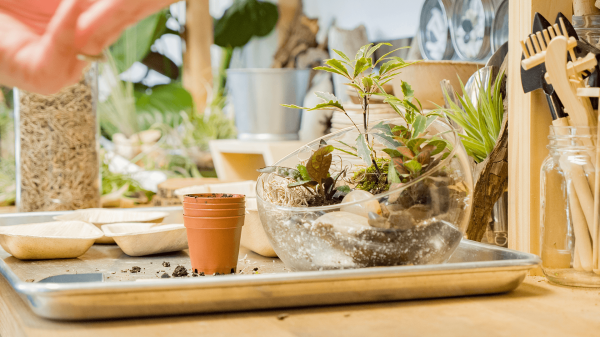 A terrarium being built at True Leaf Studio. Photo by Conrad Allen
8. LOCK IT DOWN
Denton's Chairy Orchard is an interesting and fun place, perfect for pictures or a picnic. Located near Avondale Park, this unique destination is essentially a garden of every type of chair imaginable. Amidst the chairs, you will also find a wire fence affectionately named the Locks of Love Chairish Wall. Commemorate this Valentine's Day by securing a lock inscribed with your names onto the fence. You can hold on to the keys as a reminder or deposit them into the adjacent lockbox.
 
9. TAKE A HIKE
Take a romantic stroll through the paths of the Clear Creek Natural Heritage Center. It's free to hike and bike at this location, and with over ten miles of trails through varying natural habitats, there is plenty to explore! Be sure to check their social media for updates on trail conditions, being wetlands & bottomlands means that sometimes trails are too wet to hike.
Click HERE for a list of the rest of Denton's beautiful parks, lakes, and trails.
 
10. FIND A FESTIVAL
Denton is a big fan of festivals. A number of festivals in Denton are free to the public, including Thin Line Fest, Denton Redbud Festival, Denton Comic Art Expo, Denton Arts & Jazz, Arts & Autos, and more. When it's not a festival weekend, you can find plenty to do on the Discover Denton Events Calendar.
 
11. PLAY GAMES
If you and your date enjoy some friendly competition, Armadillo Ale Works and Denton County Brewing Company have an extensive collection of board and card games available, all for free. You'll have to cover the cost of your drinks, but that's still a pretty good deal for a few hours of fun entertainment.