Whether you live here or are visiting from the DFW metroplex, experiencing a romantic weekend in Denton doesn't have to break the bank. Here are some inexpensive ways to spend some quality time with your significant other and staying on budget is sweet and easy if you know where to go. 
Here are 11 Denton date ideas that won't break the bank.
1. Play some tennis
Price: $3 - $6
There is nothing better than being out in the sun getting some exercise. Plus a little friendly competition can cause some major sparks to fly. The Goldfield Tennis Center, located next to North Lakes Recreation Center, has nine super-nice courts with lights available in case you want to get your night game on. Don't know how to play? Fake it 'til you make it and just have fun!
2. Caffeinate together at Golden Boy Coffee
Price: $10 - $15
Nothing says "I love you" (or "I really like you", no pressure) like a steaming hot cup-o'-joe, am I right? Coffee speaks to me. And finding that special someone who understands that you can't be an actual functioning human being until you've had your morning coffee is priceless. Golden Boy Coffee offers a variety of hot and iced drinks, savory and sweet food options, beer, wine, and craft cocktails. Something for everyone!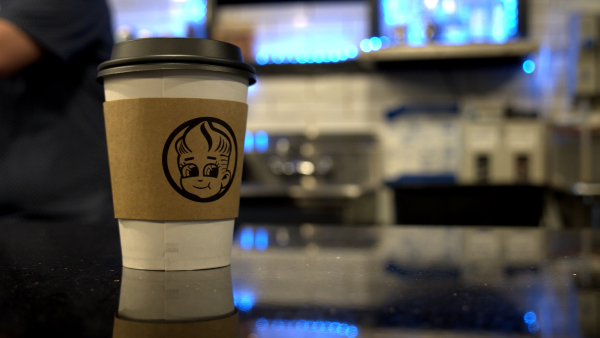 A coffee sits on the counter at Golden Boy. Photo by Conrad Allen.
3. Stroll the Square with some wine
Price: $20 - $50
Sure there is a lot of shopping, which, depending on your impulse level, might not be cheap... but the historic downtown Square is a great place to wander! If you want to spend some money there is plenty to shop, eat, and drink at different price points. But, if low-budget is your plan, sit and enjoy the people watching and historic architecture. Plus, you can pack a picnic and a bottle of wine and enjoy them on the courthouse lawn. (No ordinance prohibits drinking there!)
4. Hang out on the LSA Rooftop
Price: $20 - $40
Every Friday night, LSA Burger on the square has live music on their rooftop patio. For free, might I add. You and your date can enjoy a beer, a burger, and fries and listen to some of Denton's best hometown artists. But make sure you arrive early. The show starts at 7 p.m. and seats go fast. Plus you won't want to miss the view of the Square at sunset. Check out their nom-ilicious menu here.
5. Go to a concert - At Dan's!
Price: $15 - $25
Denton is one of the best towns for live music and Dan's Silverleaf has got it all. Some of my all-time favorite concerts have been at Dan's, plus I'm a huge fan of the wall-art (conversation starters, for sure). Denton really does host some very talented artists and you know, music can be a very bonding experience. Plus you can show off your music intellect during chat breaks on Dan's super-cute back patio.
6. Take a self-guided mural tour
Price: FREE
Murals are found on nearly every block surrounding the Square. Take advantage and snap some fun photos to showcase your love. These Instagrammable locations will give your feed some FOMO-inducing creative content.
Be sure to tag @discoverdenton and use the hashtag #DiscoverDenton for a chance to be featured on our IG. 
Take it a step further: Encourage another couple to visit these sights and make it a socially distanced, double-date challenge. See which couple can get the most photos posing in front of the murals on the list!
Click HERE for the best spots to take the perfect Denton selfie!
7. Build a terrarium together at True Leaf Studio
Price: $20 - $50
True Leaf Studio offers a unique workstation and outdoor seating to put together your own terrarium. Together choose from different plants and soils, barks and mosses, stones and bones, fossils and crystals, acorns and pinecones, and more! You and your significant other can get creative and build a mini nature-scape to take home.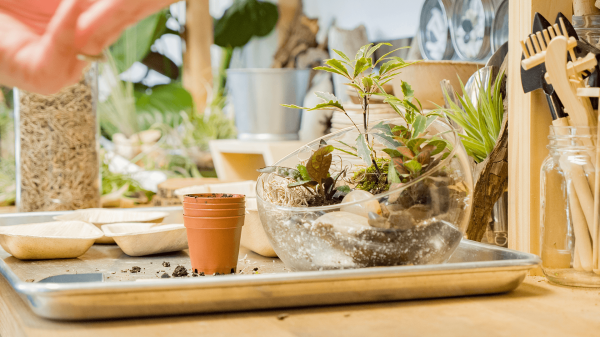 A terrarium being built at True Leaf Studio. Photo by Conrad Allen
8. Craft Beer and Food Trucks
Price: $20 - $30
Sometimes (most of the time), I just don't want to get dressed up. And sometimes, the best dates are jeans and a t-shirt (ok fine, yoga pants!) kind of dates. Of course, I'm a woman and I definitely enjoy getting dolled up from time to time...it's romantic. But you know, those casual nights of conversation, drinking beer at a picnic table have their own magic. Visit Beer Alley and Austin Street Truck Stop. Eastside has over 80 beers on tap and a huge patio with...wait for it...food trucks! Perfect for a weekday happy hour date and the patio is pet friendly so you can bring a furry conversation starter (woof!).
9. Take a hike
Price: FREE
Take a romantic stroll on the paths at the Clear Creek Natural Heritage Center. It's free to hike and bike at this location, and with over ten miles of trails through varying natural habitats, there is plenty to explore! (Be sure to check their social media for updates on trail conditions, being wetlands & bottomlands means that sometimes trails are too wet to hike.)
Click HERE for a list of the rest of Denton's beautiful parks, lakes, and trails. 
10. Spend the afternoon at a local festival - Denton Arts & Jazz Festival
Price: FREE
Festivals are my jam and my friends, festival season is upon us (praise the heavens). And when it's a music festival, that's even better! Denton has a ton of local events but the Denton Arts & Jazz Festival is one of the best in the DFW area. Located in Quakertown Park, you and your date can wander the vendor tents, share a bag of fresh-popped kettle corn and check out some of the most talented jazz musicians on the planet. Bring a blanket or some lawn chairs, you can even BYOB (everywhere except the main stage)! This year the festival takes place in October.
11. Play board games at Armadillo Ale Works
Price: FREE - except not the beer...you're gonna have to pay for that
First date? No prob...beer will help. Hundredth date? No prob....beer will help. I kid, I kid. Armadillo Ale Works (also home of Armadillo Coffee Works) has a wide selection of board games and plenty of indoor and outdoor seating to play said games. Enjoy a locally made craft beer, hard seltzer, or non-alcoholic soda and get competitive with your date.
Now get on out there, make good choices, and don't forget to wear your smile! It's all up to you now.