Denton, prepare to be swept off your feet by the pickleball craze! This exhilarating sport is rapidly gaining popularity among locals who crave a perfect blend of fitness, fun, and camaraderie.
Considering how easily you can learn how to play pickleball, it's no surprise this social sport has become Denton's go-to activity for creating lasting memories with friends and neighbors."We have seen a lot more interest in pickleball over the last year," says Rachael Burks, the city's Athletics Supervisor for Adult Sports and Tennis. Join us as we dive into what makes this exciting sport a hit in our vibrant community!
What Is Pickleball?
Pickleball is an exciting hybrid of tennis, badminton, and ping-pong, and it's been winning over fans since its creation in 1965. Created on Bainbridge Island by a trio of friends looking to entertain their families during the summer months, it quickly gained a dedicated following.
Fast forward to today and pickleball is now one of the fastest-growing sports in America, with over 36 million players!
The game's basic rules make it incredibly accessible for newcomers. Played on a court half the size of a tennis court with solid paddles and a perforated plastic ball (similar to a wiffleball), pickleball can be easily enjoyed by people of all ages and skill levels.
Matches can be played as singles or doubles, with players scoring points when their opponents commit a fault, such as failing to return the ball or hitting it out of bounds.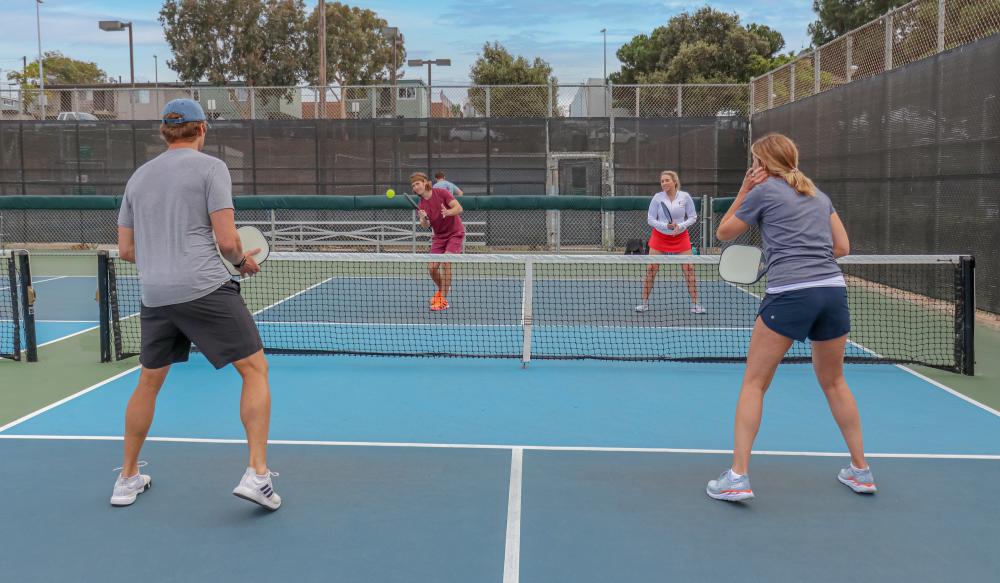 Photo by Pickleheads
Pickleball's Recent Growth
Over the last few years, pickleball has experienced exponential growth in popularity. Now everything from local community centers to high-end resorts are offering dedicated courts for enthusiasts. Its appeal even extends to celebrities!
Hollywood stars like Ellen DeGeneres and Leonardo DiCaprio have been spotted indulging in this invigorating pastime. Meanwhile, Stephen Colbert led the show Pickled, a star-studded special for CBS. That same excitement has reached Denton, with courts popping up across the city.
"We are surveying our participants, and pickleball is something that they have mentioned they want to see more of being offered," says Rachael Burks. That feedback has led to several changes, including the addition of pickleball lines to the new tennis courts at South Lakes Park.
Where to Play Pickleball in Denton
If you're eager to get out onto the courts, we've got you covered! We've put together a list of some of the best pickleball courts near you to get you started:
Boasting three spacious indoor courts, the North Lakes Recreation Center is a perfect place to escape the Texas heat while indulging in your favorite sport. Though you'll need to bring a portable net, permanent lines make setup a breeze, ensuring more time for action-packed games.
For only $10 per year, you can grab yourself a rec pass and unlock endless fun at this fantastic facility. Swing by during open play on Tuesdays and Thursdays from 12–3 pm where you can meet fellow enthusiasts and engage in friendly competition.
Whether you're new to pickleball or a seasoned pro, North Lakes Recreation Center offers the perfect environment to hone your skills and make lasting connections with fellow players.
Get ready to be amazed, Denton pickleball enthusiasts! With its impressive facilities, Robson Ranch has taken the local scene to new heights. Featuring a whopping 16 outdoor courts and two indoor options, this sports haven caters to players all year round—come rain or shine.
These dedicated pickleball courts boast permanent lines and nets for a hassle-free setup, allowing you to dive straight into the action. And when it's time for a break between games, head over to the shared ramada with tennis lovers. This is complete with restrooms, water fountains, picnic benches, and much-needed shade.
Visiting friends or family? No problem! Robson Ranch Sports offers guest play for a one-time fee, making it the perfect spot to introduce newcomers to the addictive world of pickleball. For those who just can't get enough, the courts are illuminated for extended hours of play.
The Vista at Rayzor Ranch redefines senior living by offering an active adult community experience like no other. This vibrant establishment has embraced the pickleball craze, providing residents with a dedicated and permanent court for endless entertainment.
Though exclusive to members of this thriving community, the facility's pickleball court is a testament to the sport's widespread appeal across all ages. It offers seniors an enjoyable way to stay active and encourages social connections among its residents.
For those lucky enough to call The Vista at Rayzor Ranch home, this exceptional facility showcases how pickleball can enrich lives and bring people together in a spirited and engaging environment.
So, if you're part of this lively community or know someone who is, don't miss the chance to experience the joy of pickleball right on your doorstep!
Goldfield Tennis Center is the ultimate destination for pickleball enthusiasts seeking top-notch facilities and an inclusive atmosphere. With eight dedicated outdoor courts—all equipped with permanent nets—there's always room for newcomers and seasoned players to join in on the fun. Best of all, these fantastic courts are free! Operating on a first-come-first-serve basis, Goldfield ensures you'll never be left waiting on the sidelines for long. With lights for evening play and restrooms readily available, this tennis center has truly thought of everything to make your experience enjoyable. Goldfield also hosts private classes and regular events for all skill levels if you're looking to elevate your game or simply learn the ropes. Rachael Burks suggests players check out the Denton Parks and Rec website, explaining they offer classes "for beginners who are just getting started as well as more advanced classes for those who want to be more challenged." According to Burks, the center even has "certified pickleball instructors who offer private lessons if you want more of a one-on-one lesson to get started" and "free events for all ages and skills, so everyone can join in on the fun throughout the year."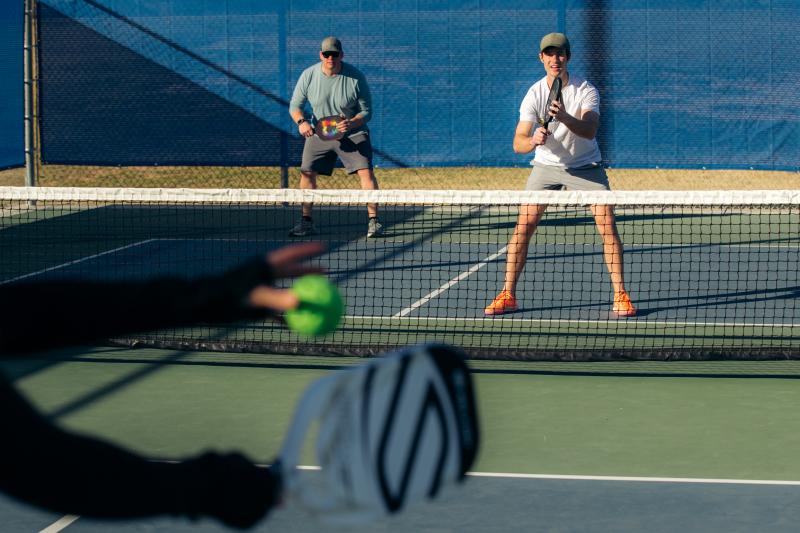 Photo by Pickleheads
Upcoming Developments
Exciting news for Denton pickleball enthusiasts: the city is expanding its sports offerings with a brand-new tennis facility at the other end of North Lakes Park (Windsor Dr and Riney Rd).
Set to open in August 2023, this state-of-the-art venue will feature eight dedicated pickleball courts, catering to the sport's ever-growing demand.
---
Get out there today and discover why this sport is capturing hearts and transforming lives in Denton. See you on the court!