With Valentine's Day just around the corner, planning a romantic weekend getaway might be something on your mind. Here are a few ideas that are sure to impress someone you love.
 
DINNER DATE NIGHT
Denton is home to a variety of unique dining options sure to satisfy any palette. Whether you are looking for a down-home-feel or a fine dining option, we've compiled a list of some of our favorite date night options sure to set the scene for a perfect Valentine's date night. 
Hannah's Off the Square
940's Kitchen and Cocktails
Hanabi Ramen
Hoochie's Oyster House
Komodo Loco
Marty B's
Queenie's Steakhouse
LSA Burger Co
Mellow Mushroom
Cartwright's Ranch House
ATTEND AN EVENT
Feb. 10th - My Little Valentine Family Dance @ Denton Civic Center
Feb. 11th - Adapted Rec Sweetheart Ball @ Denton Civic Center
Feb. 11th - Bridesmaids movie party @ Alamo Drafthouse
Feb. 14th - Valentine's Day Maker's Social @ Lucky Lou's
Feb. 17th - PAL-entine's Day @ the Denton Senior Center
TAKE A CLASS
Feb. 13th - Galentine's Day Polymer Clay Accessories Workshop @ The DIME Store
FIND A ROOF WITH A VIEW
With beautiful views of the downtown square, an outdoor mural that changes annually, and outdoor heaters when the weather gets chilly, there is a lot to take in on the roof of LSA Burger. Split a tray of fries, a margarita flight, and toast the sunset as you listen to the bustle of downtown Denton with your sweetie.
ENJOY LIVE MUSIC
There is a reason that Paste Magazine has called Denton the "Best Music Scene" in the United States. You'll find shows almost every night of the week at Dan's Silverleaf, Rubber Gloves, and other venues around town. The covers are never steep, and supporting local arts is well worth the cost of admission while you create lasting memories.
 
TOUR PUBLIC ART
You'll find murals all over the city of Denton and on nearly every block surrounding the square. Capture memories with your valentine on a self-guided mural tour. Be sure to tag @discoverdenton and use the hashtag #DiscoverDenton for a chance to be featured on our IG.
 
PLANT ROOTS
Create an indoor garden together at True Leaf Studio. Their wide array of plants and soils, barks and mosses, stones, bones, and more are all the tools you will need to create your very own terrarium. Leave with your own little nature-scape to brighten your home.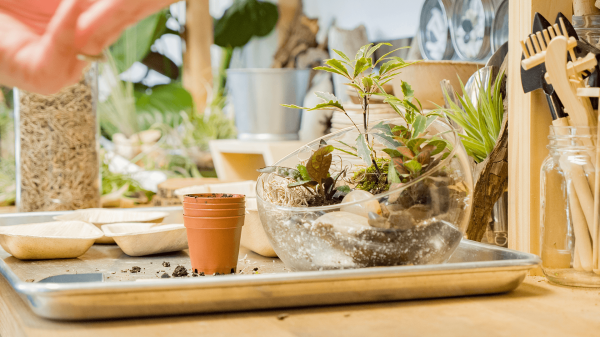 A terrarium being built at True Leaf Studio. Photo by Conrad Allen
LOCK IT DOWN
Denton's Chairy Orchard is an interesting and fun place, perfect for pictures or a picnic. Located near Avondale Park, this unique destination is essentially a garden of every type of chair imaginable. Amidst the chairs, you will also find a wire fence affectionately named the Locks of Love Chairish Wall. Commemorate this Valentine's Day by securing a lock inscribed with your names onto the fence. You can hold on to the keys as a reminder or deposit them into the adjacent lock box.
 
TAKE A HIKE
Take a romantic stroll through the paths of the Clear Creek Natural Heritage Center. It's free to hike and bike at this location, and with over ten miles of trails through varying natural habitats, there is plenty to explore! Be sure to check their social media for updates on trail conditions, being wetlands & bottomlands means that sometimes trails are too wet to hike.
Check out our list of the rest of Denton's beautiful parks, lakes, and trails.
 
PLAY GAMES
If you and your date enjoy some friendly competition at Denton County Brewing Company, d20 Tavern, and FreePlay have an extensive collection of games available to play.