You don't have to wait for Halloween to have a spooky adventure here in Denton. With a rich history and ever-changing landscape, our town has all of the ingredients needed to make it the most haunted destination in North Texas. Whether you're planning a Haunted Road Trip or just looking for an excuse to go ghost hunting, here is a quick guide to the Top 10 spooky spots in and around town from WE DENTON DO IT.
Historic Denton County Courthouse | 110 W Hickory Street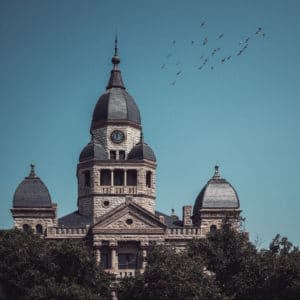 Photo by Will Milne
The historic 1896 Courthouse on the Square isn't just one of the most beautiful in all of Texas, it is also said to have more than a few ghosts lingering around. The basement used to contain holding cells and there's plenty who have experienced strange noises as well as the feeling that they are not alone. Outside, looking up into the highest windows, others claim to have seen a shadowy figure moving around, or a weathered-looking cowboy peering down from the upper floors. True enough, there've been several deaths and killings in the grand ole Courthouse. Regardless, the museum inside is always worth a wander around, and you can always visit John B. Denton's grave [maybe?] on the lawn!
Campus Theater | 214 W Hickory Street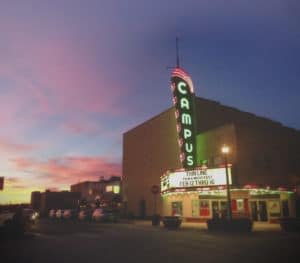 Photo by Will Milne
Spirits in the theater are considered good luck according to stage superstition, so it should come as no surprise that our own Campus Theater embraces its beloved benefactor. This popular venue is definitely one of Denton's most haunted and showrunners often have some story about the antics of the Campus Theater's Mischievous Manager, Mr. Harrison.
Paschall Bar/Andy's Basement | 122 N Locust Street
The oldest building on the Denton Square is the 1877 Paschall Building, which survived several fires in the 1880s and 1890s and has apparently attracted a few ghosts in its 143 years! Watch the windows to see if faces are peering down, and be careful on the stairs where some have experienced an unexpected nudge from some invisible source!
Brave Combo's Studio
Few may realize that the studio space of Denton's own Grammy-winning musicians and local Nuclear Punk Polka deities BRAVE COMBO has its own hipster haunt! Known only as "The Dude," the flannel-clad figure resembles a scruffy 1970s-era roadie that sometimes leaves handprints on the glass or glimpsed in the hidden parking spaces in the back of the building. If you go looking, you'll also spy a beautiful Denton mural close by the famous Instagramable Purple Door!
Emily Fowler Library | 502 Oakland Street
Of Denton's ghostly guardians, one of the most famous is the haunting spirit who also happens to be the namesake of Denton's Emily Fowler Library. There have been numerous paranormal investigations that led to encounters with this lingering librarian, and several witnesses who knew her well enough to recognize Emily still skulking around the stacks long after she'd been dead and buried! You can wander around the public library to do some ghost-hunting for yourself, and maybe you can spy Emily through the windows!
University of North Texas  | 1155 Union Circle
Universities are often sites of hauntings, and the University of North Texas is no exception. UNT's Bruce Hall is purported to be haunted by at least three different spirits: a ghost named "Wanda" who frequents the fourth floor and attic, the vanishing "elevator repairman," and the basement's poltergeist "Boiler Room Bill." The Student Union is also rumored to be home to a ghost nicknamed "Brandy" who turns lights or office equipment on and off, locks doors, and disturbs papers on desks. Maple Hall has its own spirit called "Brenda" roaming an outside alleyway, while the Health Center has reports of a forlorn shirtless guy on occasion and the Crumley Hall Screamer continues to spook students around Halloween.
Texas Woman's University | 304 Administration Drive
The first building constructed on the TWU campus was Old Main, where a headless "Winged Victory" statue welcomes visitors in its portico. The haunted building is also known to have moaning voices of former faculty who still wander the building! Students and staff have also reported mystery melodies within the music building, vanishing spirits in Hubbard Hall, a phantom stalking Stoddard Hall, the spirit of Dr. John in Guinn Hall, and the weeping Hooded Bride who roams the grounds by the Little Chapel in the Woods. The ghost of the disappeared Virginia Carpenter was said to have haunted Brakenridge Hall, which was demolished and replaced by the Student Union, where she is still sometimes seen.
Old Alton | Goatman's Bridge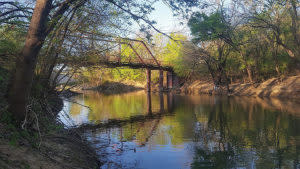 The oldest ghost legend in Denton is the creepy tale of the Old Alton Bridge Goatman. You can watch this haunting YouTube video for more stories of scares and encounters that have been spooking county locals for generations.
I.O.O.F. and Oakwood Cemetery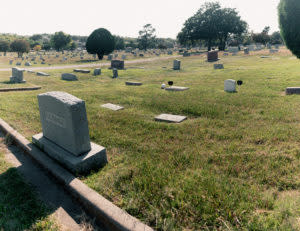 Photo by Will Milne
Denton Lodge No. 82 of the Independent Order of Odd Fellows (I.O.O.F.) was chartered in 1859 by a number of the area's most prominent settlers, and Denton merchant James Smoot donated them land for the purposes of a graveyard. The first recorded burial in 1860 was Ann Isabella Carroll, infant daughter of Judge Joseph and Cecilia Carroll, which may explain why a crying baby is sometimes heard emanating from the I.O.O.F. Cemetery at night. Just across the railroad tracks in Southeast Denton is Oakwood Cemetery, which by 1857 was the community cemetery where you can search for the infamous bloody Brown Brothers, murderers hanged then buried here. Many African-American settlers are also interred here, where shadows are often spotted moving silently amongst the tombstones!
Bayless-Selby House | 317 W Mulberry Street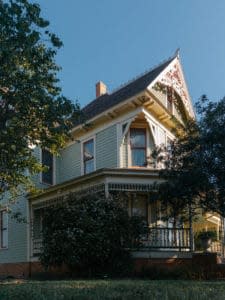 Photo by Will Milne
The beautifully restored Bayless-Selby House is another local museum that tells the history of Victorian-era Denton, nestled in the Denton Historic Park alongside the African-American Quakertown House Museum. But as we scooped y'all a few years back, it also has a spooky spirit connected to some murderous intrigue that occurred in the house almost 100 years ago. You can take a tour of the house grounds on Saturdays during the Denton Community Market, but you'll have to ask for the good-n-scary ghost stories that WDDI previewed… they don't dole out the good stuff to just anybody so be sure to tell them we sent you!