Denton Community Market
Let us grow together
DCM is a producer-only art and farmer's market in downtown Denton. They feature live music, kids activities, local farms, local artists, food trucks, food vendors, and more! Help strengthen the Denton community by providing economic opportunities to our friends and neighbors.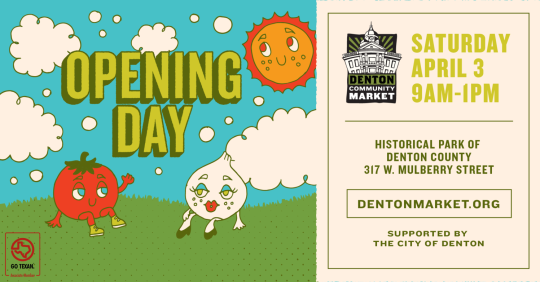 WHEN
Every Saturday from 9:00 am - 12:00 pm, April through November
WHERE
Historical Park of Denton County · 317 W Mulberry St, Denton, TX 76202
Get Directions
DETAILS
DCM works to contribute to the vitality, livability, and community spirit of Denton by creating a public gathering space that supports local culture and provides a market to bring together visitors with local artists, craftspeople, farmers, and food producers.
2021 VENDORS
Alford Family Farm, Babylove's Farm, Brushy Creek Farm, Circle N Family Dairy, Eat Your Greens Organic Farm, Frankie's Fresh Foods, iRelish & Reeve's Bees, Misty Moon Farms, Narrow Way Farms, Timber Country Farms, Tree Folk, 4 Acre Press, Argyle Woodworks, Bloomer Ceramics, Boho Life Teas, Brigid Brammer Bags, Bryan Kelly Illustration, Combs' Coffee, Deelicious Scrubs and More, Demeter's Kitchen, League of Women Voters, Der Wiener Slinger, Desert Luna, Dipped DFW, First East Wind, Gnome Cones, Great Harves Brea Co. & Cafe, Heirloom Baking Company, Hot Tamalez, Indigo Dreamz Apothecary, JJWoodworking, Joe's Pyrographic Arts, JW Leathercrafters, Kate C Jewelry, Les crêpes de Cédric, Lucido's Garden Pasta, Megan's Lane, O'Brien Brothers Baking, O'Brien Woodworks, Oso Fresh Soap, Otter Illustration, Papalota Bakeshop, Pie by Kate, Pure Country Products, Robot Monster Prints, Salsa Revolution, Soap House Co., SoCo Ginger Beer, South Texas Beef Jerky, Sparrow Electric, Spread Happiness - Nut Butters, Sudnara, Susie's Scrumptious Snacks, Sweet Little Things, Ten Berries, Texas Girl Treasures, The Cookie Crave, The Happy Housewarmer, The Natural Log, Tranquility Artisans, Turn, Wanderlust Wares, Y&B Jewelry