TURKEY ROLL BICYCLE RALLY 
All proceeds from the Turkey Roll will benefit the programs of the Denton Breakfast Kiwanis, which include sponsorship of seven youth leadership clubs (Circle K, Key Club, Builders Club) and their Tiny Libraries project, which provides FREE books for school-aged children (K-8) at over 50 Denton locations.
WHEN
Saturday, November 18, 2023 TBD
WHERE
New Denton Bronco High School · 3001 Bronco Way, Denton, TX 76207
Get Directions
RALLY INFORMATION
Denton Breakfast Kiwanis (DBK) Club invites you to our 41st Turkey Roll Bicycle Rally! We have four (4) routes, ranging from 29 miles to 68 miles, giving riders a picturesque fall day through northern Denton and southern Cooke counties. There will be plenty of sag wagons and rest stops, including the Raising Cane's Chicken Finger stop at Wishbone Pass, the Rudy's Bar-B-Q stop for the 68 milers, and our greatest ever Celebration Station at the finish line.
Helmets are required, and the Turkey Roll happens rain, snow, or shine. No refunds.

2023 Turkey Roll t-shirts are guaranteed for all registered riders present.
REGISTRATION
Registration will open in August 2023, more information to follow
BOOK A STAY
WHERE DO WE RIDE? 
All routes start on Riney Rd. heading east, just across the street from New Denton Bronco High School. Heading east on Riney Rd., you'll turn right on N Elm St./HWY 77 until you get to Windsor drive. From Windsor Dr, you will take a left and pass the Sherman Drive Fire Station and stop signs at the loop 288 underpass.
All routes will continue heading northeast on Sherman Drive. Pass FM 2153 and turn left at Zachary Rd (8.6 miles from start), just beyond the Zachary Road Rest Stop. Follow winding Zachary Road until you hit Burger Rd (miles 10.4). Then turn right on Burger Road, which hairpins back to route 2153, where you turn right to a (12.8 miles). Then you'll turn right again on Running Bear Road (mile 14.2), soon reaching the Wishbone Pass Rest Stop on Highway 455 by Lake Ray Roberts. This is the decision point for all riders. You must reach Wishbone Pass by 11:00 AM to continue left on FM 455 for the longer (52 and 68 miles) routes. All riders may enjoy Raising Cane's chicken fingers at Wishbone Pass.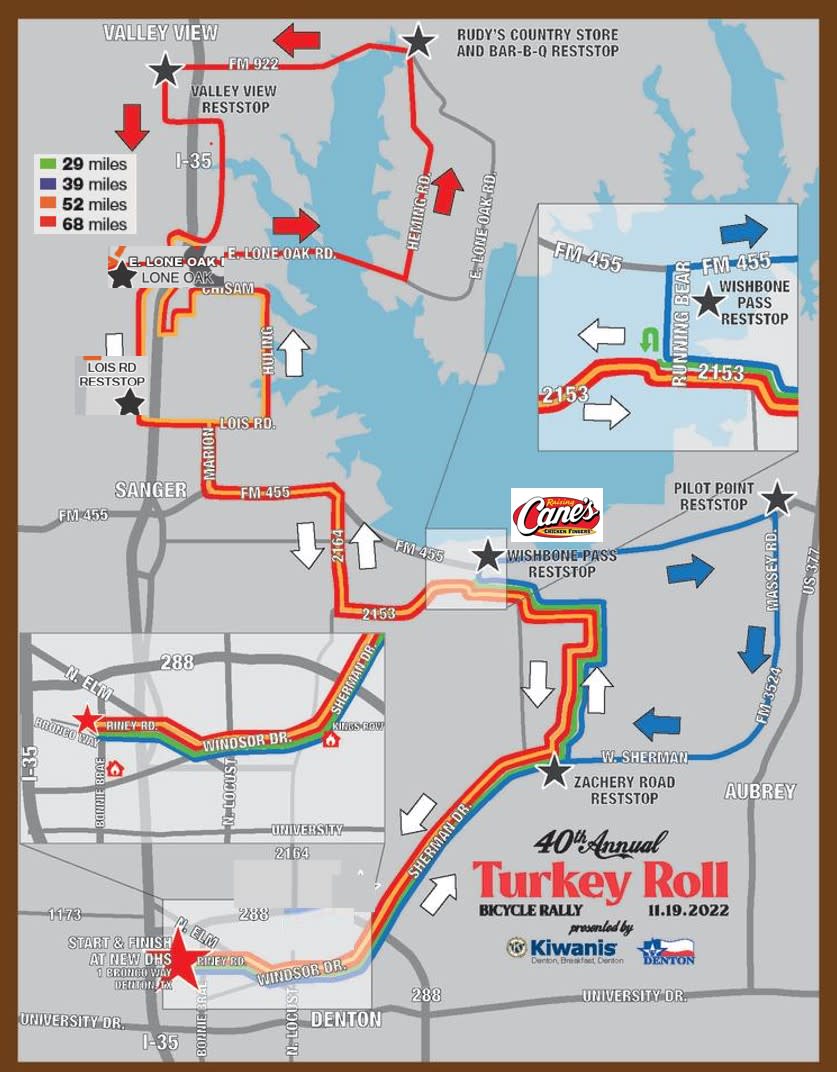 For the 29-mile route, Wishbone Pass is your turn around; so go back to the start via running Bear Road, Route 2153, Burger, Zachary, Sherman, Windsor, N Elm/HWY77, Riney Rd., left on Bonnie Brae, and a quick right into Bronco Way at the New Denton Bronco High School where you will enter into the campus and find the Celebration Station. There are four rest stops on this course, all with water and sport drinks, cookies, bananas, or some other nourishment.
The 39-mile course follows the 29-mile route to Wishbone Pass. Turn right onto FM 455 and cross the Lake Ray Roberts Dam. On this route, you'll find a rest stop south of Pilot Point (mile 21.9). After the rest stop, turn right onto Massey Rd and then turn right again at Route 3524/Sherman Dr in Aubrey. Continue onto FM 428 back into Denton to Windsor, N Elm/HWY77, Riney Rd, Bonnie Brae, and a quick right into Bronco Way into the New Denton Bronco High School. We have great treats waiting for you. There are 5 rest stops along this route.
For those riders who want more, we offer the 52- and the 68-mile routes. Make sure you reach Wishbone Pass by 11:00 AM, and from Wishbone Pass, go back to FM 2153 and go left. Hang another right at FM 2164, where FM 2153 ends, then turn right when you hit FM 455. Just before Sanger High School, turn right at the Marion Rd (mile 20.8), heading north to the Lois Road Rest Stop (mile 20.8) on your left.
After a break, turn right on Lois Rd, left on Huling Road, and left on Chisam Road, which ends at the I-35 N Frontage Rd (mile 24.8). Take the Frontage Rd to the Lone Oak Rest Stop at mile 27. This is your turnaround for the 52-mile course. Cross the highway, then follow the I-35 S Frontage Rd to Lois Road, where you will cross I-35 again, head east to Marion Rd, south to FM 455, south on FM 2164, east on FM 2153 to Wishbone Pass, and back to start. On the return from Wishbone Pass, please note that Burger Road touches Route 2153 twice. Take the first left onto Burger Road to ride the full 52 or 68 miles. Then turn left on Zachary and right on Sherman Drive, right on Windsor to Elm Street, then left on Bonnie Brae back towards the New Denton Bronco High School, where you will find the Celebration Station.
For the 68-mile route (109 KM), go east from Lone Oak Rest Stop on E Lone Oak Road and left onto Hemming Rd (miles 30.5). You'll cross Lake Ray Roberts four times, hit the Rudy Country Store and BBQ Rest Stop (mile 34.7), and head west on FM 922 to Valley View Rest Stop on the town square. From here, head south on I-35 S Frontage Rd past Easy Street, then take the next left under I-35. Continue south until you hit Lone Oak Rd, where you will take a right under I-35, then head left on the frontage road going south. Take a left and head east on Lois Rd, south on Marion Rd, east on FM 455, south on FM 2164, east on FM 2153 back to FM 428 / Sherman Rd, Windsor, Bonnie Brae, and to the Celebration Station at the New Denton Bronco High School.
All routes begin and end at the new Denton High School. All except the 8-mile route pass the Water Works Rest Stop and Wishbone Pass, headquarters for first aid and minor repairs. Our well-marked route is supported by downloadable Garmin elevation maps.
Please note that some routes may have construction. Please use caution while cycling.
Click here for the Ride with GPS route elevation maps. 
MORE ABOUT THE DENTON BREAKFAST KIWANIS
The Denton Turkey Roll is organized by the Denton Breakfast Kiwanis.  All proceeds go to the Kiwanis Club in support of youth leadership clubs at eight different schools, the Tiny Libraries project, and the back-to-school project. The latter two initiatives provide free books for school-aged children, ensuring Denton's young students and bookworms access to resources they need to learn and have fun while doing it!
Follow the Denton Breakfast Kiwanis on their Facebook page: www.facebook.com/DBKClub.
Turkey Roll Sponsors
Interested in becoming a sponsor? Click here to download the sponsor packet.
Thank you to our generous sponsors below!