College Sports
Boasting two major universities, University of North Texas and Texas Woman's University, Denton has your fix for college sports. Whether you want to see UNT's Mean Green or TWU's Pioneers in action, our calendar of college sporting events will help you with planning your next tailgate.
For the latest updates about the status of each event, Covid-19 protocols, important information, and updates, please check the Athletic Department's website.

Mean Green Football
NORTH TEXAS ATHLETICS HAS ANNOUNCED THE PROMOTIONAL SCHEDULE FOR THE 2021 UNT FOOTBALL SEASON.
UNT is scheduled to host six home football games at Apogee Stadium, including a Friday night matchup against Marshall set to be nationally televised on CBS Sports Network.
Schedule
NORTHWESTERN STATE
Saturday, September 4 at 6:30 p.m.
Whiteout – Fans are encouraged to wear white to the season opener.
High School Band Day – Hundreds of high school band students from across DFW will join the Green Brigade for a day of events and a special pre-game and halftime performance.
UAB
Saturday, September 18 at 6:30 p.m.
Family Weekend – Mean Green Family members are encouraged to join their UNT students for a weekend of activities, including football vs. UAB.
Conference USA Opener – Mean Green football opens Conference USA play against the Blazers.
MARSHALL
Friday, October 15 at 6:00 p.m.
Fan Appreciation Night – Join Mean Green Sports in a celebration of UNT fans with special recognitions and giveaways.
LIBERTY
Saturday, October 23 at 3:00 p.m.
Champion's Weekend – North Texas celebrates its athletic successes by welcoming former champions and hall-of-famers.
UTEP
Saturday, November 13 at 3 p.m.
Homecoming – Celebrate one of the oldest traditions at UNT with a weekend of campus events, culminating in the selection of homecoming royalty during halftime of the football game.
UTSA
Saturday, November 27 at 1 p.m.
Senior Weekend – Join North Texas Athletics and Mean Green football in celebrating and honoring the 2021 senior class.
Tickets
North Texas Athletics recently announced that all Mean Green sporting events will return to full capacity beginning in the fall 2021 semester. Click here for more information on ticketing, tailgating and more for the 2021 football season.
Season tickets, mini plans and single-game tickets for the 2021 Mean Green football season are now available online. Any ticket-related questions may be directed to the Mean Green Athletics Ticket Office via email at ticketoffice@unt.edu or by phone at (940) 565-2527.
Be sure to keep an eye on MeanGreenSports.com, follow Mean Green Sports on social media @MeanGreenSports and Mean Green football at @MeanGreenFB for all of the latest information on the upcoming 2021 football season and any additional promotions and information.
Parking
Apogee Stadium has a variety of parking options, including individual day-of-game parking in multiple lots.
Season ticket holders will receive physical parking permits for each home game. Fans are encouraged to pick these permits up at the August 14 kickoff event at Apogee Stadium, but those unable to attend will receive their permits in the mail.
Fans who are not purchasing season tickets must purchase parking online though meangreentickets.com or ParkMobile or via the following:
UNT Athletics Ticket Office: online or by phone at 940‑565‑2527
ParkMobile: download the ParkMobile app and search Apogee Stadium
Day-of-game parking can also be purchased on game day at the entrance to available lots via credit card or cash
Online and Parkmobile sales for the Blue and Orange lots can be purchased until 11 p.m. the day before each game.
Sales for the Blue and Orange lots can be purchased until close of business the day before each game.
Game Day Shuttle
Free bus rides are offered to all UNT football home games. Bus 1 will pick up at Lucky Lou's, and Bus 2 will pick up at East Side Denton/Miss Angeline's. The game drop off point will be the Orange Lot on North Texas Blvd. Attendees then walk through the parking lot to the pedestrian bridge over the highway. Buses will run 2 hours before the game and an hour after.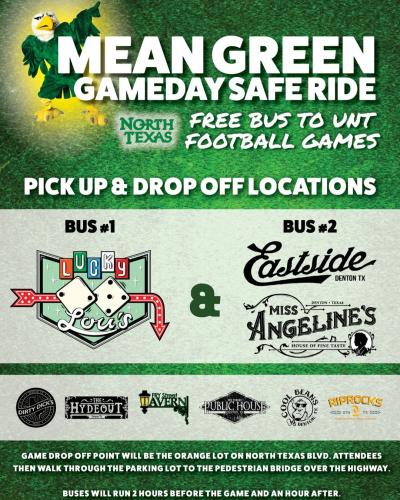 Tailgating
The full tailgating experience returns to Apogee Stadium in 2021, including activities on The Hill, spot reservations and package rentals through 5 Star Rentals. Students wishing to reserve space for tailgating can do so by contacting Cecilee Fannon at cecileefannon@my.unt.edu.
Tailgating may not occupy empty parking spaces or inhibit traffic flow.
Tents and canopies are allowed as long as they do not impede foot or vehicle traffic or extend into additional parking spaces.
Responsible and lawful consumption of alcohol is permitted within University rules and protocols. Police patrol the tailgating areas and enforce applicable laws.
Glass containers and kegs are NOT permitted.
Commercially-sponsored tailgates are prohibited except in designated locations.
Tailgating locations are available on a first-come, first-served basis on in accordance with other stipulations contained in these guidelines.
Saving spaces for other vehicles is prohibited.
For more tailgating information, including maps and a full list of rules and regulations, please click here to visit meangreensports.com/tailgating.
How you tailgate depends on the ability to act responsibly and adhere to the following guidelines which are reviewed and approved annually by North Texas Athletics, the UNT Office of Risk Management, and the University of North Texas Police Department. These guidelines have been developed to ensure a family-friendly, safe and enjoyable experience that promotes integrity, civility, ethical conduct, and good sportsmanship among fans, students, and visitors..
North Texas Athletics has partnered with 5 Star Rental to outfit your tailgate party with rental packages that include a tent, banquet tables and chairs. Prices are based on the options selected. Tailgating packages can be purchased by phone at (940) 369-8409 or by emailing UNT@5StarRental.com.
Spring Sports
UNT's Mean Green Schedule
TWU's Pioneers Schedule
Fall Sports
UNT's Mean Green Schedule
TWU's Pioneers Schedule