Thanksgiving can be an exhausting day full of cooking and cleaning. There are plenty of local businesses in Denton who can relieve some of that burden this year, whether you're looking for your main course, or just a little help with the mashed potatoes and pie.
Here's a list of Denton dine-in and takeout options for Thanksgiving – we'll continue to update this list as new information is received.
For those that don't want to deal with the dishes
Don't feel up to cooking a full delicious dinner and especially don't want to deal with the dishes? There's several outing opportunities so you can just let someone else handle all the fixins.
Hannah's is offering an elegant and delicious dinner for $89.00 per person plus tax and gratuity. This wonderful dinner will be only available by calling the restaurant at (940) 566-1110 for a reservation (payment will be taken at this time).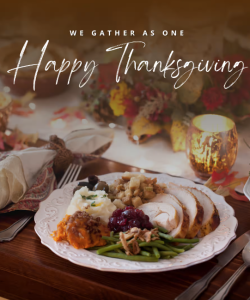 ---
Bet the House BBQ • betthehousebbq@gmail.com • Order by 11/20
Whole smoked turkeys, brisket, ham, ribs - they have it all! Send an email to betthehousebbq@gmail.com, or follow them on
social media
for more details.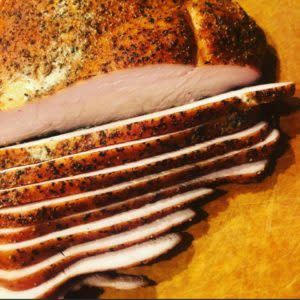 ---
The Chestnut Tree really makes it easy to eat, drink, and be merry. With a menu that offers appetizers, a full turkey or just the breast, sides (including gluten free offerings) and desserts, the whole family will laud your Thanksgiving meal as they slowly slip into a post-meal nap. Order online at Chestnuttearoom.com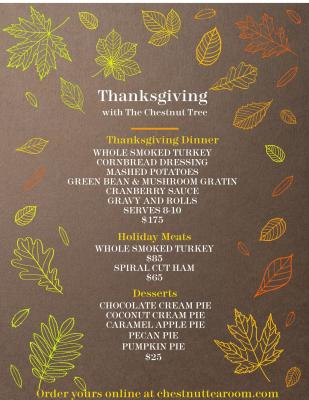 ---
Ravelin Bakery • 416 S Elm St • 940.382.8561 
Whether you want to pick up a spot of breakfast or the full dessert offerings, Ravelin is here to help. They have desserts, special breads, & cookies for Thanksgiving week as well as a full selection of their regular breads & pastries that can be ordered as well. Order in person or over the phone by Nov. 18th, 2022.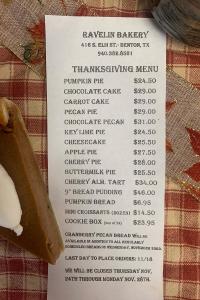 ---
With plant-based roasts, gluten-free sides and yes, even delicious pies and cookies, Spiral Diner ensures that everyone at your Thanksgiving table will leave satisfied. Pre-order today for pickup on Tuesday, 11/22, or Wednesday, 11/23.
---
Juicy Pig Barbeque • 708 N Locust Street • 940-387-0708
The holiday offerings from Juicy Pig will satisfy any family, with brisket, boneless ham and sides. Just need your turkey smoked? They have you covered!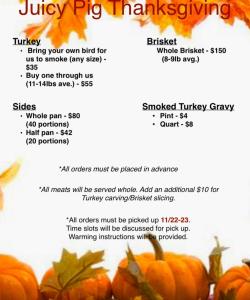 ---
Tin Can Kitchen  • 940-300-5051 • Order by November 19! 
This Best of Denton County Winner four years in a row is offering up a delicious Thanksgiving menu. Smoked turkey, ham, sides, snickerdoodle cherry cobbler, and more - everything you need for your holiday table. To place an order, call or text, or email sales@tincankitchen.com by Nov. 18th.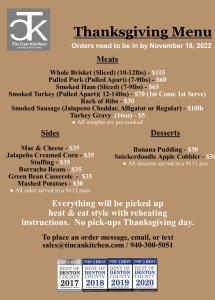 ---
Di Abruzzo • 508 S. Elm St. suite 105 • 972-786-3695
Italian market, Di Abruzzo, will be Thanksgiving Italian entrees including antipastos, baked entrees from their catering menu, and desserts. Put in your order by November 2st for pickup on Wednesday, Nov. 23rd by 6PM.
---
If you are looking for sweets, breads, and spreads for your Thanksgiving table, look no further than Demeter's Kitchen. This homegrown and whole-grain focused bakery will delight you and all of your guests. Order online no later than November 18th.
---
407BBQ • 2229 Houston Pl • 908-868-7901
407BBQ will be taking "walk in" orders only on Tuesday, Nov. 22nd until 7PM or until they are sold out. Please see their schedule below for more info on pickup/walk in times. 
---
Cowboy Chicken • 2520 W. University Suite 1150 • 940-320-3272
Worried about the turkey shortage? Try switching it up this year and head over to Cowboy Chicken! While they are offering rotisserie style turkey, they also have thanksgiving-style chicken packages, sandwiches, and even enchiladas! Order online here.
---
Marty B's • 2664 FM407 Bartonville • 940-241-3500
Place your Thanksgiving order with Marty B's before Sunday Nov. 20th to enjoy a variety of the area's finest meats, available from ranchers who never use hormones or antibiotics. Click here for the full menu and to order. 
---
Have a Happy Thanksgiving, y'all!