Thanksgiving may look a little different this year with fewer people traveling out of state, but there are still plenty of options for those who don't want to cook on the big day.
Here's a list of Denton dine-in and takeout options for Thanksgiving – we'll continue to update this list as new information is received.
For those that don't want to deal with the dishes
Don't feel up to cooking a full delicious dinner and especially don't want to deal with the dishes? There's several outing opportunities so you can just let someone else handle all the fixins.
The premier Thanksgiving Dinner in Denton is back! Make your reservations in advance for Hannah's delicious offering, with a special Thanksgiving menu that's sure to delight everyone. The dinner is $89/adults and $30/children 10 and younger. Call now to make reservations!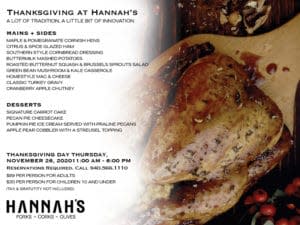 ---
Queenies Steakhouse  • 115 E Hickory Street • 940-442-6834 • 12-9 pm
Queenies is offering a special menu for Thanksgiving and it comes with everything one would expect out of a Thanksgiving meal. Herb roasted turkey, cornbread stuffing, haricot verts, mashed potatoes and gravy. Just make sure to save room for the Bourbon Chocolate Pecan Pie. Call today to make reservations!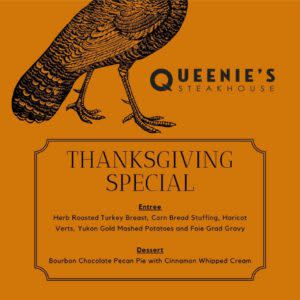 ---
For those who don't mind some light clean up
Will you be in town and scrambling to come up with dinner? Is prepping the turkey a little too advanced for your cooking style? Then just place an order at many Denton locations and pick it right up! From the full course to sides and desserts, leave the hard work to Denton's amazing culinary geniuses and take on the task of cleaning your plate with these options!
Big Fatty's Spanking Shack • 220 W Parkway Street • 940-391-4891 • Order by November 16! 
With menu items such as fried turkey, buttermilk sage cornbread dressing, giblet gravy, bacon green chile mac & cheese, streusel sweet potatoes and boozy pumpkin bread pudding you are sure to be the hit of Turkey day!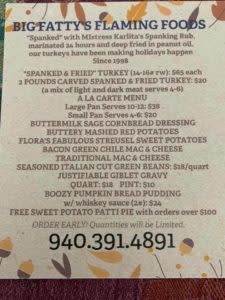 ---
Cartwright's Ranch House • 111 N Elm Street • 940-381-1106 • Order by November 18! 
Located conveniently on the square downtown, Cartwright's offers home-style foods, all made from scratch. Cartwright's is perfect for pretty much any meal, especially for those occasions when you want a taste of home.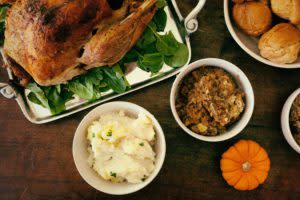 ---
Bet the House BBQ • betthehousebbq@gmail.com • Order by 11/20
Whole smoked turkeys, brisket, ribs - they have it all! Send an email to betthehousebbq@gmail.com by  11/20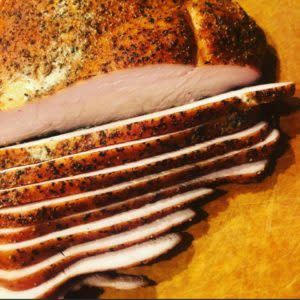 ---
The Chestnut Tree really makes it easy to eat, drink and be merry. With a menu that offers appetizers, a full turkey or just the breast, sides (including gluten free offerings) and desserts, the whole family will laud your Thanksgiving meal as they slowly slip into a post-meal nap. Order by calling by November 22!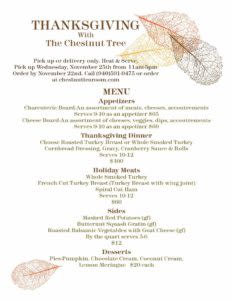 ---
Ten One Artisan Cheese • 515 S Locust St • 940-320-5639 • Order online and pick up 11/24 or 11/25! 
Ten : One is offering Thanksgiving cheese sets so you can keep it cheesy over the holiday! A 1/3 lb each of Ashbrook, 5-year Gouda, and a raw-milk farmstead Manchego, plus a side of their fall-spiced pepitas. Orders and details are available on their website.  Swing by the shop to pick up either Tue. the 24th or Wednesday the 25th by 5 pm.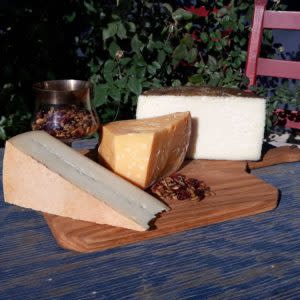 ---
Our favorite Market vendor of baked goods, Pie by Kate, still can make your Thanksgiving pie! This year's line-up includes Apple, Cherry, Pecan, Chocolate Pecan, Pumpkin, Chocolate Cream, Coconut Cream and Spiced Pear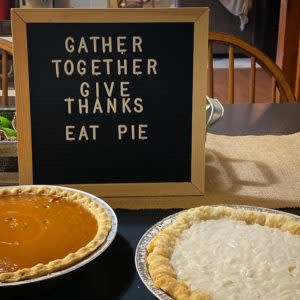 ---
Ravelin Bakery • 416 S. Elm St • 940.382.8561 
Whether you want to pick up a spot of breakfast or the full dessert offerings, Ravelin is here to help. They have desserts, special breads, & cookies for Thanksgiving week as well as a full selection of  their regular breads & pastries that can be ordered as well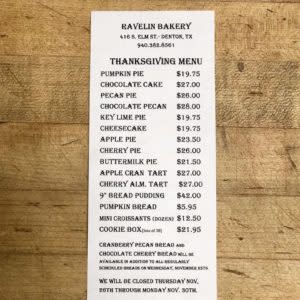 ---
For those who are sitting around a full vegan table, Spiral Diner can make you the whole enchilada (soy, of course). With plant-based roasts, gluten-free sides and yes, even delicious pies and cookies, everyone can have the Thanksgiving dinner to satisfy them. Pre-order your favorite holiday dishes online today!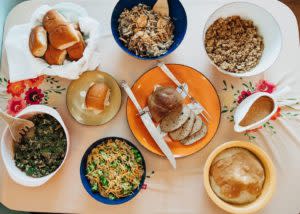 ---
Juicy Pig Barbeque • 708 N Locust Street • 940-387-0708
The holiday offerings from Juicy Pig will satisfy any family, with turkey, brisket, boneless ham and sides. Just need your turkey smoked? They have you covered!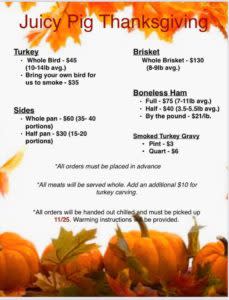 ---
Mississippi Cooking! Street Eats Catering is offering two packages for Thanksgiving, 4-5 servings or 15-18 servings.
Delivery available in Denton on Thanksgiving Day between (12-2) or free to pick up the same hours! Call today to order: (940) 315-3230
---
Tin Can Kitchen  • 940-300-5051 • Order by November 20! 
This Best of Denton County Winner four years in a row is offering up a delicious Thanksgiving menu. Fried turkey, smoked turkey, ribs, smoked sausage, sides, snickerdoodle cherry cobbler, and more - there's something for every taste bud!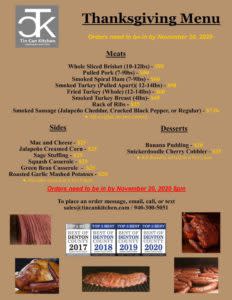 ---
Now, if you'll excuse me, I'm headed off to go dream of delicious food (and maybe to place an order or two). Have a Happy Thanksgiving, y'all!