Thanksgiving can be an exhausting day full of cooking and cleaning. There are plenty of local businesses in Denton who can relieve some of that burden this year, whether you're looking for your main course, or just a little help with the mashed potatoes and pie.
Here's a list of Denton dine-in and takeout options for Thanksgiving – we'll continue to update this list as new information is received.
For those that don't want to deal with the dishes
Don't feel up to cooking a full delicious dinner and especially don't want to deal with the dishes? There's several outing opportunities so you can just let someone else handle all the fixins.
The premier Thanksgiving Dinner in Denton is back! Make your reservations in advance for Hannah's delicious offering, with a special Thanksgiving menu that's sure to delight everyone. The dinner is $89/adults and $39/children 10 and younger. Call now to make reservations!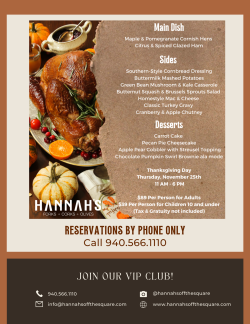 ---
For those who don't mind some light clean up
Located conveniently on the square downtown, Cartwright's offers home-style foods, all made from scratch. Cartwright's is perfect for pretty much any meal, especially for those occasions when you want a taste of home.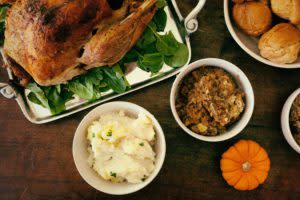 ---
Bet the House BBQ • betthehousebbq@gmail.com • Order by 11/20
Whole smoked turkeys, brisket, ribs - they have it all! Send an email to betthehousebbq@gmail.com, or follow them on
social media
for more details.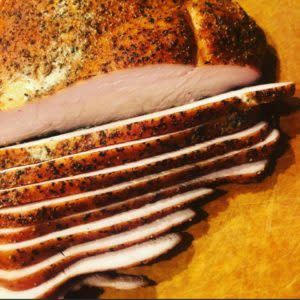 ---
The Chestnut Tree really makes it easy to eat, drink, and be merry. With a menu that offers appetizers, a full turkey or just the breast, sides (including gluten free offerings) and desserts, the whole family will laud your Thanksgiving meal as they slowly slip into a post-meal nap.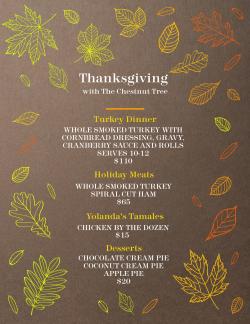 ---
Pie By Kate • Pick up will be available 11/19 and 11/20 with limited pickup on 11/24.
Our favorite Market vendor of baked goods, Pie by Kate, still can make your Thanksgiving pie! This year's line-up includes Apple, Cherry, Pecan, Pumpkin, and Chocolate Cream.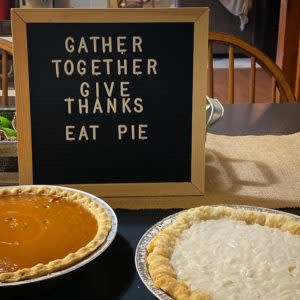 ---
Ravelin Bakery • 416 S Elm St • 940.382.8561 
Whether you want to pick up a spot of breakfast or the full dessert offerings, Ravelin is here to help. They have desserts, special breads, & cookies for Thanksgiving week as well as a full selection of  their regular breads & pastries that can be ordered as well.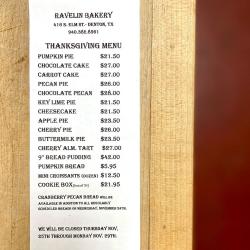 ---
With plant-based roasts, gluten-free sides and yes, even delicious pies and cookies, Spiral Diner ensures that everyone at your Thanksgiving table will leave satisfied. Pre-order your favorite holiday dishes today!
---
Juicy Pig Barbeque • 708 N Locust Street • 940-387-0708
The holiday offerings from Juicy Pig will satisfy any family, with turkey, brisket, boneless ham and sides. Just need your turkey smoked? They have you covered!
---
Mississippi Cooking! Street Eats Catering is offering two packages for Thanksgiving, 4-5 servings or 15-18 servings. Orders end 11/15 at 8:00 AM.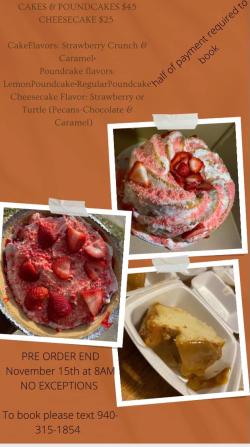 ---
Tin Can Kitchen  • 940-300-5051 • Order by November 19! 
This Best of Denton County Winner four years in a row is offering up a delicious Thanksgiving menu. Smoked turkey, ham, sides, snickerdoodle cherry cobbler, and more - everything you need for your holiday table. To place an order, call or text, or email sales@tincankitchen.com.
---
Red's Yard  • 410 N Bell Ave • 940-218-2981
Red's Yard is putting together family feasts for your convenience. Choose from brisket, smoked turkey, smoked ham, every side you could possible need, and a variety of cobblers. Call or email samantha@renoreds.com for more details!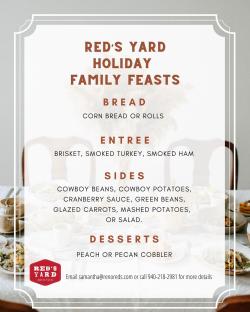 ---
Bacciagalupes • 410 N Bell Ave • 940-218-2981
Italian pop-up kitchen Bacciagalupes will be preparing trays of pasta and tiramisu if you're looking for something a little different this holiday season. All pick-ups will take place at Boca 31. Email tony.neglia@yahoo.com to get your order in today!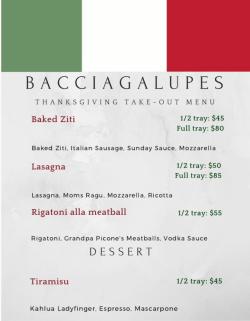 ---
If you are looking for sweets, breads, and spreads for your Thanksgiving table, look no further than Demeter's Kitchen. This homegrown and whole-grain focused bakery will delight you and all of your guests. Order online no later than November 19th.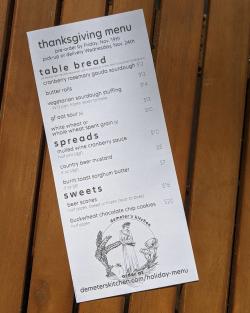 ---
You may be familiar with the Cookie Thief Cake Co.'s treats if you've ever visited the Denton Community Market. This year, they are baking up some tasty pies including dutch apple, double crust apple, pumpkin, and pecan. If you're looking for vegan or gluten free options, they have those, too. Preorder your pies today at cookiethiefcakeco@gmail.com no later than November 17th.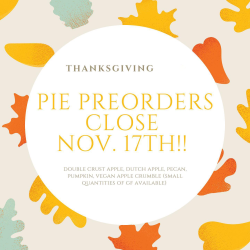 ---
Now, if you'll excuse me, I'm headed off to go dream of delicious food (and maybe to place an order or two). Have a Happy Thanksgiving, y'all!