Denton, TX, is the perfect destination for your spring break plans.
The season is headlined by outdoor activities, food, drink, and all-around fun. Plan your vacation and book a stay today with these fun ideas for families, friends, couples and solo adventurers.
---
Get Lost in the Beermuda Triangle
This affectionate nickname refers to the walking-friendly area of downtown Denton between the three anchor points of Eastside, The Bearded Monk, and Denton County Brewing Co. Each of these hip bars contributes to the local drinking scene in their own way, and all of them make for a fun afternoon respite or excellent nightspot. Eastside has plentiful outdoor seating with benches and games. They're especially known for their wide beer selection. The Bearded Monk is a growler-fill bar that exclusively sells craft beer. They're a bottle shop too, so you can take home a six-pack of whatever new favorite beer you discover there. Denton County Brewing Company is its own craft brewery as well as a bar. It has a very welcoming atmosphere and is a must-see for anyone interested in the brewing process. Really, when in the depths of the Beermuda Triangle, you can't go wrong. Plus, all of these are very close to the Austin St. food trucks in case you want some tasty local grub to go with your local brews!
---
Denton Mural Tour
Known for its art, Denton has a hip vibe that fosters a talented community of painters. Nowhere is this influence more apparent than on the city's streets themselves! Indeed, Denton boasts literally dozens of murals that keep the city feeling vibrant and colorful. Murals such as the one entitled 'Timeless' (which decorates the outside of prominent local bookstore on the Square, Recycled Books) have become local landmarks, recognizable to generations of Dentonites. Taking a tour of these wall-adorning wonders makes for a splendid little Spring afternoon. Plus, Denton's murals are great for photo-ops if you're looking for something to post on social media.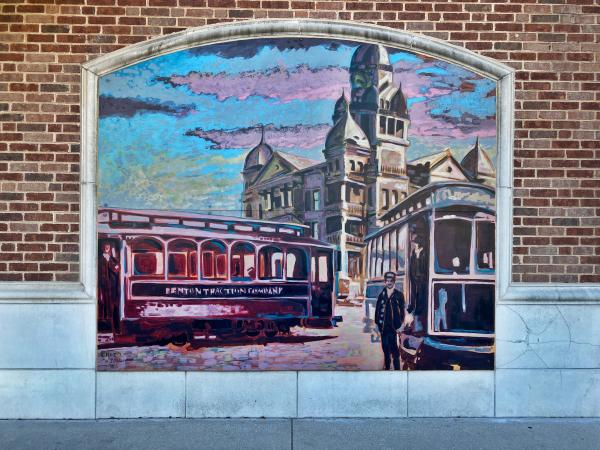 Painted by local artist and educator, Christian Reid, the Courthouse Watercolor mural depicts a watercolor of the 1896 Denton Courthouse with street cars.
---
Make a Splash at Lake Ray Roberts
Nothing says Spring Break quite like picnics, flip-flops, and swimsuits. If that sounds like just the kind of Spring Break you need, then you owe it to yourself to plan a trip to Ray Roberts Lake State Park. This park, only 20 minutes away, is the ideal spot for anyone looking for that classic Spring Break fun in the sun. We're talking hiking, fishing, biking trails, and of course, swimming at one of the park's sandy beach areas. There are picnic pavilions that look out over the lake, so pack some food and make a day out of it. Or, if you'd rather stay a little longer, the park offers walk-in campsites as well. Plus, the on-site Lone Star Lodge has some more swanky digs (for those of us who prefer "glamping" to camping!) Whichever way you choose, Ray Roberts Lake State Park has you covered for all your Spring Break beachside needs.
---
Shop Local
The City of Denton likes to emphasize its local businesses, and for good reason. The many community shops, especially around Denton's downtown area, really give the city its flavor. Some of them (like Atomic Candy) quite literally! The local shopping experience around Denton is characterized by easy parking, welcoming shop owners, and quirky finds. You get the coolness of shops one might find in larger urban centers, but with the friendliness of a small, close-knit community. For a list of these local shops, follow this link or click "Shopping" under the "Things to Do" tab.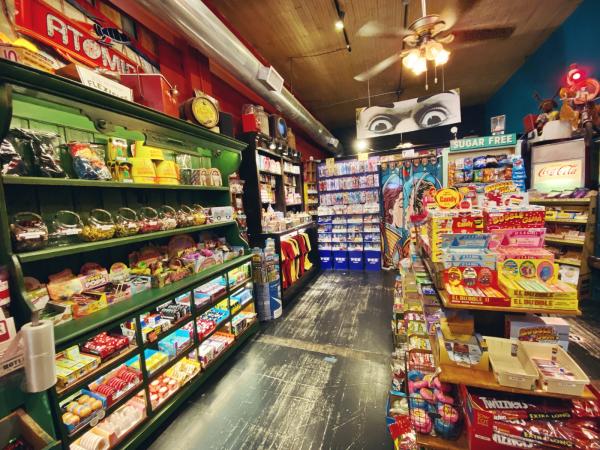 Atomic Candy features 192 bulk candy bins and over 150 different kinds of soda.
---
Battle It Out!
Water guns are overplayed. Lasers are so passé. So why not try out the foam fury that is The Battlefield: Nerf Gun Parties & More! That's right. Spend your Spring Break deep in the trenches, realizing your very own nerf war fantasies in the "Mega Nerf Arena," a large indoor battleground complete with tactical terrain and obstacles. The Battlefield is open to combatants of all ages and is even offering Spring Break All-Day Passes. They also have an absolute arsenal of nerf weaponry for use in their arena. Visitors may bring their own nerf guns, as well. Either way, the darts are provided. So if you and your friends this Spring Break feel the need to settle things the old fashioned way (foam dart to foam dart) then make a visit to The Battlefield, walk-ins welcome.
---
Catch an NIT Basketball Game
Coming out of a year of canceled events, many sports fans are itching to get their backsides back in the stadium seats. Spring Break in Denton this year offers just that opportunity with the National Invitation Tournament, the nation's oldest tournament for postseason basketball. This year, the NIT is happening exclusively within the Dallas-Fort Worth metroplex, with many of the games hosted right in Denton at the UNT Coliseum! While the schedules aren't yet finalized, the games will go from March 17th to March 28th. These games are great to plan for in your Denton Spring Break itinerary, and really, what is March without basketball? For more information about game schedules, head to the NCAA's website tournament tracker.
---
See Wild Animals
If you've never been to the Frank Buck Zoo, this Spring Break might be the ideal time to visit. This zoo is just a half-hour drive north of Denton and is open daily from 10 a.m. to 4 p.m. They house over 130 animals, including flamingos, giraffes, and zebras! You can even get up close and personal with some of the animals in the zoo's Animal Encounter experiences. The Frank Buck Zoo could be the ideal escape for the Spring Break vacationer looking to get in touch with their wild side.
---
Picnic on the Square
The gentle notes of a guitar hum as a young man plays from underneath a nearby tree. The sound of laughter floats over from the restaurants across the street. A picnic luncheon doesn't cost much and is a great way to spend a postcard-perfect Spring Break day just like this on the Courthouse lawn, right on Denton Square. In fact, it's so nice on the Courthouse lawn, it's a popular hangout for college students and locals alike. Plus, with Denton's open container law, you can even enjoy an adult beverage or two while you relax. So grab some blankets, friends, and maybe a doggo, and set yourself up for a classic Spring Break picnic on the Square.
---
Get Outdoors: Clear Creek Nature Center & Katy Trail
If you're someone who enjoys a nice walk or jog, this Spring Break is the perfect time to make an excursion to someplace new. Denton has more than a few scenic trails to offer someone who wants to get out into nature. The DCTA Rail Trail, also known as the Denton Katy Trail, runs from Denton's Downtown Transit Center on Hickory St. south to Lake Dallas. It's a concrete trail that offers easy access to a pleasant afternoon stroll or jog. For those looking for someplace a little more natural, the Clear Creek Natural Heritage Center has over ten miles of family-friendly hiking trails. These dirt trails wind through the lovely nature conservation around Lake Lewisville and are open from 6 a.m. to 10 p.m. with no admission fee. You'll know Spring has truly sprung once you're hiking through the blossoming bottomland forest or beautifully-maintained natural wetlands.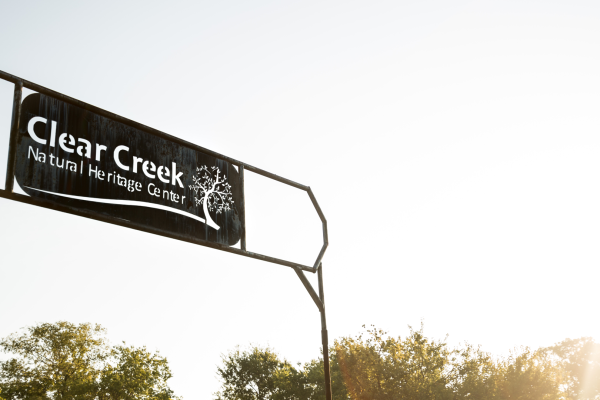 Open daily from 6 a.m. to 10 p.m. Admission is free. For more information, call the Parks line at (940)349-7275
---
Toast the Sunset: LSA Burger Co.
Round out your perfect Denton day by "toasting the sunset" at this bustling burger joint right on the Square. The two-story LSA Burger Co. hosts live music from its upstairs open-air patio, complete with its own bar and stage. The view from the patio is great at any time of day, but it's made even better at sunset, particularly with a cold beer and delicious burger in hand. This combo gives you a proper taste of exactly what LSA stands for: Lone Star Attitude. And indeed, if you know your music history, you'll recognize the figures in the restaurant's many murals and their musical ties to Texas. So if you've got an appetite for burgers as big as the Lone Star State, there's no better place to spend a warm Spring evening in Denton than LSA Burger Co.