ST PATRICK'S DAY ANNUAL EVENTS
Downtown Denton 
Strike gold in downtown Denton! The Denton Main Street Association has curated a list of local goods and St. Patrick's Day Patio Packages that'll help you "get your Irish on" all month long!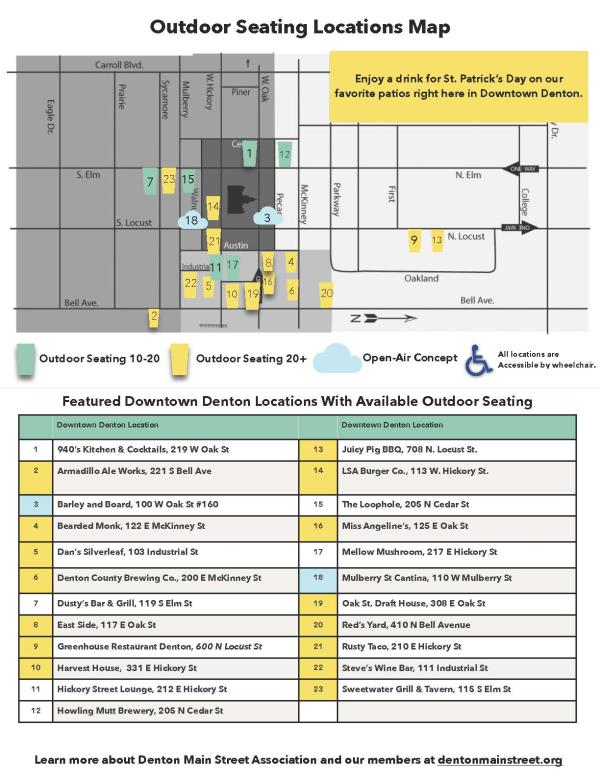 St. Patrick's Day Treasure Hunt in the Parks | March 10 – 17
Can you find the lucky treasure in the parks? Each day, the Denton Parks and Rec team will go to a new park and hide treasure chests! Find the treasure chests and take them to North Lakes Rec Center for a prize basket.
Each day a clue and map will be posted online so be sure to click "going" to get the notifications as soon as they post!
The Denton Parks & Recreation Department should have more information on the St. Patrick's Day Treasure Hunt in the Parks.
Cinnamon Creek Ranch | March 13 | 6:30pm
Party at the Cinnamon Creek Ranch with dancing, archery, axe throwing, a bonfire, cornhole, photo booths, and games. The dinner is catered with BYOB.
ST PATRICK'S DAY BARS, BREWERIES AND RESTAURANTS
Herf's Denton County Taphouse | March 17 
With turkey Legs, Green Beer, half-off certain pours, and drawings for prizes, you just can't go wrong!
Don't forget to wear your green when you visit Herf's Denton County Taphouse.
Lucky Lou's | March 17 | 6pm – 2am
It's St. Paddy's at Lucky Lou's! Come early for a spot on the patio and order one of the classics: green beer, Jameson, car bombs and more. There will be a special food truck menu and Der Wienerslinger will be serving sausages as well!
Riprock's Bar and Grill | Month of March
Celebrate the luck of the Irish all month long with drink specials at Riprock's Bar and Grill. Shamrock Tea, green beer and more are on the menu.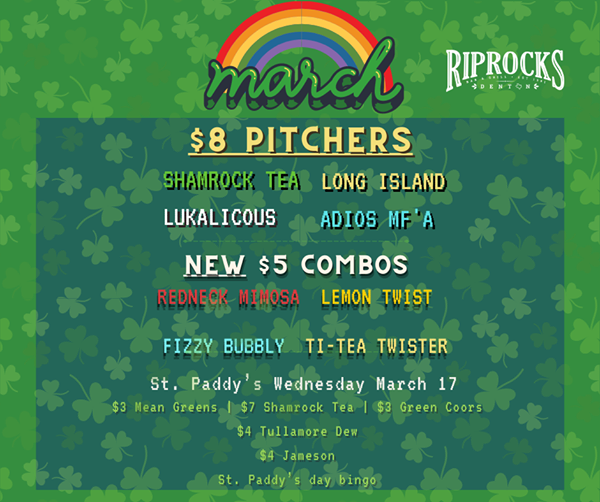 Boomerjack's Grill | March 17 | 11am – 12am
Spend St. Patrick's Day at Boomerjack's, Denton's sports bar destination for craft kitchen food, cold beers, and wall-to-wall TVs. They'll have all-day specials on drinks and wings.
Jack's Tavern | March 17 | 4pm
Denton's Sports Bar & Night Spot with a Country Flair. Make your plans now to attend the Jack's St. Patty's Day Bash! Doors open at 4 PM, Happy Hour Prices and Free Play Pool until 7 PM. Specials on Irish Car Bomb and Guinness Specials all night!