Since 2006, Denton has ranked in the top 25 of the nation's fastest-growing cities. Even with this explosive growth, there is no shortage of hidden gems to cross off your bucket list during your next visit. 
Here are cool and quirky things about Denton, Texas.
 
1. The Chairy Orchard
No, that's not a typo. Two Denton women, in the land between their houses, have cultivated quite a unique orchard. Only they don't grow fruit. At the one-and-only Chairy Orchard, creators Anne and Judy maintain a collection of chairs! It started with the first "Chairy Tree" (a tree adorned with decorative chairs) and has grown from there. Now, with chairs coming from garage sales, thrift stores, and visitor donations, these longtime friends have created a veritable grove that has become one of Denton's quirky hidden gems. It's free and open from dawn to dusk. So make a visit and take some photos you will chair-ish for a long time. The Chairy Orchard is located at 1426 Churchill Drive in Denton.
2. The Purple Door
When phenomena like Denton's Purple Door spring up, it's only natural to have some questions. Why is this door purple? Why do so many people on Instagram take their picture with it? Well, besides being painted a vibrant color and making a good Instagram background, Denton's Purple Door also has a bit of a game to it. The next logical question is, of course, where is this door? But that's part of the game. While it's generally understood to be somewhere near the Square, seekers must do a bit of sleuthing to locate this hidden landmark. If you do find it, snap a picture there as proof. It's no easy feat to find the Purple Door…
3. Gnome Cones
How to beat the Texas heat? Well, that's a gnome-brainer. Gnome Cones sells all-natural snow cones and other cold treats, emphasizing quality and a friendly atmosphere. The business, originating in Argyle and expanding into Denton, was based on the idea that typical snow cone places offered nothing but chunky ice, wasteful Styrofoam cups, and artificial flavors. Gnome Cones set about fixing all of those industry mistakes. Their Denton location is absolutely worth a visit, not only to grab a high-quality snow cone but also to take your picture with the huge gnome that decorates the shop. Gnome Cones is located at 205 N. Elm Street in Denton (Just look for the gnome!)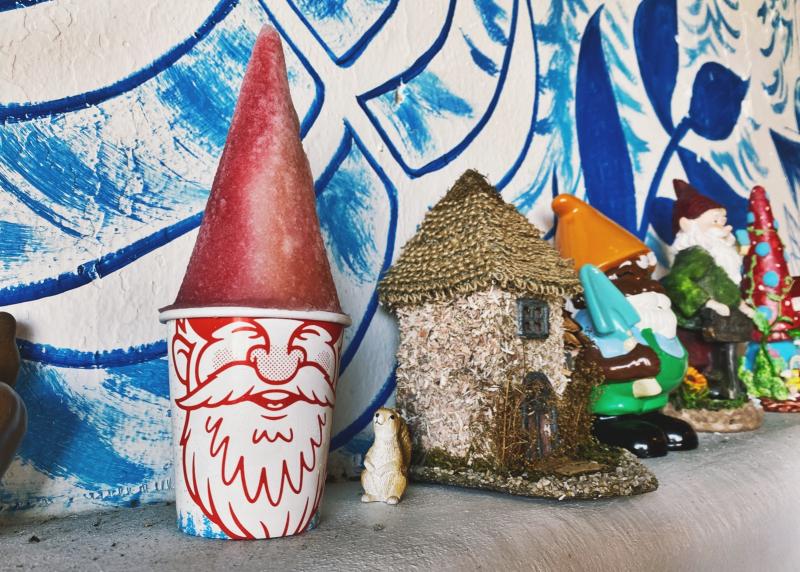 4. Giddy-Up to Horse Country
One Denton secret is that Denton itself is right in the middle of "Horse Country." In fact, Denton County has a large proportion of horse ranches offering guided horseback tours. The rolling pastureland of north Texas makes the region particularly enviable to both breeders and equestrians. In fact, the area has the highest concentration of horse farms in the United States! Outfits such as the North Texas Horse Country Tour offer a variety of breeds and disciplines. Plus, the farms they tour are real working ranches. These tours let you discover Denton the way it used to be experienced – from horseback. 
5. Secret After-Hours Gourmet Doughnuts
Doughnuts aren't just a morning affair, at least that's what the people behind Backdough Doughnuts believe. Queenie's Steakhouse, by day one of Denton's favored fine dining experiences, runs this as a nighttime side project out of the back, hence the name "Backdough." These aren't your typical donuts, either. They are gourmet doughnuts featuring unique flavor combinations both sweet and savory. As the menu changes week to week, the only way to find out what delicious donuts are on offer is to swing by Queenie's backdoor by the cover of darkness on a Saturday or Sunday. Look for the neon sign. If it's lit, then it's time for some late-night donuts! Queenie's is located at 115 E. Hickory Street in Denton.
6. Downtown Denton's Craft Beer District
Craft breweries are a favorite around downtown Denton. This part of town is known as the Downtown Denton's Craft Beer District and is a great place to try new and exciting brews. Here, establishments such as Denton County Brewing Company, Armadillo Ale Works, and Howling Mutt Brewing Company sell their latest offerings. Bars such as the Bearded Monk and Eastside are great to visit here, too. It all comes together to make Downtown Denton's Craft Beer District a great place to get lost!
7. The Dead of Denton
In towns like Denton with many historical buildings and landmarks, there's bound to be a haunting or two. Throw in a couple of universities, each over 100 years old, and now you have even more opportunities for ghost stories and creepy legends. Some legends, like that of Old Goatman's Bridge, are tragically sad. Others are jovial, such as the haunting of Campus Theater where a ghost-sighting of its mischievous former owner is seen as good luck for an upcoming performance. Either way, ghost hunting around Denton is sure to send a shiver down your spine.
8. Denton's Secret Speakeasy
It's hard to imagine that the Roaring Twenties happened 100 years ago, especially if you make a visit to Denton's secret speakeasy. Pachall Bar, hidden behind a discreet door and up a flight of stairs, evokes the feel of an old-world cocktail lounge. This quiet parlor boasts leather furniture, large wooden bookshelves, and game sets like darts and chess. The bar is most celebrated for its drink menu, blending both classic and new world cocktail techniques. So if you're looking for a quiet spot to sip a gin and tonic, look no further. This is the speakeasy for you! Paschall Bar is located at 122 N. Locust Street in Denton.
9. Alpaca Your Bags for a B&B Weekend
In east Denton, there is a little-known slice of the Emerald Isle. The Old Irish Bed & Breakfast at Patrick's Pastures offers an excellent weekend getaway that mixes Ireland's charm with Southern hospitality. Jim Patrick, the owner, eschews the humorless atmosphere of what he describes as "stuffy high-tea B&Bs" in exchange for a welcoming environment focused on fun. At the Old Irish B&B, guests stay in one of many individualized cottages, each with its own theme and decor. There is an Irish pub, a fairy garden, and even an alpaca ranch where you can interact with the fluffy creatures themselves! The Old Irish Bed & Breakfast is located at 3030 N. Trinity Road in Denton.
10. Recycled Books, Records, & CDs
Visitors to Denton might look at the large purple building on the Square and be intrigued, but it isn't until entering Recycled Books, Records, & CDs that the true spectacle of the establishment becomes apparent. This Denton landmark is housed inside the sprawling structure that once was the Wright Opera House built in 1900. Yet despite Recycled Books' staggering size and labyrinthine layout, the largest indie bookstore in Texas retains an intimacy and sense of community. There is a warmth about the place that makes you want to spend time there, poring over their extensive collection and coming away with five or six books you didn't even expect to find. Recycled Books, Records, & CDs is an absolute treasure and is always worth a visit. It is located at 200 N. Locust Street in Denton.