North Texas Fair & Rodeo
The North Texas Fair & Rodeo is an annual nine-day fair and rodeo held in August and is located off of Carroll Blvd. in Denton, TX. The North Texas State Fair & Rodeo offers activities for all ages including: live concerts, horse & livestock shows, contests, cook-offs, food, fun, games and more.
The North Texas State Fair Association is a volunteer supported, 501 (c) (3) non-profit community organization that preserves and promotes western heritage and values.
Multi-day passes
Season pass: $100
4-Day Pass: $60
Adults
Monday-Wednesday $15
Thursday-Sunday $15 Early Admission (before 6 pm)
Thursday-Sunday $20 General Admission
Tickets available for purchase:
Discover Denton Welcome Center
111 W Hickory St. Denton, TX 76201
Monday-Wednesday: 10 a.m.- 8 p.m.
Thursday-Saturday: 10 a.m.- 9 p.m.
Sunday: 12 p.m.- 6 p.m.
North Texas Fair & Rodeo Office
2217 N Carroll Blvd.
Denton, TX 76201
Monday – Friday: 9 a.m. – 4:30 p.m.
Children
Ages 7-12: $5
Ages 6 and under: FREE (pick up child's ticket at Foster's Western Wear – 6409 S I-35E – or Boot Barn – 2640 W University Dr, #1270)
Special Head, from America's Got Talent, presented by Co-Serv
Monday-Friday, 7 pm & 8:30 pm
Saturday and Sunday: 2 pm, 5 pm & 8 pm
Swifty Swine Swimming & Racing Pigs, presented by Hill & Hill Attorneys at Law
Monday-Friday, 6 pm & 8 pm
Saturday and Sunday: 2:30 pm, 4:30 pm & 8:30 pm
Tractor Pull, presented by Jagoe Public
Daily at the Peterbilt Kids Zone
Armbands (unlimited rides) $35.00
Individual Tickets: $1.00
DISCOUNTED ARM BAND NIGHT TUESDAY 8/21 ($5 OFF WRISTBAND)
Coupons available at DFW area O'Reilly's, Fosters Western Wear, Boot Barn, and the Fair Office.
Magic Money (reloadable wristbands)
Magic Money will be one currency throughout the fairgrounds, except for purchases in the commercial exhibits building. Fair patrons may purchase Magic Money wristbands and/or cards from the ticket booths, Magic Money vending machines or Magic Money kiosks. The Magic Money locations will be located throughout the grounds, as well. These wristbands and/or cards can be used to buy food, drinks, carnival rides, petting zoo, games, dunking booth, and fair wear.

Frequently Asked Questions:
What are Magic Money wristbands for?
Magic Money is the new and improved way to enjoy the carnival. It is a reusable, reloadable RFID wristband that is used as payment for carnival rides, games and more. Magic Money is accepted at all food and beverage locations on the fairgrounds. Magic Money can also be used for pony rides, feed at the petting zoo, dunking booth and fair wear booths.
How do I buy a Magic Money wristband?
This year, Magic Money wristbands are available for purchase onsite only. After purchasing or redeeming a fairgrounds gate pass, guests can buy wristbands at the Magic Money locations, all over the fairgrounds.
Insider Tip: There are also several vending machines and manned carnival ticket booths throughout the fairgrounds where guests can purchase Magic Money.
What type of wristbands can I buy?
You can buy a daily unlimited ride wristband, or a pre-loaded wristband with credits. You may also add credits to your unlimited ride wristbands. Unlimited ride wristbands nontransferable or one for one, meaning only one (1) guest may use the wristband. The initial purchase of the wristband includes a $2 fee. Reloads are free! Wristbands that are loaded with credits are transferable, meaning multiple guests may use the same wristband.
Insider Tip: If you have small children, please note that children must be 36" or taller to ride many of the rides, including children's rides. Parents with children under 48″ should pay special attention to height requirements before buying unlimited ride wristbands.
How do I reload my wristband or check how many credits I have left?
You can reload your wristband or check your wristband balance by visiting a Magic Money booth, reload kiosk or by using the app. To use the app, scan the bar-code on your wristband receipt. This is the best way to easily keep track of your credits and reload. Most reload stations accept cash or credit cards.
Can I use my wristband next year?
No, all Magic Money bands will expire on the last day of the North Texas Fair & Rodeo at 1:00 am.
What should I do if I lose my wristband?
Go to the Carnival Office, located near the entrance to the carnival, or the nearest manned carnival booth.
Go for the blue ribbon in one of the fair contests!
Beauty Pageant, presented by Comfort Dental
Entry fee: $40, Deadline: Wednesday, Aug. 15
Click here for rules and divisions
Creative Arts, presented by 380 Guide
Enter in one of many categories, for both adults and youth, in divisions including needlework, clothing, canned goods and antiques.
Click here for rules, categories and to register
Youth Art, presented by the Denton Record-Chronicle
Open to children ages 5 through 12. This year's theme is "My Day at the Fair" and should be reflected in the artwork. Categories include painting, mixed media, drawing and collage and entries will be accepted Thursday, Aug. 16 from 4-6 p.m.
Click here for rules and entry form
Photography, presented by the Denton Record-Chronicle
Photos can be in color or black and white and are categorized by age and photo subject. Entries accepted on Monday, Aug. 13 and Tuesday, Aug. 14.
Click here for entry form
Cooking Contest
New contest this year! Contestants vying for top baker can present a treat in a variety of styles. Divisions are divided by age and type of baking and contestants are limited to amateur bakers.
Click here for info on registration
Don't stress about the traffic on both Saturdays of the fair! FREE shuttles will take fair-goers from the First Baptist Church of Denton right to the fair.
Shuttles will run from 5:30 p.m. to 12:30 a.m.
BEST WESTERN PREMIER CROWN CHASE INN & SUITES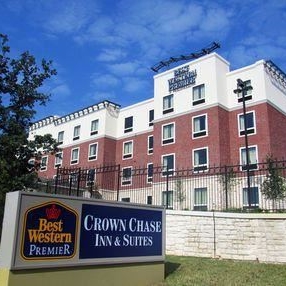 Centrally located at 2450 Brinker Road, Denton, TX 76208, the Best Western Premier Crown Chase Inn & Suites is walking distance from several restaurants, features a full free breakfast buffet, a swimming pool and hot tub, free wifi, and a free shuttle service, among other top-notch amenities. For more information or to book a room,
click here
or call (940) 387-1000.