Downtown Denton Square
Discover the social, artistic, and cultural hub of Denton
Shops, restaurants, bars, event venues, and more line the streets of downtown Denton while many annual events and festivals take place in and around the area. Visitors and residents alike enjoy gathering with friends and family on the courthouse lawn with coffee from Jupiter House, ice cream from Beth Marie's, or perhaps even a bottle of wine from The Chestnut Tree. The Discover Denton Visitor Center, located next to LSA Burger, offers brochures, maps, and gifts to anyone looking to obtain more information about Denton.
History
The Square has been a gathering place for commerce and trade as early as the late 1800s. The earliest known buildings included hardware stores, grocery stores, banks, a saloon, and the opera house where Recycled Books exists today. Much of the historic architecture of downtown Denton has been preserved or restored, with most of the area holding a place on the National Register of Historic Places through the work of the Denton Main Street Association.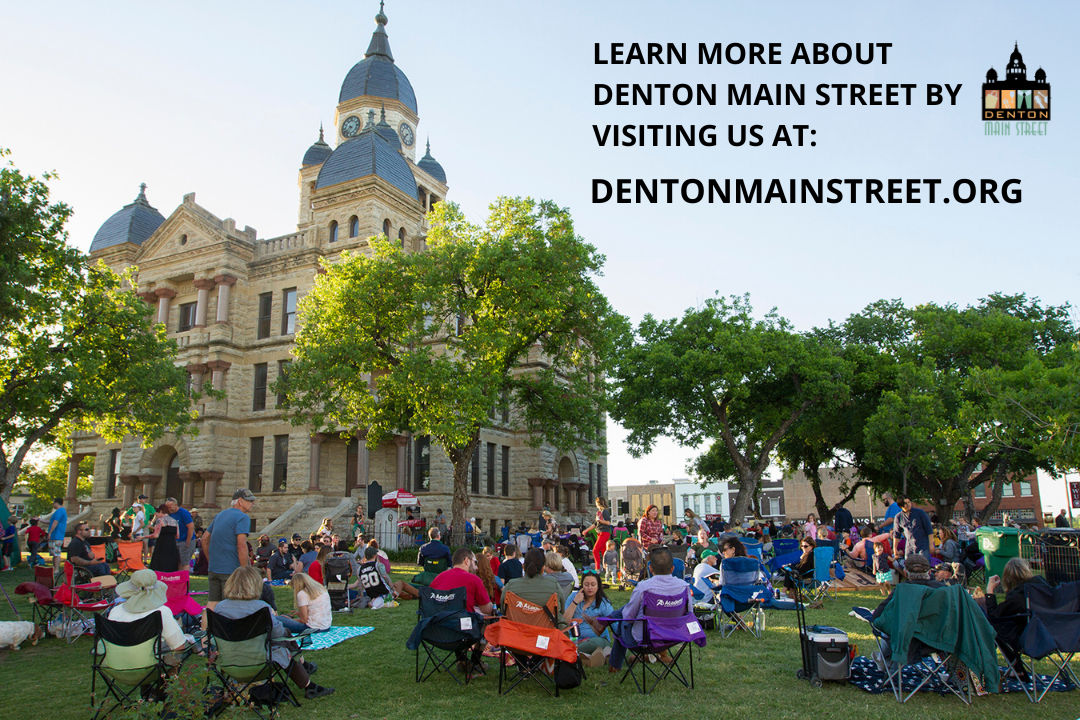 The iconic courthouse that currently stands at the center of the Square was built in 1896 after the first courthouse burned down and the second was struck by lightning. Today the square serves as a reminder of Denton County's history. It is home to the Courthouse-on-the-Square Museum as well as John B. Denton's grave. Lectures, exhibits, and community-organized events are scheduled at the museum throughout the year, keeping this local gem an active site for experiencing the past. A lesser known talking point with regard to Denton's 1896 Courthouse is that it is allegedly haunted by the ghost of a cowboy who wanders around the top floors at night. The basement also previously incorporated holding cells for prisoners, so there have been allegations from employees and visitors alike of paranormal activity and strange noises throughout the lower levels of the Courthouse.
Contact
Address
110 W. Hickory Street, Denton, TX 76201
Get Directions
There is much to discover in downtown Denton. Check out our businesses, and plan your visit today!
Comfort and convenience. You can have it all at Denton hotels.