Media Kit
Destination Travel Network & Discover Denton
Advertising opportunities on DiscoverDenton.com
For pricing and program details: Advertising@DTNads.com
Creative Information:
Responsive website design allows advertisements to display on all devices.
All placements are templated and designed to match the visual aesthetic of DiscoverDenton.com
Images should be single photographs without any overlaid elements, including logos. No collages or "photoshopping," please.
All character count specs include individual spaces, punctuation marks, and letters. We recommend using a character count tool such as http://www.charactercountonline.com/ to track copy length.
​Send creative assets to Support@DTNads.com.
Run of Site Banner
Photo (631w x 473h pixels)
Headline (58 characters)
Body (300 characters)
Clickthrough URL
From convention and family-friendly hotels to extended stays, charming bed-and-breakfast inns, and even a ranch with buffalo, Denton's choice of over 20 hotels and 2,500 hotel rooms offers just the right option to make your stay comfortable and convenient.
Read More
Spotlight
Photo (603w x 455h pixels)
Headline (45 characters)
Body (175 characters)
Clickthrough URL
Grab a bite at one of our favorite restaurants, take a stroll in the great outdoors, or enjoy our peach orchard.
Read More
Featured Listing 
Pulls content from your existing listing detail page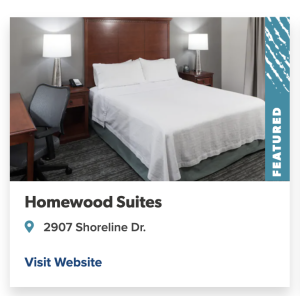 Mobile Banner
Photo (75w x 50h pixels)
Headline (25 characters)
Body (30 characters)
Clickthrough URL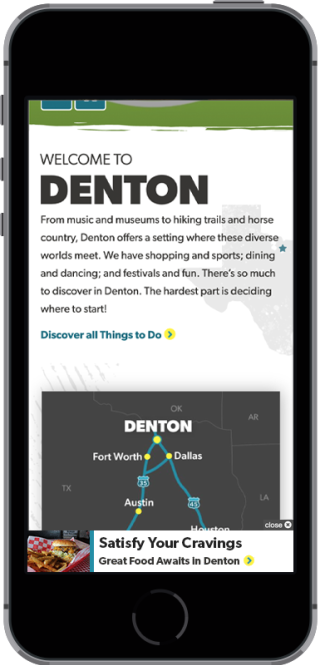 Premium Page Sponsor
Photo (605w x 453h pixels)
Headline (50 characters)
Body (300 characters)
Clickthrough URL
No matter if you're young or young at heart, Denton is the perfect place to create those memorable experiences. Explore the children's museum, take a swim at Lake Ray Roberts, or plan a long weekend around one of our many family-friendly festivals.
Header Image
Photo (1400w x 849h pixels)
Headline (65 characters)
Body (200 characters)
Clickthrough URL
FEATURED
Who wants a taste of Denton-made beer? Well, you're in luck, our craft breweries have been expanding like wildfire! Have yourself a sip and take some home to share with family and friends!
Learn More