Today's is the third column of this holiday series where we are looking at our city through a lens similar to the one through which George Bailey saw his own life in the 1946 Christmas movie classic "It's a Wonderful Life." What would Denton look like if certain things we see every day weren't here?
When I was a kid, people could visit airports without worry. With or without a ticket to somewhere in the pocket, a person could walk all the way to the boarding gates. For a free night of entertainment, Dad sometimes rounded up the family for an outing to DFW Airport where we would wander the concourse and watch planes take off and land.  We would make up stories about passengers and where they might be going. Later in our teenage years, the airport was still a cheap, fun date; only then it was like a sport. We called it "people watching."
In both journalism and creative-writing classes throughout my school days, professors often had us go to a place – a restaurant, mall, festival or town square, for instance – and watch the people to find a story to tell. In school it was more about study and observation, but it was still people watching.
UNT fans cheer on the Mean Green behind a banner that reads "We are Mean Green Family." (Photo by Rick Yeatts)
There is a coffee shop on the square where I stop some mornings on the way to the office. Businessmen cluster at one table. At the next, a young black woman and an Asian young man laugh at something one of them said. At another table, a sharp-dressed lady sits alone, sipping her coffee and perusing her iPhone. A suit holds open the front door for a guy tatted head-to-toe. A white guy fresh off the pages of a 1970s era issue of Rolling Stone serves up orders. Outside, young and old, scraggly and clean-cut enjoy the morning, sharing the smattering of tables and chairs. This coffee shop, a microcosm of Denton, is a people-watching haven.
Unlike George Bailey's vanilla town of Bedford Falls, Denton is a vibrant, colorful city full of difference. Characters from every walk of life imaginable blend, mixing and thus creating our rich, multi-layered culture. This is one of my favorite of Denton's attributes. Diversity and the high regard in which we hold it is the driving force behind our original, independent spirit.
We have all experienced places like fictional Bedford Falls where everyone looks as though they were cut from the same piece of cloth living lives that seem to mirror each other's. How can that be anything but boring day in and day out?
In his opening day speech, University of North Texas founder and president Joshua C. Chilton was the first to describe UNT and Denton as "independent, original and progressive." That was in 1890. Have you taken note of our city's brand since 2012? Original Independent Denton. That is not coincidence! During the process of developing our brand, we were not aware of Chilton's long ago observation. Yet, focus group after focus group arrived at those words on their own. Original and independent are inherent to our sense of place.
Our universities attract people from across the globe to Denton. Diverse races, languages, and life experiences have been converging here for more than 125 years, some for a short academic career, others for a lifelong investment in our city. The culmination of thousands of original, independent dreams, passions and pursuits meeting in our little dot on the planet has made its mark. This is why our city is a hotbed for creativity, entrepreneurship and expression.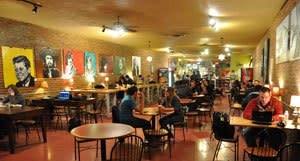 People are inspiring. It's the reason we are so much fun to watch. People make a place the place it is.
Take a look around Denton. Stories are everywhere. We hear them in our menagerie of local music, see them in art, taste them in cuisine, touch them through festivals and experience them through one another.
Imagine for a moment a Denton without the influence of higher education. Beyond high school, there is no art, music, nursing or business school. Kids grow up and go away to learn trades and establish careers in the progressive cities of the world where opportunities abound. People aren't drawn to Denton because creative energy never fueled our growth. Industry and economy are stunted because new ideas unfolded elsewhere in the world. This might be Denton's Pottersville, George Bailey's nightmarish version of Bedford Falls had he never been born.
Thank God, this is not vanilla Bedford Falls. UNT and TWU did happen. Original, independent creativity abounds. We walk out our vastly unique and mostly ordinary lives together in this place. We, this mish-mash of people far from all alike, are Denton, and ours is a brilliantly-colored, wonderful life.