Denton's Original and Independent vibe offers a distinctive and fun setting giving people the desire to want to join in on the fun.  But before we loosen the tie and kick off the shoes, we roll up our sleeves and put on our thinking caps.  Keep this in mind if you are looking for a location to schedule a meeting or conference.  Denton's creativity is born in many of the unique meeting spaces around town.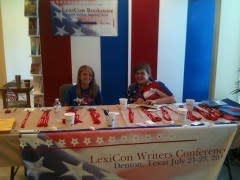 Welcoming groups and conferences is exciting for us! Many groups choose Denton as a location because we offer competitive rates, easy access to DFW airport and a Convention & Visitor Bureau (CVB) that can help plan every aspect of your event.
One such group that found Denton appealing focuses on helping writers connect with vendors, agents, publishers, editors and other writers.  The Lexicon Writers Conference has chosen to return to Denton for a second year this July and Denton welcomes the Lexicon Writers Conference attendees!
Uniting writers of all backgrounds from first-timers to experienced writers who have several books under their belts, the Lexicon Writers Conference offers an extensive itinerary packed with expert speakers.  Attendees at this year's conference will learn how to fine-tune and finesse their work, and learn helpful tips on networking, driving sales, and more. The keynote speaker at this year's Lexicon is Dave Lieber who brings 30 years in newspaper writing experience to share with LexiCon attendees. In addition to his time at the Fort Worth Star Telegram, Dave also wrote a few books, including Dave Lieber's Watchdog Nation: Bite Back When Businesses and Scammers Do You Wrong which won two national book awards for social change.
At the end of a conference day, attendees need time to give the brain a break and relax.  So to those visitors we encourage you to venture out and explore our walkable downtown.  There you can find live music venues, tasty bites, refreshing libations, unique shopping, art galleries, and more.
Keep Denton in mind! If you have an upcoming meeting or event, make sure your first phone call is to the Denton CVB at (940) 382-7895. At no charge to you, the CVB offers a wealth of resources and services such as; site and lodging selection, catering and transportation assistance, visitor information and more, all to help your conference or event run smoothly.
Are you a member of an organization or association that can hold your next meeting in Denton?  Do you have any questions about your meeting needs or special requests?  Our experienced staff is eager to assist you. Please give us a call with any specific questions. We'd love the opportunity to help you plan the perfect Denton event.