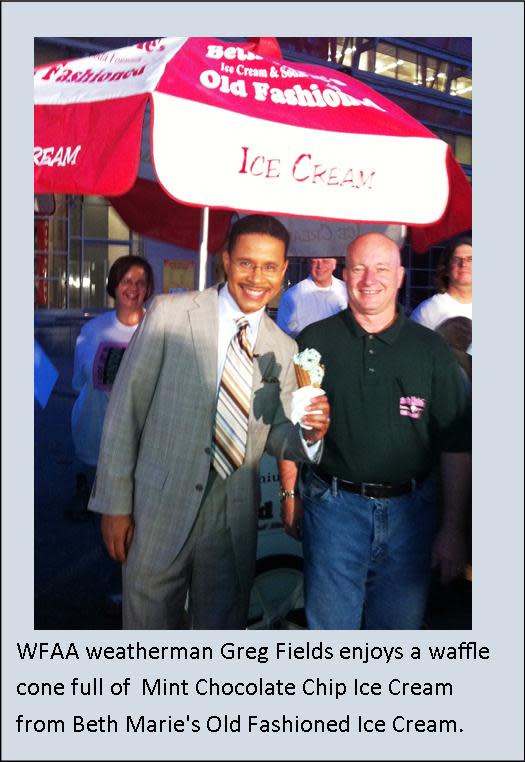 Well before dawn on Friday morning, July 29, more than 100 sleepy Dentonites boarded motorcoaches in the Cinemark parking lot. Café Du Luxe passed around steaming mugs of complimentary coffee. By the time the busses pulled up to WFAA Channel 8's studio at Victory Plaza in Downtown Dallas, an enthusiastic crowd of cheerleaders, mascots, civic leaders, and community supporters poured onto the outdoor set to represent Denton as the featured city on "Daybreak."
Throughout the summer, WFAA has featured a different Metroplex city every week. On our day for fame, many of Denton's outstanding attributes were creatively and energetically represented: Mayor Mark Burroughs (wearing his "I HEART Denton" T-shirt beneath his ever-present suit jacket); city councilmembers; cheerleaders, athletes, and mascots from Ryan and Denton High Schools, TWU and UNT – including the Mean Green's beloved eagle, Scrappy; many local businesses; musicians; and even city services' biggest stars like Recycleaurus Rex and Library Larry.
WFAA weatherman Greg Fields cooled off after delivering a very hot forecast when Beth Marie's owner Ken Willis shared a waffle cone packed with his famous Old Fashioned Ice Cream. UNT alum and WFAA anchor Cynthia Izaguirre was excited to hear from Athletic Director Rick Villarreal about the upcoming Mean Green season in the brand new stadium. Beth Jillson, Head Basketball Coach, validated WFAA's accolades to TWU's National Championship Basketball Team. And, a Denton icon all by himself in his signature orange, Frenchy was recognized for his tireless treks to DFW Airport to welcome troops home from international tours of duty.
The Denton CVB and Denton County Transportation staffs had front and center positions on the Denton stage proudly wearing T-shirts from their new cooperative campaign, "I Got Left in Denton…On Purpose." The program incites A-train visitors to spend the night in Denton with discounted hotel rates, courtesy transportation between Downtown's entertainment district, hotels, and the Transit Center, breakfast, next day regional light rail pass, plus a welcome bag of goodies just in case they didn't pack a bag. This cool campaign made its public debut on WFAA and is now available to visitors near and far. Check it out atwww.IgotLeftinDenton.com and tell your friends all about it!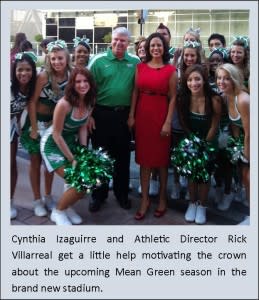 Cell phones chirped and buzzed as the crowd headed back to Denton. "I saw you on TV!" and "Wow, you're a star!" were among the text messages pouring in from all over the region. In typical Denton style, we accomplished our WFAA mission. It's all happening in Denton, and now everyone knows it.