Something new is happening at the Discover Denton Welcome Center (DDWC) in downtown Denton.
Randi Sue Surratt joined the Denton Convention & Visitors Bureau (CVB) team in October 2016 as the DDWC Merchandising Manager. Store sales support about one-third of the DDWC's operational costs, private sponsorships and a portion of Hotel Occupancy Tax comprising the balance. An average of 6,000 people visit the DDWC every month to learn about Denton, find out what attractions to see, where to eat and what's going on in town. Visitors are eager to find souvenirs and Dentonites like the Denton-centric shopping.
"I love that people come in here looking for something special about Denton and Texas because they like this city," Randi Sue said. "But it's even bigger than that because they wear a shirt with our name on it or display a piece of art by a Denton artist and it's a story-starter, our Denton story."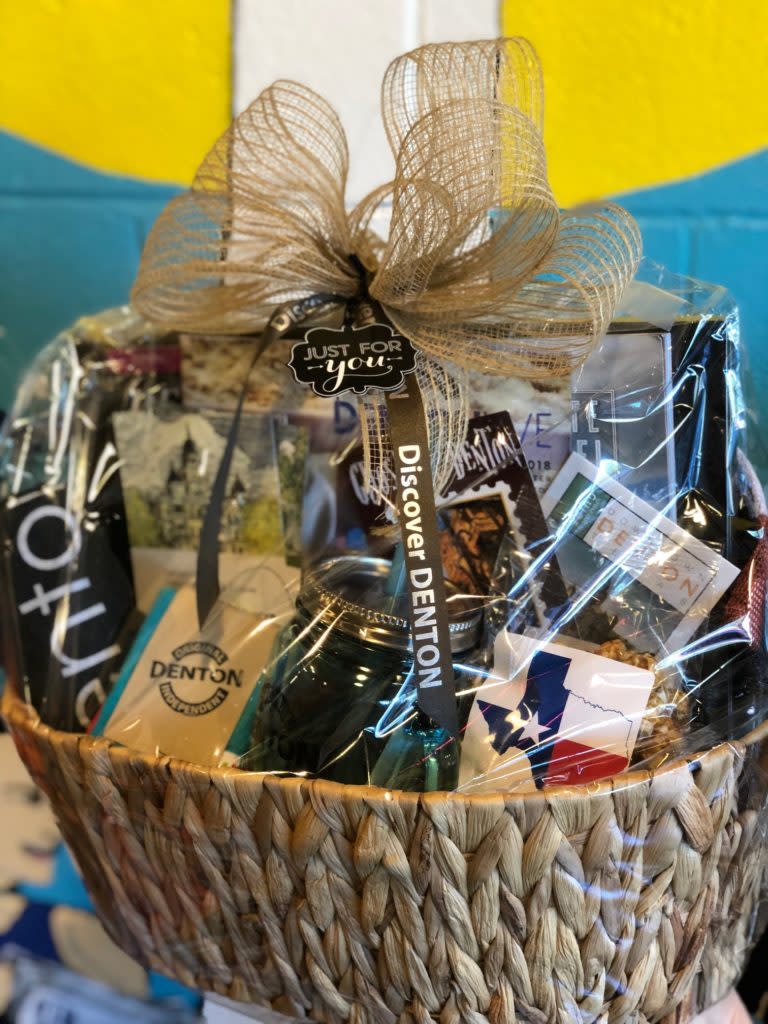 The Discover Denton Welcome Center's new Dog House Policy features gift ideas and customizable Denton-centric baskets at varying price points.
Randi Sue is the best in the business because she gets it. Her role as merchandise manager is a vital cog in the marketing wheel that is the CVB. "The DDWC is where we deliver the Original Independent Denton brand," she explained. "It's much more than selling a product. We create ambassadors, many of them walking billboards with Denton on their hat, shirt or jacket."
Before the DDWC, Randi Sue owned her own floral and gift shop. What's new at the DDWC actually began back then, when customers were hurried and harried having forgotten some important occasion. It's called "The Dog House Policy," and it was the backbone of her business.
"When a guy forgets his wife's birthday, he's going to be in the dog house, so to speak," Randi Sue said. "I created The Dog House Policy to remind my customers about upcoming birthdays, anniversaries, holidays and creating customized gifts to fit the occasion."
All that's required to join The Dog House Policy is a phone number and the important dates to remember. About a week before a special date, Randi Sue sends a text, the customer places an order, and the gift is ready for pick up in as soon as an hour.
The Dog House Policy is catching on with Dentonites, even those not in the dog house. Like Rick Wick, general manager at Classic of Denton.
It was one of those days, and Rick's schedule was packed: shoot Classic show for DentonRadio.com; back-to-back meetings; attend reception; grandson Henry's T-ball game in Houston, and Monster Jam the next morning.
"On top of it all, I had to get a door prize together for the Chamber mixer I was hosting at Classic," Rick said. "I told Randi Sue about the door prize and went on with my day. I swung by later to pick up a beautiful basket with Denton stuff in it like T-shirts and even some of that new Du Pop In popcorn. All wrapped up with a ribbon and bow, it's like call-ahead, curbside service," he said, delighted and relieved to have checked the door prize off his list.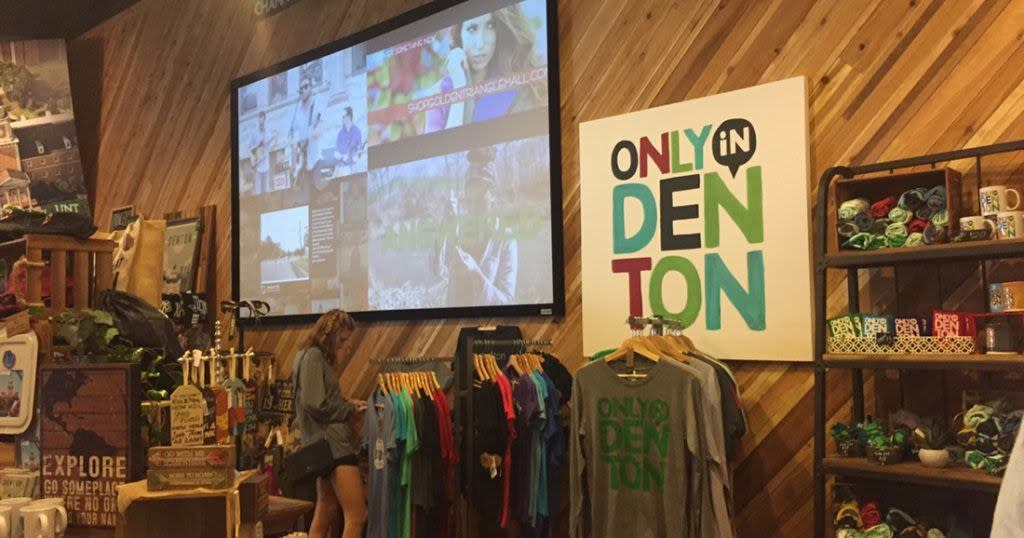 Cleo Birckbichler is Community Resource Officer at the Denton Police Department. Cleo wasn't in hurry, but her story is similar to Rick's. "I decided to provide 'Welcome Baskets' for Chief Frank Dixon and his wife, being that they are new to Denton and new to the Denton Police Department," Cleo said. "I went to Discover Denton for assistance and Randi was simply awesome! I bought the baskets and items, she 'Dentonized' them, put them together and made them look extremely nice. We added maps of Denton, attractions, places to eat, a little history of Denton, and things that would be beneficial in getting them acclimated to the City of Denton, Texas."
Since the Denton Convention Center opened, meeting planners are tapping into the Dog House Policy thinking too, especially for VIP and speaker awards. They can even place orders right from their offices on DiscoverDenton.com and DDWC staff delivers to the convention center.
It's working so well for so many reasons that The Dog House Policy is here to stay. There is no extra charge for last-minute, rush or same day orders. Customers can save even more time by calling or texting on their way to pick up, and a DDWC expert will deliver purchases to the car.
During the holidays, the DDWC ramps up The Dog House Policy with pre-made gift baskets and hand-painted custom ornaments for on-the-run occasions like the office gift exchange.
"It's about service," Randi Sue said. "Everybody forgets or runs out of time now and then. We step in the gap and facilitate the heart and intent of the gift-giver."
---
To join the Dog House Policy, visit the DDWC at 111 W. Hickory St. or call 940-218-1815. To view and order online, visit shop.discoverdenton.com. Prices vary based on content.