Thin Line films + the OUTreach dinner at Banter = an amazing Valentine's Day!
We started with Spirit of the Sato and found ourselves very aware of the global problems involving stray animals.  The film stressed the importance of spaying and neutering animals by focusing on the issues in Puerto Rico as an example.  Dogs and cats are often dumped on beaches and remote areas where they attempt to survive until they are captured and euthanized.  This film serves to educate people about these issues and to encourage more people to adopt a new pet instead of going to a breeder.  For local pets looking for new homes, please visit the Denton Animal Shelter Foundation.  We adopted our two wonderful dogs there over three years ago and are so glad we did!
Next up, I Shot My Love which followed the budding relationship between the filmmaker, his love, and mother.  I was really looking forward to this film because it deals with the tensions that can still arise in relationships among those who have ancestors affected by Nazi Germany in WWII.  As a photographer, I loved the way this film was made.  It was well done technically, which made it so beautiful to watch.  And what better subject than love on Valentine's Day?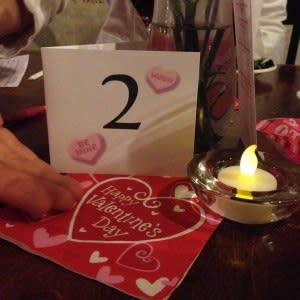 Afterward, we headed over to Banter for the OUTreach Valentine's fundraiser.  The tables were beautifully decorated and we were treated to a lovely dinner of salad, pasta, bread, and fantastic cheesecake from the Denton Vegan Cooperative.  OUTreach Denton is devoted to providing LGBTQA resources to Denton, including events for local youth.  We appreciate that they offer this opportunity for couples of any kind to celebrate their love.
Thanks, Denton, for making our Valentine's Day truly memorable!