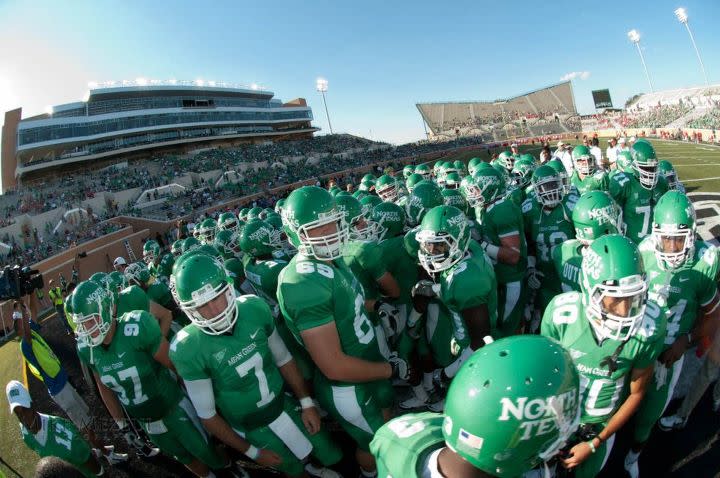 Tradition.  I love this word.  Even the sound of it is solid.  One of Broadway's most famous musicals is also one of my favorites, "Fiddler on the Roof."  It is the story of people in a time of upheaval.  Tevye is the main character through which we experience the drama.  Change is rocking his world, and he would be completely undone were it not for tradition.  "Because of our traditions, we've kept our balance for many, many years," he says.
Tradition is a binding force that holds together.  It works even when we who keep it have forgotten why.  Cumulatively, we have thousands of them, some shared, others personal.  Some are weighty with meaning, and many we keep for the sheer joy of doing so.  Football and holidays are two in the latter category that immediately come to mind.
I am a UNT alum.  Over the years I've heard murmurs, even among fellow students and alums that, unlike other universities, UNT lacks tradition.  Not so!  UNT's culture is steeped in original, independent tradition.  It may not always be obvious, because it looks a little different from every angle and on every individual.  But that is the manifestation of original, is it not?  And the fact that thousands have pursued their passions their own way in the campus' classrooms and corridors over the years is the tradition for which UNT is perhaps most known.  But there are many others.
This week is Mean Green's 2014-themed "Greatest Homecoming on Earth."  Many traditions combine under the Homecoming banner:  Homecoming court, bonfire, parade, Yell Like Hell pep rally, Spirit March, tailgating, all crowned by the game itself.  I wondered if these traditions were really ours.  So I did a bit of digging to see if Denton stories were behind these traditions or we decided somewhere down the line to mimic those of others.
UNT began as North Texas Normal College in 1890.  Its first site was at the corner of Elm and Oak Streets on the square where Thomas Ethan Allen sits today.  Our beloved Courthouse was not here yet.  TWU had not arrived on the scene.  Our population was just over 2,500 souls.  The Texas State Historical Commission states that UNT and then TWU, "ultimately did more to establish the character of Denton than any other single influence." From influence such as this, tradition of our own was born.
The first Homecoming as we know it today was on November 11, 1929.  "Home comers" as they were called then, enjoyed a parade, cookout, and celebration dance.  The Eagles (now Mean Green) won the first-ever homecoming football game 34-0 over East Texas State Teachers College.
November 1946 saw election of the first Homecoming Queen by the members of the football team.   The team tradition for choosing the queen lasted until 1952, when students morphed the tradition into the Homecoming court of today, the queen decided by the many rather than the few.
On November 12, 1976, the bonfire tradition took root.  It was the coldest Homecoming of the entire 20th century in Denton. Undeterred Homecomers gathered for the parade.  The first Homecoming bonfire blazed with purpose, to keep people warm.  The Eagles took on Florida State in Fouts Field that lay blanketed under a bizarre six inches of snow.
These are just a few of many stories behind UNT's Homecoming traditions.  The point is, they are our traditions established from our unique experiences.
This year's traditions are tinged with a first, something different that will never occur again.  Saturday's game against Florida Atlantic will be the 1000th game in North Texas' football history.  Click here for this week's November 3-8 Homecoming schedule.
The Mean Green Game Day experience will be over-the-top this weekend, too.  In addition to Game Day specials and complimentary shuttles between downtown and Apogee Stadium, holiday cheer will be in the mix.  Saturday and Sunday is the Denton Main Street Association's Holiday Open House Weekend.  Merchants are getting their Christmas on, rolling out gift and decorating ideas, and giving us a head-start on shopping.  The game is a 6:00 p.m. kick-off, so there is plenty of pre-game time to enjoy the shops and eateries before breaking out the pom-poms.
Broadway's Tevye said, "Without our traditions, our lives would be as shaky as a fiddler on the roof."  Shaky.  Unbalanced.  And a lot less fun, too.  Without tradition, what cause would we have to celebrate?
From football to Christmas and Homecoming to holidays, tradition in Denton says, "Let the party commence!"