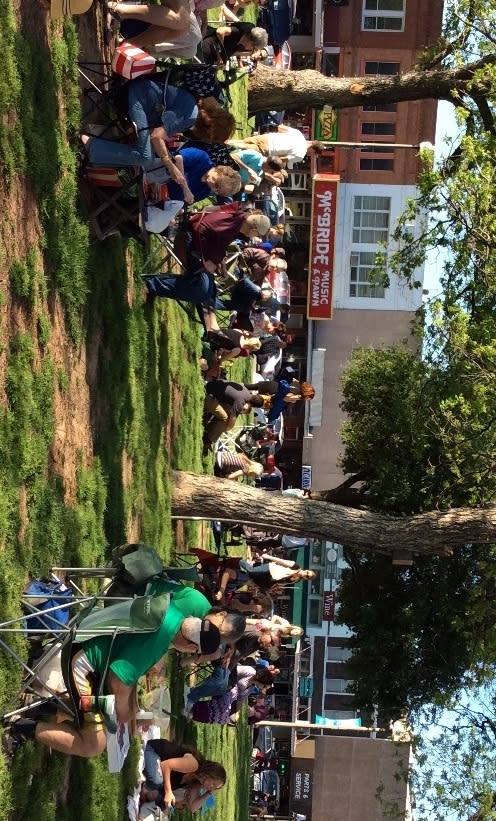 The workday is over, and now it's time for a relaxed evening in downtown Denton. Work worries and stress fade into the background as the sound of live music begins to drift through the air, inviting passersby to stop and linger under the shade of a tree for a taste of local tunes. Condensation forms on the outside of your cold glass of beer as you watch kids dance alongside the band. Twilight Tunes is back, and Thursday nights just got better.
The much-anticipated weekly concert series has returned, and Dentonites are eager to join their friends for a Thursday night on the square. For 21 years now, Denton Main Street Association has put together these free concerts on the courthouse lawn for the people of Denton to enjoy. Twilight Tunes kicked off on April 24th this year and will continue each Thursday night 6:30 to 8:00 p.m. through July 3th. There will be a bonus mid-afternoon concert on Independence Day 10 to 11:30 a.m. right after the Yankee Doodle Parade.
Here's a useful guide of what you'll want to bring to Twilight Tunes:
Good company: Friends, spouses, coworkers, kiddos, boyfriends and girlfriends, and four-legged friends.
Lawn chairs, folding chairs: If you want to be sittin' pretty.
Picnic blanket: to put your picnic foods on. My friend Tesa has a pretty sweet Bob the Builder picnic blanket. You'll be jealous if you forget yours.
Cold beverage: Grab some white wine from Wine Squared to-go, or fill up your beer Growler at the Chestnut Tree (Brunch Money is a popular choice), or you can always be responsible and sip on ice water or a fun soda from Atomic Candy.
Food: Pack a picnic, or if you're short on time, grab food to-go from one of your favorite downtown restaurants. The Chestnut Tree even offers picnic baskets for your Twilight Tunes needs.
Sunscreen: In case the shady spots are taken.
Sunglasses: our Denton CVB shades are pretty cool.
And don't forget to check out the lineup for who's playing which days. See ya there!
April 24: Lydia Low May 1: Los Patos Poderosos May 8: The Bird Dogs May 15: The Poor Kings May 22: Jeff Glover, Joe Pat Hennen & Bryan Houser May 29:  A Taste of Herb June 5: Kerry Davis Jr. Band June 12: Chris Watson June 19: Gravity Feed June 26: Bonnie & Nick Norris Band July 3: Bone Doggie & The HSH Band July 4: JR Byrd *10AM – 11:30AM*