It's exciting when the legislative session gets underway every other year in Austin.  Our elected officials and lawmakers don't just gather, stick some laws on the books, and head for the house.  No, a lot is going on down there and we the people get to participate.  Thousands of groups, individuals, passions and priorities converge on the capitol to make their voices heard as lawmakers struggle to best represent their constituencies.  The Texas Travel Industry, a major component of which is represented by convention and visitors bureaus (CVB) like Denton's, converged last week, on February 12-13.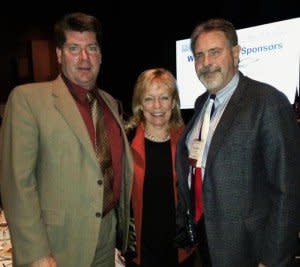 State Representative Myra Crownover with Chamber President Chuck Carpenter (right) and Chamber Board Chair Chuck Fremaux (left). Picture from Representative Crownover's Facebook Page.
When our industry converges, we do it big.  The Texas Travel Industry Association hosts the Unity Dinner at the Austin Convention Center and then the following morning, 800 + professionals from CVBs, hotels, restaurants, Texas Department of Transportation, Texas Parks & Wildlife Department, among many others arrive in tandem and blanket legislator offices with the message that "Travel Matters" - because it does.  In fact, right here in Denton County the travel industry is responsible for 5,580 jobs and a more than $12 million impact on our local tax receipts.  And, most Texans probably have no idea that travel puts $840 into every Texas household.  That's how it adds up when you distribute the $7.9 billion in state and federal taxes Texas brings in directly from travel spending.  It's important!
State Representative Myra Crownover and State Senator Craig Estes always participate as part of our Unity Dinner delegation from Denton.  This year, our group of 16 included leaders in City, Chamber, and County plus, for the first time ever, Denton's music scene.  The Denton CVB sponsored the music for the Unity dinner event and brought two of Denton's own singer/songwriters to showcase the important role Denton plays as a leader in Texas music.  Zach Balch and Karyna Micaela impressed the 1,000 person dinner crowd that included legislators and leaders from across Texas, becoming the surprise highlight before a fork was even picked up.  Everyone "quasi-gets" that Denton has music.  But hearing it first-hand really drove it home.  DentonRadio.com partnered with the CVB to unveil Denton music in the heart of Austin.  They made us proud, Denton!
And, our music is a major part of how we talk about ourselves in the Texas travel marketplace.  It's integral to our character, to Denton's sense of place.  And our music scene is a cornerstone draw for travel's local tax impact I mentioned above.
It's a great day in Denton.  Then again, it almost always is.