Original, independent Denton.  I can think of no more perfect brand for Denton.  Not a day goes by that I don't appreciate its genuineness, but lately, I've been awed watching our brand's true meaning in action.  As a collective whole, we value the "real deal" and work together, sometime through difficult challenges, to compromise in favor of our city's greater good and keeping Denton Denton.  Just as exciting, though, has been watching outsiders correctly interpret our brand's spirit.  A brand is truly successful when people see it and intuitively "get it."
During the recent series in this column dedicated to Denton's showing at the SXSW Interactive Expo, I reiterated numerous times the attention we garnered not just for being in the expo, but for the cooperative work between community anchors that made being there possible.  We set aside individual agendas and shared resources, expertise and imagination to showcase Denton.  Such cooperation is original, independent and highly uncommon.
Henry David Thoreau said, "Don't be afraid to go out on a limb…that's where the fruit is."  SXSW is a good project example where we went out on a limb and found the fruit.  Such ventures can be risky, even scary, but Denton is a place whose character is anchored in cooperation.  So, it makes absolute sense that when we recognize a city-wide need, we rally to address it together.
Well, we literally do have an overhead need:  limbs and branches, leaves and fruit, beauty and shade.  We need more trees.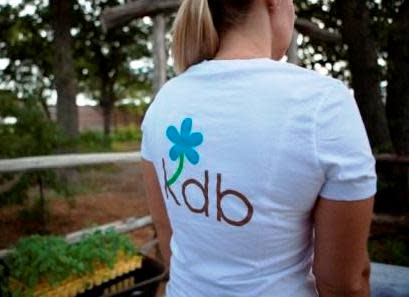 Keep Denton Beautiful (KDB) is heralding the community call to plant 12,000 trees by 2019.  "The Denton Tree Initiative is a multi-year program and the largest-scale initiative KDB has ever tackled," said Lauren Barker, KDB Program Manager.  "This is not a national program.  It is a ground up, community investment project where we plant today for Denton's tomorrow."
And planting for tomorrow is essential in a city growing as rapidly as Denton.  Lauren explained that Denton's tree canopy has likely waned since the last flyover inventory in 2010 when it was calculated to be 19 percent.  Decline is troubling, especially when measured against the industry standard for optimum urban tree canopy at 30 percent.  "Our city is growing faster than trees can grow," she said.
Since North Texas was originally wide open prairie land, planting trees has been important from day one in our city's life.  Besides their aesthetic contribution, trees preserve soil, clean the air, affect temperature, provide habitat and enhance overall quality of life.  As Dentonites have for more than 150 years, we must plant, and then some.
The Denton Tree Initiative is the ultimate cooperative community project.  KDB is giving trees away.  Individuals and businesses visit dentontreeinitiative.com to apply for a young tree to be delivered and planted in their yard.  As an added incentive to helping sustain our canopy, Denton customers can receive a $50 utility rebate for up to five qualifying native tree plantings.  So, the City gives us the trees plus a rebate through KDB; we plant and maintain the trees; and Denton's canopy holds at 12 percent, perhaps even grows if enough of us plant.
KDB's annual Redbud Festival is coming up in a couple of weeks, April 23, at the Civic Center.  This is Denton's Arbor Day Celebration, and a lot of us are accustomed to arriving early to get a tree.  While they last that day, KDB gives Denton residents free three-gallon trees to plant at home.  KDB has traditionally given out about 2,500 trees each year.  The new tree initiative nearly doubles the supply.  But trees are only half of the solution.  The other half is our volunteer yards where tomorrows trees can grow to maturity.
Oh, and don't shy away if yours is not a green thumb.  KDB knows well that there are many wrong ways and places to plant a tree.  These trees come with "Right Tree, Right Place" education about how, when and where to plant exactly what kind.
There is an ancient Greek proverb that says, "A society grows great when old men plant trees whose shade they shall never sit in."  I liken the ideology behind this proverb to the analogy I often use about our work in the CVB, DentonRadio.com, and as part of cooperative partnerships touting Denton to the world.  We are farmers sowing seed, many of which likely will not mature right away.  The seeds are efforts to manage Denton's destiny through this incredible season of growth and change.  A new generation will reap the fruit, and if we've done it right, Denton will still be Denton with plenty of shade to share.