Last week Kim Phillips, Vice President of the Denton Convention & Visitors Bureau (DCVB) traveled to Galveston to attend the Texas Travel Industry Association's (TTIA) Texas Travel Summit.  TTIA is a non-profit organization made up of businesses, organizations, associations and individuals dedicated to developing Texas tourism to its fullest potential. Its mission is to improve the quality of life in Texas by strengthening travel and tourism and is the lead organization in promoting advocacy to help the industry grow and prosper.
The entire Texas travel and tourism industry  comes together during Travel Summit and attendees take advantage of many opportunities to network with other industry leaders and learn about a vast array of industry topics including travel trends, marketing and promotions, best practices, and new products and services.
The conference is an annual must for our V.P. but this year's attendance was even more significant as she steps into the role as chair of the State's most influential travel and tourism association.  What may seem like an overwhelming charge for some is child's play for Kim Phillips because this woman is armed with a toolbox of skills.  We've come up with the Top 10 skills that will make Kim an epic TTIA chair:
1.  She recognizes the significance of the organization: 
While she has served on the Executive Committee for the past 3 years, Kim has been involved with the organization for the past 25 years helping to promote legislative issues benefiting tourism.  She never misses our travel industry's largest advocacy event of the year, Texas Tourism Unity Dinner.  She travels to Austin each year with local government representatives, business partners, and media to take advantage of the opportunity to further cultivate and educate over the economic impact of the travel and tourism industry.
2.  She is passionate about tourism: It is easy to recognize Kim's passion for Texas Tourism in her weekly articles in the Denton-Record Chronicle or on our Discover Denton Blog.
 "Texas is a state of travel, and life's better in our state because of the impact travel makes on our economy."
3.  She loves Texas:
As a native Texan, Kim is familiar with every inch of Texas and its history.  As she travels the state for various business trips she takes the time to soak in Texas' awesomeness.  On occasion she travels around Texas just for fun.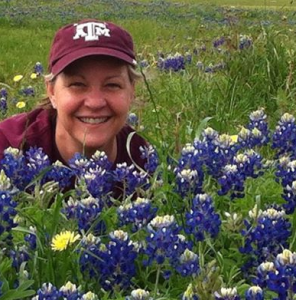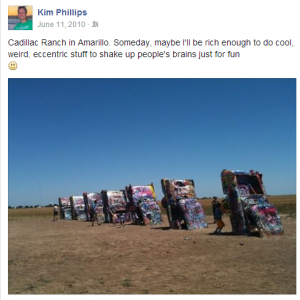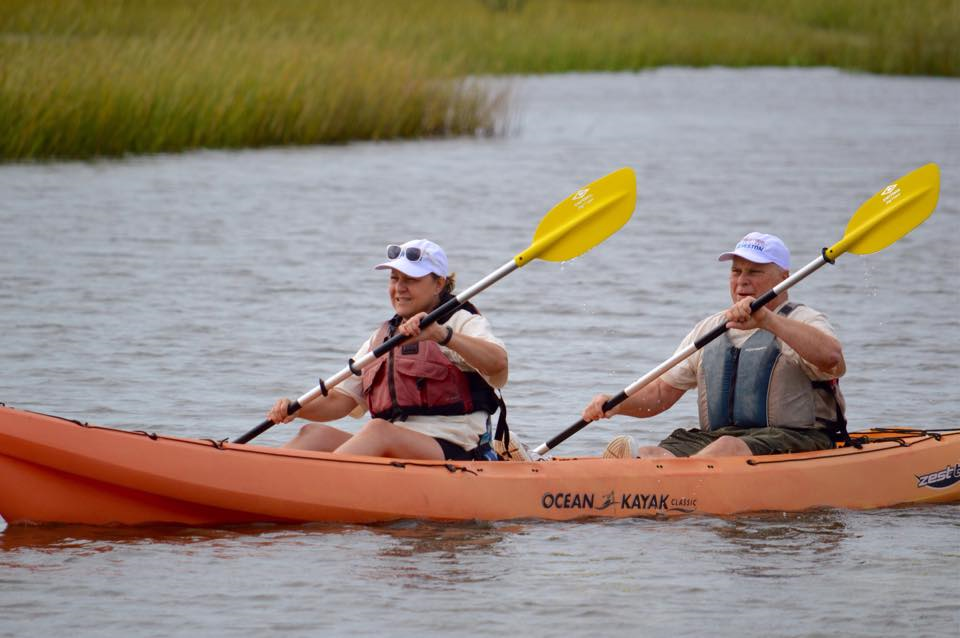 4.  She can use her Original, Independent Denton vibe to help the organization: Kim helped develop the Denton Original and Independent brand and continues to nourish it.  She is just as familiar with TTIA's Life's "Better in a State of Travel" tagline and loves using it.
"The 'Life's Better' brand is one to be explored as well, because it encompasses our Denton brand along with the rest of the state's individual destination brands and communicates the message that travel is a vital industry to every Texan."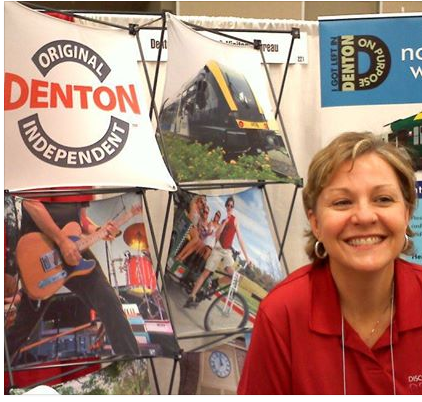 5.  She is a natural leader:
Kim has also served in leadership positions in multiple state organizations such as the Texas Lakes Trail Region of the Texas Heritage Trails program, the Texas Association of Convention & Visitors Bureaus, and the Dallas Fort Worth Area Tourism Council.

6.  She is a forward thinker: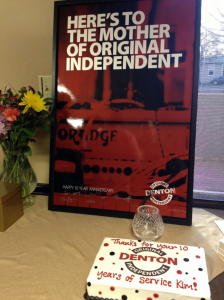 Kim is one of those rare folks that always sees the bigger picture.  And if there is not a bigger picture she will go ahead and paint it for you, with much detail I might add.   A great example is the DCVB's active social media channels, which are often complimented for engagement.   While Kim gives credit to her staff, it was Kim who saw this platform as the wave of the future and a cutting edge forum to engage with visitors before it became mainstream.  She encouraged it and ensured it was nurtured while providing opportunities for growth and development.
7.  Works well with others: Kim has formed partnerships within the Denton community that help amplify the "good word of Denton" to a much larger audience as a united team.  She helped create a single independent and original voice that promotes all of our festivals, events and happenings in Denton and encourages partners to make use of it.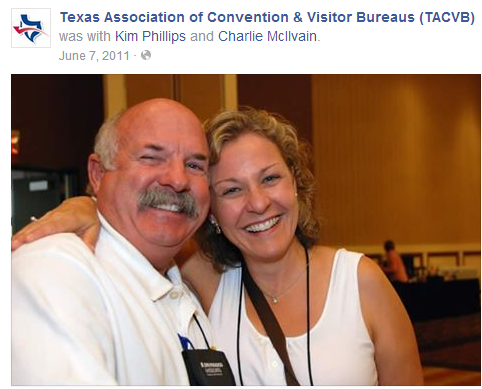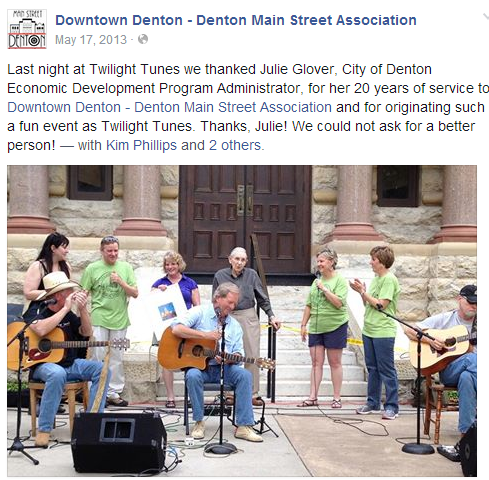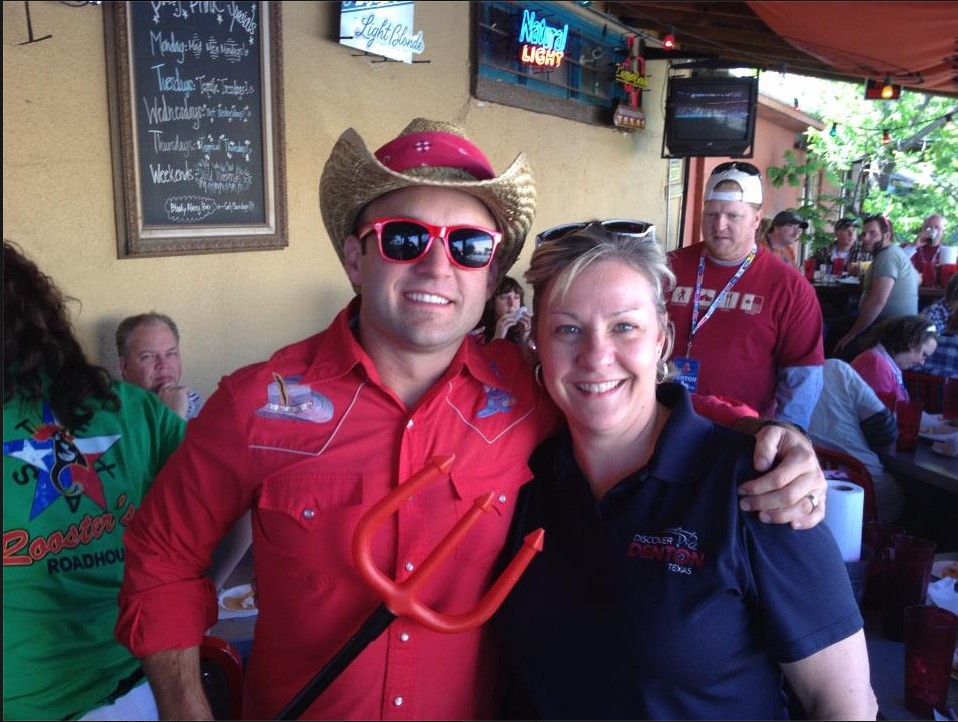 Kim showed the Daytripper around Denton.
8. She is never scared to succeed: Our office joke is that she has a new idea for us to work on every time she showers.  So as you can imagine, they are endless.  Some sound a bit more risky than others.  What if we just shelved them out of fear of failing or looking bad?  We've had our share of campaigns that didn't take off like we would have wanted.  But that doesn't get Kim down much, less stop her.  We continue to ensure Denton is front and center when opportunities come up.   A few current projects include the Mean Green Game Day & Dig Little d.  She keeps working until we succeed. That's what our fearless leader teaches us.
9.  A little hard work never scares her: She will roll her sleeves up when needed.  And it's not just to paint a picture for you to follow.  If you have ever worked with Kim on a committee or event you best make sure she has a job to do.  She doesn't like to sit idle.  She wants to dive in feet first and be involved.  Just look around during a Mean Green Game Day.  You may spot her at the game as well as around the Downtown Square getting signage out to help direct visitors.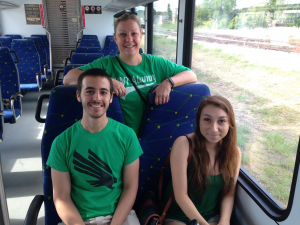 10.  She's got words, and she knows how to use them: Kim has headed tourism initiatives in Denton County for nearly 20 years. She believes that storytelling is the most powerful form of communication regardless of the medium used, from books and blogs to film and photos and everything in between.  And she uses that to promote Texas and Denton Travel. Her most effective way to market Texas and Denton is through her stories.  A University of North Texas School of Mayborn Journalism graduate, Kim's articles and blogs paint images with her words.  She entertains, thrills and shocks us, and we can never get enough of them!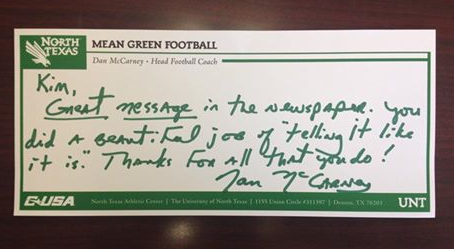 "In more than 25 years of destination marketing, I confess there were times that I wondered what about my work affected others, how it was important. Since coming to Denton, however, I've quit wondering. I know."
The term for the TTIA chair is for one year.  "TTIA is very fortunate to have incredible and diverse leadership on our executive committee and board," commented David Teel, TTIA President and CEO, following the association's annual conference. "We had a great year under the leadership of Frank Morogiello, and our incoming chair, Kim Phillips, brings immense passion, leadership and commitment to the association to lead us through another successful year. Kim has dedicated the past 24 years to destination marketing in Texas and her unique perspective will guide the association as we move forward with new programs and greater member services."