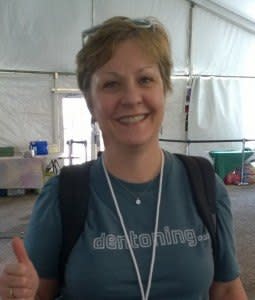 Me...Dentoning
Thin Line Fest is drawing to a close.  It's not over yet, though.  I've still got at least one more film to see and I'm planning to see Denton's renowned Slobberbone for the first time tonight at Dan's Silver Leaf's closing show.
"Micha" was my first film today.  I loved the story, but I loved even more the cinematography that showcased Denton so beautifully.  The characters embodied those attributes of Denton I love most:  independence, originality, perseverance, and the power of life that happens in community.
Next was "Shorts 4" that screened eight mini docs.  They were all very good.  "Serve Denton,"  "United Way of Denton County," and "Querencia" featured Denton's giving spirit and the many Dentonites who breathe life into and give hands, feet, and faces to that spirit.  Our people inspire me always.  There are so many infected with contagious outreach that the culture of our place is a thriving sense of hope for all.  Denton is blessedly unique in this way.  We are incredibly fortunate to be parts of this whole.
My favorite short was a five-minute film called "254" about this fellow who loves Texas and spent 15 years roadtripping to every one of our state's 254 counties.  I could relate to this guy's passion.  People thought he was a bit baked for doing this, but when he finally succeeded, the number one question posed to him was, "which state will you do next?"  He said, "I don't want to do another state.  I want to do Texas again."  That's a truly Texas heart.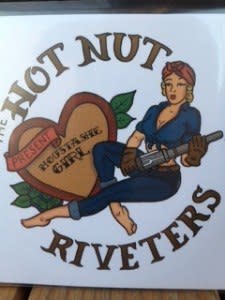 Guy Forsyth CD. I bought the second copy EVER sold.
The Denton Electric Company performance tent across from Oak St. Drafthouse hosted Guy Forsyth and the Hot Nut Riveters.  They were amazing!  Their sound is kind of a bluegrass, country variety including instruments like the stand-up bass, steel guitar, kazoo, washboard, standard guitar, and their vocal harmony is, well…riveting.  Maybe that's how that settled on their name, that and the funny, nutty personality Guy brings to the lead.  The show was simply fun.  Everyone was smiling, many were dancing, and the crowd demanded an encore because we didn't want it to end.  That kind of feel-good doesn't happen everyday, so we reveled in it.  The more we relished, the more the Riveters gave.  No doubt, they had as much fun, or more, than the audience!
I'm signing off now to catch the last half of "Escaramuza: Riding from the Heart."  Then, I plan to catch the preview of "The Engineer," a Toronto Film Festival contender.  It will be this film's first screening which is kind of cool experience to share and a rare opportunity for the Thin Line audience.
If you haven't made it to Thin Line yet, the evening is young.  But come on, because time is running thin.