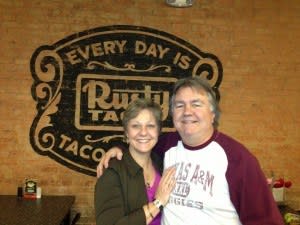 Me and Tim, Valentine's date 2014 at Thin Line Fest
Yesterday was Valentines Day.  I didn't get an opportunity to sneak away from work and Thin Line during the day, so Hubby decided our valentine date would be dinner and a movie Denton-style.
We joined friends for happy hour at Dan's Silver Leaf.  We walled a block and shared dinner at Rusty Taco, including lots of chips, salsa and queso (my favorite part).  We strolled up to the square and soaked in the vibrancy of downtown Denton.  The stores were busy with shoppers and browsers.  A fiddler was entertaining on the sidewalk for tips.  Families, couples, individuals and groups were just hanging out in Denton's living room.  I love that!
We ambled through the square toward the bright lights of the historic Campus Theatre marquis and our film pick for the evening, "Perfect Strangers."  This feature was yet another pleasant doc surprise.  I knew the film was about one lady's altruistic drive to donate her kidney to a stranger.  As expected, we learned a lot about the desperation of those individuals and their families who are living life on dialysis.  I definitely gained realistic appreciation for the depth of that day-in, day-out struggle.  What was unexpected, was how connected we became to the film's main character, Ellie.  As viewers, we were guests in her home and life.  I felt connected to her, almost as though we were friends, by the film's end.  Catch this one on Netflix one of these days.  It was well worth the watch.
After the movie, we resumed our Dentoning at Vigne, one of my favorite wine bars.  I love the Rat Pack soundtrack of the place and the wine selection is fantastic.  Over-the-top great service, there, too.  We talked "Perfect Strangers" (an ironic film title for Valentine's Day, right?) and enjoyed our wine.  Then we ended the evening where we began, at Dan's Silver Leaf.  We had a nightcap and listened to Biographies, comprised of Denton's own talent, like so many of the bands and shows at Thin Line this year.
 "When Dallas Rocked" is first on today's itinerary.  Hope to see you there.