So many of the films in this year's stellar Thin Line fest lineup have one striking theme in common: They take global conflicts, and narrow in on the human element at the heart of the issue. This is especially true for Anote's Ark, a moving story of climate change that is unlike any other film we've seen on the environment.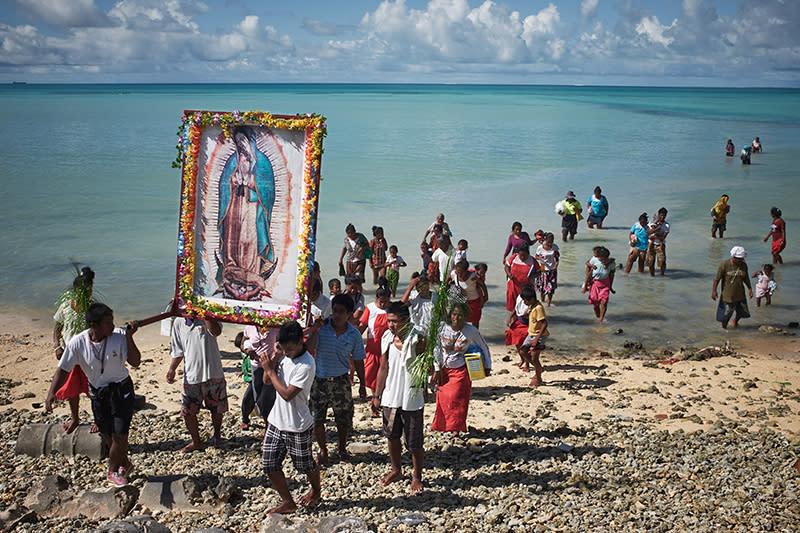 A film still from Anote's Ark by Matthieu Rytz,
So much of the talk about climate change has focused on what this means for the United States. Along the way, the public at large has mostly forgotten about the smaller, poorer nations who face even more imminent consequences due to our climate change inaction. Enter Ark, a film by director Matthieu Rytz that focuses on one such nation — specifically, Kiribati.
A small island in the Pacific, Kiribati is home to 100,000 people — all of whom are at serious risk due to the drastically rising sea level set to engulf their country. Rytz's documentary is led by Kiribati's president Anote Tong, a battle-hardened man who held that post for 13 years before leaving office in 2016.
For better or worse, Tong finds himself at the center of the global climate change discussion, mostly because he and his people are simply running out of time. But Tong is not the only one on whom Rytz focuses for this insightful flick. Tiemeri, a young Kiribati mother of six, joins Anote in the fight for her home and for the future of her children and all children of Kiribati, and her story packs an emotional wallop so powerful it ensures viewers won't soon forget this tale—which is kind of the point. The film follows her as she and a band of Kiribatians seek asylum elsewhere, and in doing so, the director provides poignant commentary on the human toll of climate change.
Rytz's film is both beautiful and unsettling, and it's disconcerting to think how necessary it is to make movies like these. While politicians and scientists approach climate change as the scientific calamity that it is shaping up to be, few have acknowledged this crisis as a human rights issue. This film changes that. In a climate rife with films about our changing world, Anote's Ark aims for a rare feat: Rytz doesn't want to simply enter the conversation; he wants to change it.
Anote's Ark - Official Trailer - Sundance 2018 from EyeSteelFilm on Vimeo.
---
Anote's Ark runs 77 minutes and will be shown Sunday, April 22 at 5:30 p.m. at Movie Tavern as part of Thin Line Film Festival. To register for Thin Line Fest or to purchase a premium registration, click here.