Thin Line Film Fest is an incredible brushstroke on the canvas that is Denton culture. It's somewhat difficult to pin down when Thin Line became Thin Line, but for the sake of this reading, we'll call this the 8th annual festival. Thin Line originally featured films of various genres, but by 2007 had settled into the documentary mode. This year, for the first time, music has been added to the festival.
The festival has grown each year, and now shows documentaries from around the world. The idea of merging music into the mix was raised a few years ago when Josh Butler of Thin Line approached 35 Denton founder, Chris Flemmons about a joint fete. Flemmons was not convinced that combo-Fest was the right thing to do, so music remained on the back burner until this year.
The sonic portion of Thin Line is very similar to 35 Denton. Various bands play in the ever-growing number of venues surrounding the Square. An All Access Pass does exactly what it's title reflects, but one can pay for individual shows as well. The all inclusive pass started at $150 on or before the first day and decreases in price each day of the festival. Individual films are $8, music shows.......$15.
Brave Combo, appropriately, was the first band to play Thin Line. The local, Grammy-winning, band took the stage immediately after the premier showing of "When We Were All Broncos". The pairing of the hometown band and the hometown story was a stroke of genius. There could not have been a better opening night of Thin Line 2014. Thursday afternoon offered two very talented singer/songwriters. Caleb Coonrod (who should make it based solely on his name) took the main stage early and thoroughly entertained the sparse (read very early) crowd.......followed by local Ellie Meyer, a delightful local favorite.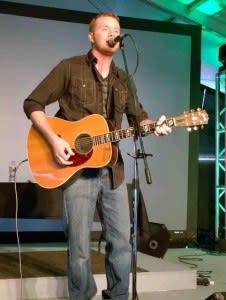 Caleb Coonrod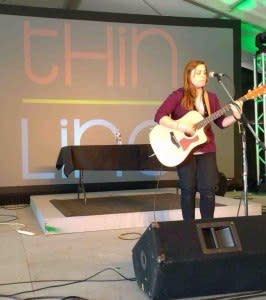 Ellie Meyer
It's still early, but the marriage of film and music appears to be a happy one. A couple of area blogs have proclaimed this melding to be the beginning of the demise of 35 Denton. Nothing could be further from the truth. The annual music festival IS taking a break in 2014 to regroup and fortify, but it will return in full force in 2015. Which means.........win-win for Denton! With Thin Line and 35 Denton, we will have a nationally recognized film AND music festival in 2015 and on.........
What a great town.