My friend Joe Lopez is the Director of Sales for the Holiday Inn Conference Center in Denton.  His hotel is the host property for Thin Line Fest.  As a result, he's met many of the filmmakers and directors of the docs screening in Denton this year.  His interest piqued after hearing the chatter between the artists at the hotel, and he agreed to be my date for the day.  We had a blast.
We started off with "When Dallas Rocked."  What an awesome film!  The early 70's was my generation of music.  I never knew that so many of my heyday faves launched their careers in Dallas!  Nor did I know Dallas was the bedrock of music in the vinyl era.  I never heard of Mother Blues, which at that time was the most famous hangout for the great musicians of the day.  Jimmy Buffet, Peter Frampton, ZZ Top, Bono, Jimmy and Stevie Ray Vaughan were regulars there.  Talk about a lineup!  All driven by vinyl sales for which Dallas was the home-base distribution point to the rest of the nation.  The Internet's arrival killed those days, and they'll never be back like they were then.  But Denton has cool spots like Mad World Records where a soul can step back and almost be there again for just a little while. "When Dallas Rocked" is a film you can find here and there.  Google, find it, and view it.  It's absolutely fun and well worth the watch.
After the film, Joe and I hit Lone Star Attitude Burgers (LSA) to split a burger and and a pile of those scrumptious garlic parmesan fries.  We met a tourist named Diana, made quick friends, and ate her fries, too.  We enjoyed some suds and the sky view of Denton then decided on Thin Line music for our next stop.  My buddy Dan Mojica, the Dan of Dan's Silver Leaf, had raved about the Cornell Hurd Band he had personally booked for Thin Line, so I picked the Denton Municipal tent for our listening venue.  (Don't be fooled by "tent" – it's a temporary building with lights, heaters, and super sound.) Dan was right.  They were fantastic!  If only Joe was a dancer.  I had to restrain my feet and enjoy the swing music standing still.
I stayed for the whole concert, but Joe moved on for libations at Mellow Mushroom.  After the show, I joined him there with some other friends.  We relaxed until our next doc-to-do at the Campus Theatre, "Antarctica," another great film about regular people who sign up to work at the bottom of the planet in an incredibly extreme environment.  Gorgeous cinematography.   Joe loved the film and is now ready to sign up for an Antarctic stint.  I admit, I stole a little napper snapper between scenic views.  If work stints like those in the film were available on desert islands, I would sign up today.  Joe will have to do ice destinations on his own.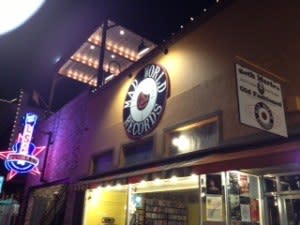 Back at LSA, we ordered coffee and soaked up the fantastic nightlife scene of the square.  A drum circle was playing on the courthouse lawn.  A flautist was on the sidewalk below playing concert-worthy tunes for tips.  Jazz was in the air, drifting from Sweetwater on the block behind us.  Folks of all kind were wandering in and out of shops and hanging around Denton's living room having a great time on a glorious evening.  I love this town!
Joe called it quits after his coffee.  I went on to take in some of the jazz and then moved on to the green room to write this blog.  Filmmakers, other bloggers, festival staff, and some of Denton's own music famers like Kelly Upshaw were hanging around, so I did more visiting than writing.
I did another walk around the square and ran into my friend Shelly Tucker.  We shared a hug (Dentonites are big huggers, you know) but I moved on quickly as she was in the middle of one of her "Ghosts of Denton" tours.  She is perhaps Denton's most famous storyteller.  Check out one of her regular Friday night tours and discover a different side of Denton.
I'm back in my favorite writing haunt, Vigne.  Mellow jazz tunes, relaxing atmosphere and great wine.  Plus Nate.  He might be the best bartender in town.  As far as customer service goes, he absolutely is the best.  He makes Vigne.
We're headed into the home stretch now.  Tomorrow is Thin Line's last day.  And it's going to be as full and fun as today has been.
Let's see…"Micha" at noon.  "Shorts 4" at 2:00.  Guy Forsyth concert at 3:00. I met the director of "Escaramuza: Riding from the Heart" tonight, so I'm definitely seeing this film at 4:00.  More music, then planning to end the festival with the Slobberbone concert at Dan's Silver Leaf at 10:00.  They're one of those bands that put Denton's music scene on the map more than a decade ago.  Every decent Dentonite has seen them.  Now's my chance.
Thin Line rocks in so many ways.  If you haven't made it out, you've still got tomorrow.  See you here!