Two of this evening's films proved to be inspirational insights into the lives of people who work to create meaningful work.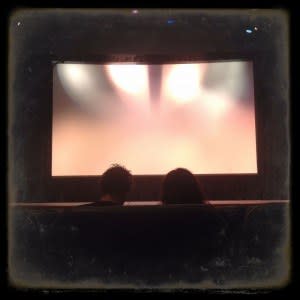 Thin Line patrons waiting for the show to start
The Punk Singer told the story of Kathleen Hanna, lead singer of Bikini Kill.  She made so many contributions to feminism through her music, which were presented thoroughly with many celebrity musicians from the 90s adding commentary.  Her colorful personal story of her life beyond the music added to the interest.  As the credits rolled, I had a new appreciation of those who have worked so hard for women AND for those who support loved ones through difficult illness.
Sign Painters followed a different kind of art: the fading craft of hand painted signs.  These were the kinds of artistic works that I noticed, but didn't fully appreciate those who made their living creating them.  The painters' stories in the film made it clear to me the amount of hard work and talent shown for years in so many American towns.  For real examples in Denton, check out the beautiful sign art at Jupiter House Coffee or Royal's Bagels.
So bravo, Thin Line and sponsors, for inspiring viewers to appreciate those who put so much effort into their art for the betterment of others!  I can't wait to see more at tomorrow's lineup!