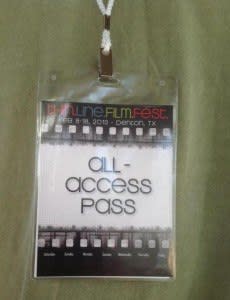 How cool is Denton? We have daily, awesome music, the North Texas State Fair/Rodeo, a world-class music festival in 35Denton and the Thin Line Film Fest which started yesterday, and lasts through the 18th.  All this without mentioning so many other things which make Denton, DENTON!! There are four venues for Thin Line, three within a block of the Square. And you know what that means!!!!!........you can have dinner, see a film and have après cine sparkling adult beverages.... all from the comfort and ease of a single parking place!!!
As I was growing up (we'll make the assumption I did) we had the North Texas State Fair, but had neither of the festivals and MUCH less music. I can't say enough about how much Denton has changed for the better..... from a sleepy, dusty little town north of the Metroplex to an active, vibrant.......important part of it. And as a major part of the town, the people have changed too. And for the better and that includes me....
I just saw one of the films at the Thin Line Film Fest dealing with the gay/lesbian bar in Ft. Worth called the Rainbow Lounge. It is a great film about an unfortunate police action one night at the bar, and how the incident helped reform intolerant people into more understanding, caring people who don't have a problem letting people live their lives the way THEY want. When the film was over, I starting thinking about a change in me.........I'm not even sure when it happened.
Texas, when I was a kid, was not the most politically correct of States. I remember using slurs RE: sexual orientation and race back in Jr. High and High School and not thinking a thing of it. I know I didn't have the hate in me that originally generated those foul terms, they were "just" words that were thrown by Texas youth. I'm not proud of it, it just was. But through the years, I have come to learn now those words can sting and how everyone has the right to live as they wish. Denton has changed and I have changed and a movie that would not have been shown in the Denton of yesteryear brought that to mind.........