When it comes to art, Denton has the whole package. Music is, without a doubt, the anchor but art of all types flourishes in Denton. One form of art which doesn't get it's fair share of attention is FILM. That lack of attention will change this week as the Thin Line Fest overtakes Denton for five days.
The festival started last night with a hometown bang. I'm not sure what I was expecting from "When We Were All Broncos", but whatever thoughts I had were blown out of the water by the film. The documentary is about Denton. Not about Denton itself, but the people who are the true soul of our great city, and how they overcame centuries of ignorance.
"When We Were All Broncos" was directed by Dentonite, David Barrow. A little over a year ago, David was waxing nostalgic about his days of playing football at Denton High School with a friend, Sam Peckham. As the two talked, they realized that those games as DHS Broncos were played during a tectonic shift in our society ............desegregation.
The documentary is not a rehash of Barrow's glory days or a film about football. It is a brilliant film about the PEOPLE of Denton and how they, almost seamlessly, mended a divide which had separated our town and the nation through laws, fear, stupidity and ignorance.
The story is told by the people who were there........the players, the coaches, the citizens of BOTH Dentons. The film covers a time in our past which is nothing to be proud of.........but sitting there last night, watching "When We Were All Broncos" with the people who lived it and helped heal our town as much of the rest of the nation faltered........my pride in being from Denton increased 100-fold. I didn't think that was possible.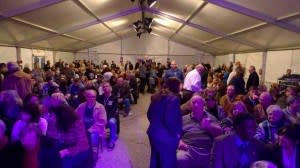 Film premier. Record-breaking opening night in Bronco purple hue.

"When We Were All Broncos" will be screened again Saturday, Feb. 15, 10:30 at the Campus Theater. Please don't miss this incredible film.