The fact that Denton has a film festival is cool..........but the experience of participating in Thin Line is Top Shelf Dentoning. And it is an experience........ The venues, the films, the people and now the music......on the Square.....is an amazing thing that happens to Denton once a year. Shoot, just getting to see the inside of Fine Arts Theater again makes it worth the effort.
But the festival is so well organized and run, that really, no effort is required.. Most of the films are brilliant, and one part of the experience is getting to hang out with the creative minds behind these films. Question and answer sessions usually follow each film which allows viewers to further explore whatever touched them in the film. Something you can't do at the Movie Tavern or Cinemark.
But.......Denton is small enough and the venues intimate enough, that with little effort, you can actually meet and get to know the directors of these amazing documentary films. The directors come from around the world, and often the stories behind the films are as interesting as the films themselves. This wouldn't happen in Austin........
Other than Denton's own "When We Were All Broncos", my favorite documentary so far has been "Goodness in Rwanda". It's about a Canadian theater group which was asked to perform their play, "Goodness"........(about a generic genocide) in Rwanda which had experienced its own genocide of 800,000 people just a few years before. The producer of the film "Goodness in Rwanda", and actor in the play "Goodness", Tara Hughes, did an incredible job fielding questions during the Q and A the screening despite a raging migraine. I met her the next day......post-migraine, and was able to learn more about her gut-wrenching experience in Rwanda and the intense emotions that drove her to produce the film.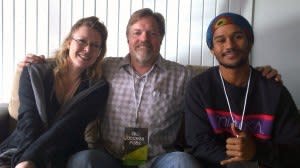 Tara Hughes- "Goodness in Rwanda", random blogger, Ravi Hart Lloyd- Director
There are so many films to chose from, thoughtful selection is required. You can read the synopsis of each doc before you see it, but talking to the directors and other festival attendees is a better method to pick and choose. It's difficult to go wrong though with the quality and variety of films brought here by the folks at Thin Line.
As we all know, our town is..........by itself, a cool place to live. Having world-class films and amazing music come to us is beyond cool.
This does happen in Denton.