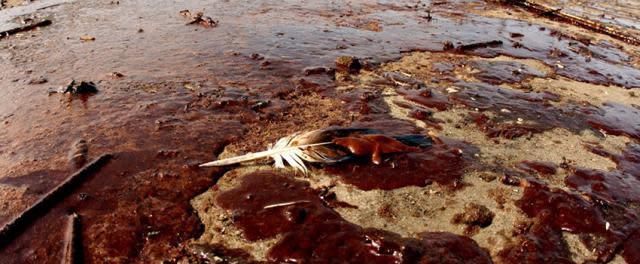 Wednesday in the late afternoon, I ventured to the Campus Theatre to get my first taste of Thin Line Film Fest. It was my first time to see anything at the Campus Theatre, actually, and it really was an experience. Out of all the documentaries slated for this year's 10-day-long film festival, there were a few that piqued my interest, and a few that I heard friends rave about how great they were. This made me a little sad since I'd missed them, but it encouraged me that I really needed to go check it out for myself. The documentary Beyond Pollution was at the top of my list, and I am so glad I got to go see it.
I am already a documentary fan. Especially lately, I've been watching more and more documentaries. I love that watching a doc is more of an intellectual experience, and at the end, you leave feeling like you've gained so much knowledge.
Beyond Pollution is a thorough and in-depth uncovering of the BP oil spill that caused so much devastation along the Gulf of Mexico. Filled with interviews of key experts, fishermen, government officials, BP contractors, and more, the doc gives you a well-rounded look at how this tragedy affected so many people and wrecked the environment. Before going to see this doc at Thin Line, I didn't know much of the details regarding the oil spill. I just remember that when it happened, I thought about my aunt that lives in Gulf Shores, Alabama and just wondered how bad it was and hoped that everything was alright. I think what got the most media attention was how bad it was for the sea creatures and the environment, but I didn't really think much about the people that live there, their health, and their means to make a living.
We all know pollution is bad. But lots of us don't think about what we can do on an everyday basis to help. I loved that SCRAP Denton was the sponsor for screening this documentary. Before the movie started, Donna Gregory, the director of SCRAP, got up to tell us about the creative reuse center. SCRAP is a non-profit and takes donations- everything from leftovers from an art projects like paints and paintbrushes to fabric, glass jars, and office supplies. When people donate and buy what they need for projects from SCRAP, they're preventing these things from otherwise being thrown away and causing extra buildup and pollution. They also offer workshops to teach you how to up-cycle and reuse things creatively instead of tossing these things in the trash or recycles. I've been doing a lot of crafting lately, especially with items like glass jars and bottles, so I fell in love with SCRAP from the moment I walked in. But don't take my word for it, check it out for yourself. They're open Wednesdays through Saturdays. Wednesday through Friday, they're open from noon to 6 p.m., and on Saturdays, they're open from 10 a.m. to 4 p.m.
SCRAP has a little bit of everything for everyone. If your kids are looking for something fun to do on the weekend, bring them in for Saturdays at SCRAP, hands-on workshops on Saturdays for kids ages 6-12, teaching them how to create a variety of reuse projects. Or if you like sewing, you'll want to swing by for the Fabulous Fourth Friday Fabric Sale, when you can snag your fabric for half off their already low prices. And there's First Fridays, a great way to kick off the start of the weekend with an evening of art and live music (next one's March 1st!).
Back to Thin Line, if you haven't made it yet, you really ought to go. And if you have been, you ought to go again. There are many different kinds of documentaries, both serious and light-hearted. The next one I'm looking forward to is Backyard Blockbusters, showing on Friday February 15th at 8:30 p.m. The movie highlights "fanfilms" from Star Wars spin-offs to meshing Batman and Predator. I'm a nerd at heart, as is my fianc