This weekend was a perfect storm of Denton culture. Thin Line Film Festival brought internationally acclaimed documentaries and beloved regional music to the backdrop of DENTON basking in perfect weather......This time of the year has presented meteorological nightmares with past late winter fetes, but this year was blessed with heaven.....
Denton's 2014 Thin Line Film Fest, founded by Josh Butler in 2004, began on the first day of last week's weekend......Wednesday. The premier event, a screening of "When We Were All Broncos", set the all-time Thin Line attendance record and also established a high bar for the remaining four days of screenings. The locally-centric documentary delves into the history of race relations in Denton, with an emphasis on desegregation using the 1971 Denton High Bronco football team as a focal point. With most of the key characters of the story in the audience, it was a magical night for Denton.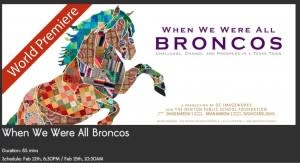 The premier showing of "Broncos" was held in the Thin Line tent which has a maximum occupancy of 430 souls.......it was completely packed, shattering the former record of 299 at last year's opening night. The film was directed by Denton native, David Barrow, class of 1971. The film was again shown to a capacity crowd on Saturday morning, and was so popular, Thin Line scheduled an unprecedented third screening Saturday evening to a nearly sold out Fine Arts Theater. Well-played David and well-played Denton!
The addition of music this year seemed to be a welcome one. I mean, how can you go wrong with Texas music? Over 100 bands played during the 5 day event, with Brave Combo lighting the torch Wednesday night and Slobberbone providing an amazing festival finale Sunday night. The music made Thin Line a larger event, but film was still the heart of the festival.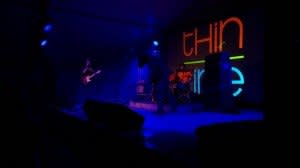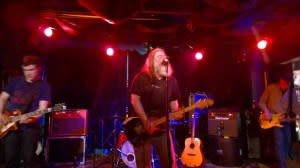 Slobberbone, Thin Line finale
The featured documentaries ranged from funny to inspiring to forgettable (just one) to the very dark. Leaving the DHS Bronco film out of the mix because of emotional attachment, my favorite doc was, as I mentioned before, "Goodness in Rwanda". The film about survivors of the Rwandan genocide watching a play by a Canadian theater group about genocide opened my eyes to the horrors which still occur in the world and the resilience of people who have faced such atrocities.
Living in Denton, it is easy......really easy to overlook the plight of people in other parts of the world. "Caste in Sand" (my very close 2nd favorite) was a reminder of this.........documenting the people of Western Sahara who have live in desolate refugee camps after their land being stolen by Morocco. My new friend, Director Rebecca Robert-Wolfe, did an amazing job of telling the story of these forgotten people. "Antarctica: A Year On Ice" was a film chocked full of awe-inspiring frigid scenery, but really emphasized the other-worldly experience of living year-round in Antarctica........something only 700 people have the privilege to do.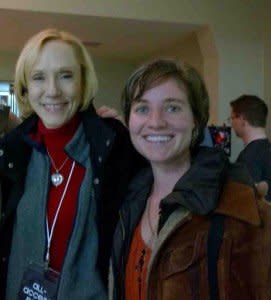 Thin Line's Susan Davis and Director, Rebecca Roberts-Wolfe
"Escaramuza: Riding From the Heart" chronicled a sport I did not know existed..... a female-only rodeo/horse ballet/precision riding circuit which exists in Mexico and the US. This film documented the dedication and sacrifice an American Escaramuza team portray as they resolutely train, prepare, fund-raise and worry about competitive events leading to a dream trip to Mexico to perform as Latina representatives of the US. It was a fascinating film. The final screening of Thin Line was a disturbing film titled "Who Took Johnny". The doc traces the history of the kidnapping of a twelve year old boy named Johnny Gosch and it's continuing aftermath 32 years later. The story chronicles the bizarre tale of the very dark, little-known underbelly of society.
For the most part, Denton is our world. Thin Line Film Festival 2014 brought the rest of the world to us. A window opened for 5 short days and through it, we were able to view and experience things that forced us to think, enlightened us to things before unknown, and made us realize that we live in the greatest small town in America.
Only 363 days until Thin Line 2015!!