After a successful partnership last year, the Denton Convention & Visitors Bureau (DCVB) and the Denton ISD Audio Video Production (AVP) are teaming up once again for another "I am Denton" video contest. These Denton high school students will make short 30-60 second-long videos to tell the story of Denton through the people that embody what our great city is all about. The contest was a great success- it allowed for students to get real experience in producing a video / commercial for Denton, and the DCVB got some creative and unique coverage for Denton out of the contest.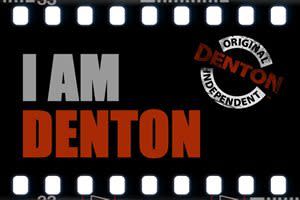 Last year, it was only open to the Denton ISD AVP students. With all the excitement, many people in the Denton community expressed interest in participating as well. So, for the 2013 contest, the students will have their own separate contest, and the public will also now have a chance to submit their own I Am Denton videos.
A panel of judges will determine which videos will take home the prizes for first, second, and third place in both the student submissions and the public submissions. Additionally, a People's Choice award will be given in both the student and public categories to one video in each category that gets the most votes on Facebook. All the videos will be up for voting April 15th through 30th. And after much anticipation, the top videos will be screened at the I am Denton Awards Ceremony on May 7th at the Campus Theatre. That night, the public winners will be announced, and the students will find out who won in their contest on May14th. With film-makers in the attendance and red carpet paving the way, the awards ceremony night will be like Denton's own Oscars.
If you're interested in participating, go to IamDentonVideo.com for all the details. Video submissions will be due by April 12, 2013, so decide who you think would be the best character to highlight in your video and get started to be in the running to win those prizes and have your work showcased by DCVB.