The A-Train will pull into Denton this summer with regular service connecting Denton to Dallas  and points in between via commuter light rail.  Denton has struck gold with Horse Country and the music and art scene and we are preparing to share our treasure with even more visitors from all across the Metroplex and beyond.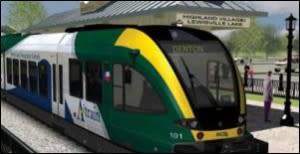 Denton Country Transportation Authority (DCTA) has provided effective transportation to Denton County via bus service since 2001.  The new DCTA rail corridor spans 21 miles  and uses the existing Missouri-Kansas-Texas (MKT) rail line.  Passengers will be able to travel parallel beside I-35 and connect to the Green Line route of the Dallas Area Rapid Train (DART) rail system in Carrollton for rail service into downtown Dallas.
Beginning in June 2011, Dentonites can hop the train in Denton and head south.  No worries about traffic snarls or parking challenges.  And Denton is eager to welcome Dallas and Ft. Worth residents heading north with the same, smooth ease.
Thanks to the University of North Texas and the many "green" environmental initiatives and buildings in Denton, green has been Denton's color for quite some time.  How appropriate that the  DART's Green Line, via the A-Train, will now come all the way to Denton, connecting visitors to the historic Downtown Square, the hottest music scene, festivals, fine arts and Denton's unique dining.
Two of the 5 A-train stations will be located in Denton; one at MedPark Station and the other in downtown Denton next to the Center for Visual Arts on Hickory St. just east of Bell Ave.  Bicycle and pedestrian trails will begin in Denton and extend around all the A-Train stations.  The A-Train makes it easy for cyclists by providing bike racks for parking at the stations and racks in the trains for secure travel between destination points.
To promote its projected June 20 start date, DCTA has scheduled A-Train celebrations at some of the station locations.  The first of these inaugurations will be Saturday, April 2 from 10am to 1pm at the Old Town Station in Lewisville. Attendees will be invited to climb aboard the A-train.  Local fire and police departments will be on hand to share community-wide safety initiatives.  Additional Rail Safety Days are scheduled on May 7 at the Highland Village/Lewisville Lake Station and on May 21 at the MedPark Station in Denton.