Have you ever said "there is nothing to do in Denton"?  I did, when I was new to Denton it seemed pretty normal; just another college town.  Then by some crazy act of randomness I began booking bands and then the crazy title wave of talent and entertainment in this town just blew me away!  The rest is history.  However, I constantly meet people that feel "bored" in Denton.  Even though my immediate reaction is to ask them if they have a pulse, I fight the urge (remembering that not long ago I had no idea about anything here either, and honestly I still feel intimidated when talking to people who are really "in the know"). I usually steer the conversation and cover some of the venues and events around Denton (though I have to admit, perhaps a little too passionately sometimes).  So, let's talk "what's new and happening" at a little venue not far from here.
The "Doggie Biscuit Flower Hour," yes it is a strange name but I promise it is fun!  There is a bar called "Happy's" that has become the birthplace of the "Doggie Biscuit Flower Hour," and we could not be more appreciative of them.  Once a month (the third Thursday of the month to be exact), DentonRadio.com grabs a handful of musicians and we bring them to "Happy's."  We play from 8 until midnight, everything from Red Dirt Country to the Crazy Awesome Rock of 11:40 (the event really has something for everybody).  The best part is that we record the show live and then play it back on DentonRadio.com.  The show is reminiscent of the old-time radio show "King Biscuit Flour Hour," but we decided to change it to "Doggie Biscuit Flower Hour" since the host is our own Bone Doggie (and yes, we spelled flour wrong; I accidentally spelled it the wrong way on some promotional materials and my team thought it would be oh so hilarious to immortalize their amusement with it).
This event is proving to be one of the most fun things we do all month!  It's a great way to showcase Denton music, just outside of Denton. Join DentonRadio.com on Facebook and Twitter for updates about the upcoming "Doggie Biscuit Flower Hours" and be sure to listen to DentonRadio.com to hear the next show!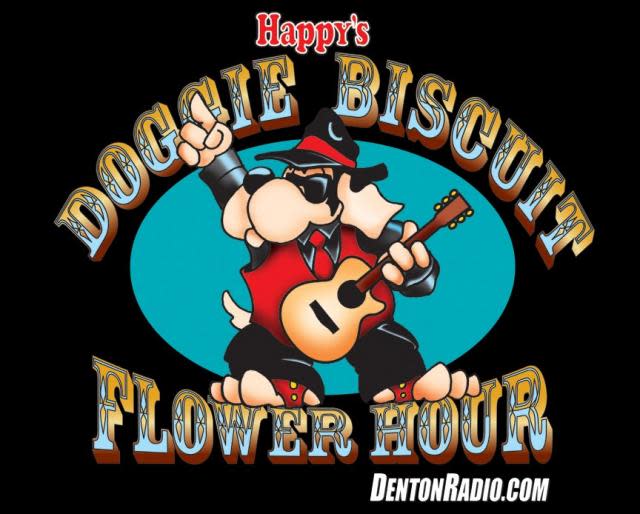 Happy's is located at: 4920 US Hwy. 377 S. #D, Aubrey, TX 76227