Summer in North Texas has been a scorcher this year. But, Denton's music scene will be hot in the coolest way when the North Texas State Fair and Rodeo (NTSF) opens its gates August 19-27, 2011.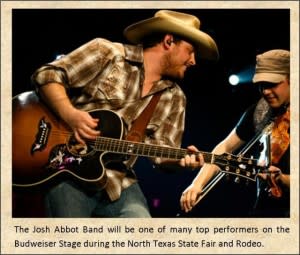 Go ahead and tip your cowboy hat to the rodeo, midway carnival and special attractions. Then scoot your boots to chart-topping music, the real sizzle in the NTSF's nine days and nights of entertainment.  For country music lovers, it is hands-down the best music and the best value for your money!
Concerts these days typically surpass the $100-per-head mark; but, the NTSF has come up with a great country music junkie rate. For only $90 you get all 9 days of the fair, including 20 music concerts. Combine that bargain with Denton's attractive hotel rates and you can turn this event into your family's last summer fling. Check out www.igotleftindenton.com for special hotel packages designed for A-train visitors and pass the word to your friends in the area. It's a steal!
This year's line-up includes top artists like the Casey Donahew Band, Jack Ingram, Pauline Reese, The Josh Abbot Band, Cody Canada and the Departed, and Tracy Lawrence. And if you purchase your tickets on pure, country music faith, you will get a "hum-dinger" of a surprise August 6th when NTSF announces the name of the "Biggest Band in Texas" who will perform on NTSF's Budweiser Stage. Tejano Music fans will want in on the action, too, for cross-over great Emilio Navaira.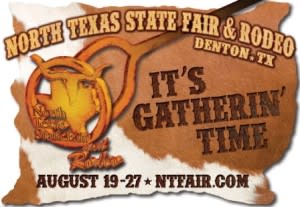 "With savings of $45, this is the best value in fair venues and rodeos anywhere in North Texas," says Nanci Kimmey, Executive Assistant at the NTSF.
It's not just the big names in music that bring the excitement to this year's stages. In Denton, we always keep our eyes on our local music scene, too.  When it comes to "down-home" and "genuine," cowboys like 2011 Ironman Cowboy Champion Colby Yates pretty much sum it up: real cowboys singing about what they know best: working the ranch and winning bull riding competitions. Colby and two-time World Champion Bull Rider Justin McBride are among several cowboys- turned-musicians that will perform on NTSF's Bud Light Stage.
Visit www.NTFAIR.COM for schedule information. And if you want to learn more about who's taking the stage this year, read all about the performers at www.ntfair.com/news. While you're there, go ahead and "like them" onFacebook or follow them on Twitter and be among the very first in Texas to get the top secret announcement of the "the biggest name in Texas Red Dirt Music" scheduled to perform August 26.