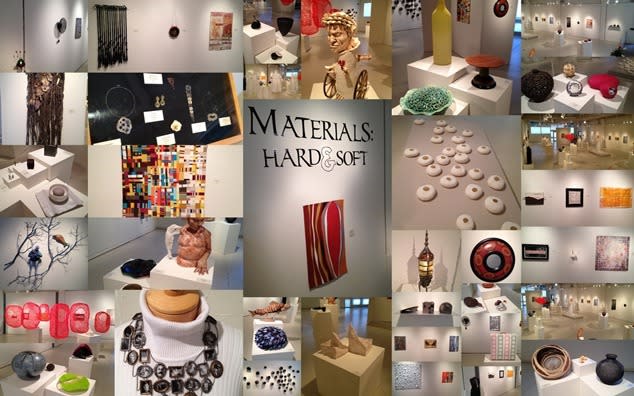 The Greater Denton Arts Council presents the 26th Annual Materials: Hard & Soft National Contemporary Craft Competition and Exhibition.
This exhibition, which has run continuously since 1987, was the idea of local artist, Georgia Leach Gough.  The name,Materials: Hard & Soft, refers to the entire range of fine craft.  This competition and ensuing exhibition still draws the attention of fans of contemporary craft across the country.  In 2006, the Texas Commission on the Arts designated this show as a "must see" exhibition in Texas.  It is one of the premier craft exhibitions in the country. 
The juror this year is Jean W. McLaughlin, executive director of the Penland School of Crafts since 1998. McLaughlin came to Penland after serving 16 years at the North Carolina Arts Council as Director of Visual Arts and later Director of the Office of Statewide Initiatives. She has served on the board of the Craft Emergency Relief Fund, chaired a USA fellowship panel, and served on numerous NEA panels. A native of North Carolina, McLaughlin holds an M.A. in Liberal Studies from the College of Humanities and Social Sciences, North Carolina State University, and a B.A. in Studio Art with an emphasis in printmaking from University of North Carolina-Chapel Hill. She also studied textiles at the California College of Arts and Crafts, NC State University, and Penland School of Crafts. 
This year, we received entries from 207 artists, with a total of 568 pieces. Ms. McLaughlin chose 73 pieces for the exhibition.
As usual, the work submitted stretches the typical definition of craft.  Typically, craft is defined as having a functional purpose to separate it from fine art.  While there may be a reference to a purpose, these artists have stretched the boundaries of the craft definition.  The skill of the artist in manipulating their chosen material is readily apparent.  This opportunity to see first-hand the mastery of technique and manipulation of material draws viewers from many parts of the country.  
The quality of work, as well as the duration of this exhibition, promotes Denton's artistic community.  Drawing exhibitors and visitors nationally advances the perception that for two months Denton showcases the best craft in the country.  The excellent work continues to stretch the boundaries of artistic expression.  
Opening reception is Friday, February 8, 2013, 6:00 – 8:00 pm, recognition of awards at 6:45 pm.
To obtain additional information about the exhibit either visit the GDAC's website, www.dentonarts.com, or call 940-382-2787.