Montgomery:  Denton historian, tourism activist, and former Denton City Councilmember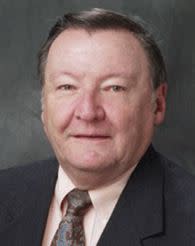 The Texas Historical Commission (THC) has selected Denton historian Robert (Bob) Montgomery out of historians from across the state as the 2011 recipient of the Anice B. Read Award of Excellence in Community Heritage Development. The honor will be presented during a special awards dinner Friday, April1 at the THC's 2011 Annual Historic Preservation Conference in Austin. The Anice B. Read Award of Excellence in Community Heritage Development recognizes exemplary work in downtown revitalization, preservation planning or heritage tourism that promotes the economic impact of historic preservation in Texas. The award is named in honor of Read, former THC commissioner and founder of the award-winning Texas Main Street Program.
"Robert Montgomery's commitment to highlighting and preserving the Lone Star State's historic assets helps save the real places of Texas and the stories they tell," said THC Executive Director Mark Wolfe. "Montgomery's dedication to the historic community of Denton demonstrates how individuals can play an important role in preserving our state's past as well as enhancing its future."
Bob has been active in historic preservation efforts in Denton for more than 30 years. He has been an active proponent of preserving historic landmarks and developing strategies to utilize Denton and Texas heritage to enhance tourism.  He has designed itineraries and led tour groups all over North Texas, passionately helping others experience the essence and mystique of Texas through its heritage, stories, landmarks, and heroes.
One of his most recent projects, the Butterfield Overland Trail, has become an economic boost through tourism for several of the 30 cities that partnered under the THC's Texas Heritage Trails Program to produce print and Internet collateral promoting the Trail and its importance as the first transcontinental mail-route in the U.S., the longest part of which wound its way through Texas, and right through the Denton Square toward the end of its era.
"Bob first broached the Butterfield Trail as a viable tourism product for Denton and for Texas several years ago," said Kim Phillips, Director of the Denton Convention & Visitors Bureau.  "He has worked tirelessly to foster enthusiasm and build the partnership that resulted in an award-winning brochure, a website, and a flexible tour for groups."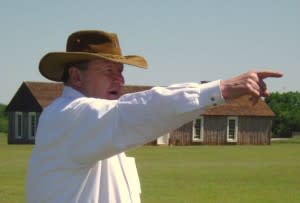 The Butterfield Trail project has been elevated and is now sitting before the U.S. Congress for consideration as the next National Historic Trail, a designation that will infuse even more economic energy in the small and large cities all along the 2,800 mile total route.
Bob is a strong advocate of the Denton Convention & Visitors Bureau, the Denton Main Street Association, the Denton County Historical Commission, and the Texas Takes Trail Heritage Region.  He is known in Denton and throughout Texas as a true community preservation leader in practice and in spirit.
Congratulations, Bob!  Denton is proud of you!