Texas Highways is THE  magazine of Texas travel.  More than a million readers subscribe to this TxDOT produced magazine, so they can receive in full brilliant color suggestions for how they should spend their valuable "time off."   And it is valuable.  In a society of schedules so packed that lunch won't happen if it's not scheduled, time off is our absolute most precious commodity.  Yes, even more than money.
In celebration of its 40th birthday, the September issue of Texas Highways arrived in subscribers' mailboxes and on magazine racks across the state after obviously having some "work done."  Midlife crisis?  Maybe, but it needed to happen.  Welcome to a new, modern, stylish Texas Highways.   Bright and shapely, signs of aging virtually erased,  Texas Highways looks like a million bucks.  Even her voice is lighter, younger, and full of energy.  And she's looking for adventure.
To celebrate the big 4-0, Texas Highways is asking us, the people of Texas, where lies her next adventure to share?  Where are the 40 absolute top destinations in Texas for her to showcase in her newly hipped up pages?  Understandably, she's looking for the places that match her invigorated thirst for something new and different; something original.  Independent.  Are you hearing what I'm hearing?  She's ripe for experiencing Denton and showing her readers what we mean when we say Denton is Original and Independent.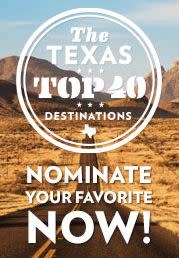 Here's how it works.  Go to texashighways.com.  On the homepage, look right and down just a tad and click on "The Texas Top 40 destinations - Nominate Your Favorite Now."  And then, like Nike says, "Just Do It!"  The 40 cities with the most nominations will win.  Win what?  Win our way into those fresh pages as a Texas Top Destination between January and December 2014 in celebration of the 40th birthday that will last all year!
Making this monumental list will get Denton unbelievable mileage in Texas tourism.  Remember Rand McNally's "Best of the Road" in 2012?  This will be even bigger because you know who the number one traveling market is in Texas?  Texans!  We make up 80% of tourists in Texas just short-tripping around our own state.  And Texas Highways is the Bible for telling us where we want to go and what we want to do when we get there.
Last year, Denton rose to the challenge and used social media and online voting to launch our city into the finals of a national "Best Small Town in America" contest.  Out of more than 750 competing towns, thanks to the engagement of our community on top of the fact that Denton really is awesome (no hard sell there), Denton ended up as the 2nd most fun small town in the United States.  What a huge designation that is reaping rewards still today, nearly 18 months later.  Denton was featured on the Travel Channel, in USA Today, in Rand McNally's various programs and collateral, in newspapers and magazines around the nation - all because we got out there - we the people PUT us out there.  We've been featured on The Daytripper twice, been in the New York Times twice, made Texas Monthly recently, and the list goes on and on.  Dentonites, we can do it again!
What's a little different this time is that we cannot see the nominating and voting results as they roll in.  It's all a big secret that will be unveiled in December.  Until then, we just have to trust each other that we are, every one, going to that website and telling Miss New Texas Highways why Denton must be on that list, must be smack dab in the middle of the 2014 party.
There is a deadline.  October 15.  Every nomination must be in by that date.  Circle it on your calendar.  It's a Tuesday.  And the biggest thing happening that day is Denton coming out of this contest on top.
If we're going to make the list, you have to make it happen.  Put it on your to-do list, or even better, just do it now.  It takes less than a minute to do your part.
Texas Highways is looking for Denton.  Original.  Independent.  Help us make sure she finds us.  Happy Birthday, Texas Highways!
Readers can register their votes through Oct. 15 on Texas Highways' Facebook page or Twitter account, and also via email to letters05@texashighways.com or online at www.texashighways.com/best.