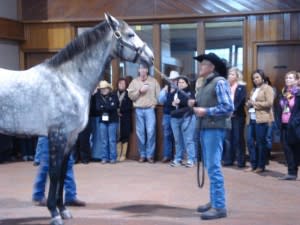 The Denton CVB never lets slide an opportunity to highlight what is perhaps our most unique treasure, the North Texas Horse Country. This past January, the Texas Association of Convention and Visitors Bureaus (TACVB) held their annual Midwinter Conference in Lewisville and the Denton CVB took advantage of the close proximity to invite their peers on a special Horse Country tour to see first-hand the delightfully successful tourism fuss that launched Denton into a tourism league of our own almost 6 years ago.
"While many of our colleagues have seen advertising, promotional campaigns, and various presentations about our equine gold mine, very few have enjoyed the attraction in person. TACVB's Mid Winter Conference was the perfect occasion to show instead of just tell," said Kim Phillips, VP of the Denton CVB.
Close to 40 CVB professionals from across the Lone Star State boarded a luxury motorcoach and were wowed again and again during the 5-hour trek. Denton CVB Sales Director Dana Lodge, winner of the coveted 2010 TxDot Tour Guide of the Year award, served as official tour guide for this important group who would have had it no other way! She delivered her commentary about the history and day to day activities at modern horse ranches with the same passion and enthusiasm that has made her a star in Texas tourism.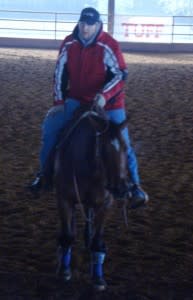 The grand entrance at Valor Farm and the up-close-and-personal introduction to a massive thoroughbred stallion was only the beginning of the tour that proved to be the highlight of the entire conference. The group also visited Tom McCutcheon Reigning Horses where United States Equestrian Federation (USEF) 2010 Equestrian of the Year and Gold medalist at the World Equestrian Games (WEG), Tom McCutcheon himself, treated the group to a special reining demonstration. There were even a few photo opportunities with the 2010 USEF Horse of the year and WEG Gold medal winner, Gunners Special Night.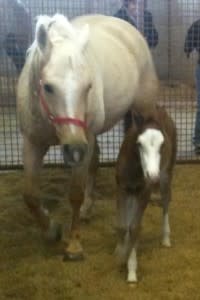 Leave it to the newborn babies to steal all the attention. The group couldn't get enough of a 3 day old foal, the first of the year at McCutcheon Reigning Horses.
"We had this great chance to share how special our main attraction is," says Lodge. "What a reward when our partners couldn't stop telling us all week long how informative, entertaining and FUN the tour was for them!"
The Horse Country Tour is a "must-see" in Texas. One CVB colleague even plans to include her experience on the tour as an article in her own South Texas city's Visitor Newsletter!
The North Texas Horse Country reigns at the top of Texas' hottest attractions.