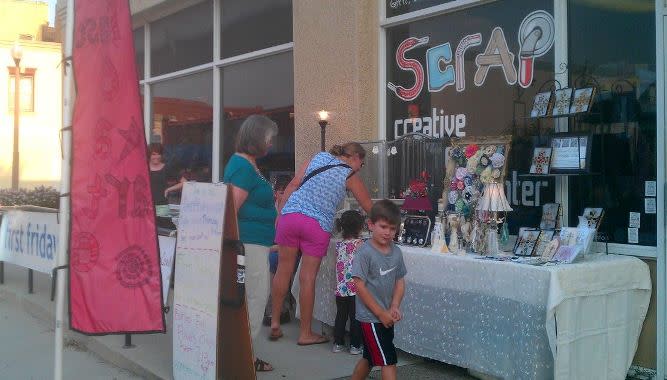 Maybe your kids got some good grades on their report cards.  Maybe it's a rainy day and you're looking for something different from the usual.  Or, maybe you just want to find an inexpensive way to do something special!  What to do around town?
Denton Square Donuts is a great place to visit!  They are open every day, and have happy hour pricing from 2-4 pm.  It's a perfect after school treat.  I got this custom made vegan donut with soy maple glaze, walnuts and pecans with coffee for under $4.  I love that we can get a little something sweet, but also add fresh fruit and nuts for nutrition.
I have a really awesome friend who takes her kids to SCRAP, which is right across the street, when they deserve a little something fun.  She gives each of her girls $1 to spend any way they wish.  Kids love to pick out little note pads, art supplies, origami paper, and fabric for projects.  The things at SCRAP are so modestly priced that you can put together a fun activity without breaking the bank.
Another big family favorite for us is Silver Cinemas in the mall.  For $2 a person (or $1.50 on Tuesdays) you can go see a movie in the theater.  Right now they have four family-friendly movies playing!  At that price, we can usually splurge and get a popcorn to share.
So go on, take a little excursion to celebrate or to add some cheer to a rainy day.  Enjoy the time with the kids, or treat the kid inside you!