We are so fortunate to live in Denton this bustling holiday season!  There are so many wonderful things to do and see for the whole family.  But let's say you want an evening out with the adults.  What then?
This.  Sundown Collaborative Theatre has impressed me again with Said and Done.  I'll admit, I was hooked the minute I read the press release:
The universe as we know it has been destroyed, and all that remains is a single atom containing the remnants of ideas held by humanity.  Life, Death, Faith, Science, Nature and Time constantly desire to be felt, known and understood.
Such a fascinating topic, with just a few actors in a small space.  Could they pull it off?  Yes, indeed.  The juxtaposition of the forces of being created such energy, and they tackled the dualities with humor and thoughtfulness.  I can't say much more, but I do want to mention that the ending was just awesome.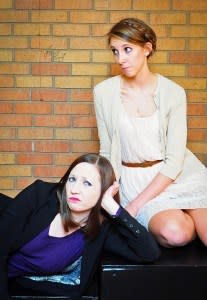 This is the kind of show that keeps us talking about it the next few days.  But then again, we always have that kind of experience with Sundown shows!  So go, watch this, then head out for coffee or drinks at one of the local establishments and discuss.  (We chose the newly opened West Oak Coffee Bar and it was great!)
This show is not for the kids, so leave them at home.  There are three more chances to catch the show, which continues on December 12-14 at 8 p.m. at the Green Space Arts Collective, 529 Malone in Denton.  Tickets are $10 for general admission and $8 for students and seniors.
For more information: (940) 220-9302 or info@sundowntheatre.org.