New to town? Whether you're trying to get fit, stay fit or just stave off the Freshman 15, there are so many ways to keep an active lifestyle in Denton while spending anywhere from NO money to just a few bucks.
Running
This one's easy: just stop by Oak Street Drafthouse on Wednesday nights (currently at 8 p.m., but moving to 7 p.m. starting next week) for the Wednesday Night Social Run, put on by the Denton Area Running Club. It doesn't matter if you're a hardcore marathon runner or something just starting out with running (or even a walker). This weekly 5K is an all-abilities run and it's totally free! Bonus points: for the over-21 crowd, meet up afterwards at the drafthouse and grab a shot just for finishing the run! Then hang out with your fellow runners at one of the best outdoor drinking spaces in Denton and have a cool one before heading back home.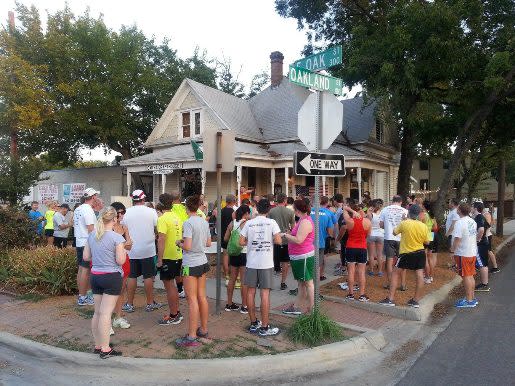 If your Wednesday nights are just slammed, there are plenty of excellent running trails around Denton, for those who would rather run outdoors than inside on a treadmill. At North Lakes Park (2100 W Windsor Dr), there's a 1.3 mile concrete track and a .85 mile dirt track. (There's also a rec center, if you're looking to join a gym.) North Lakes Park also has a plethora of outdoor sporting facilities, such as a driving range, disc golf, tennis courts, sand volleyball, baseball diamonds and more. For a longer running track, check out South Lakes Park (566 Hobson Ln), where there's a 2.37 mile concrete track, a .85 mile dirt track, fishing piers and a basketball court. South Lakes Park is also home to Eureka 2, the new community-built playground.
For trail runners, there's a 1.42 mile trail at Lake Forest Park (1760 E Ryan Rd), which also has the Wiggly Field Dog Park attached, so your canine friends can get their exercise too! For those who want to get out of town for a bit, take a drive out to the Clear Creek Natural Heritage Center (3310 Collins Rd), for several trails, including one that is a 3 mile loop. Or head out to the Greenbelt at Lake Ray Roberts for hiking, biking and water sports!
See the Denton Parks & Rec's website for full details on each park's amenities.
Biking
Prefer two wheels to running? There's some social cycling opportunities here in Denton that are perfect for you.
Make sure you've got a light and get ready for a ride with the Denton Social Cyclists. They do rides starting at 6:30 p.m. for ladies on Tuesdays from Velo Republic, and everyone on their Thursday ride, which leaves from East Side (117 E Oak St) around 7:30 p.m. This ride is between 16-20 miles and is a more fast-paced outing.
For more information, check out the Denton Social Cyclists' public Facebook group.
Other activities
So what if you aren't particularly athletic, but you want to be active? There's still some great activities for all levels to get your blood pumping.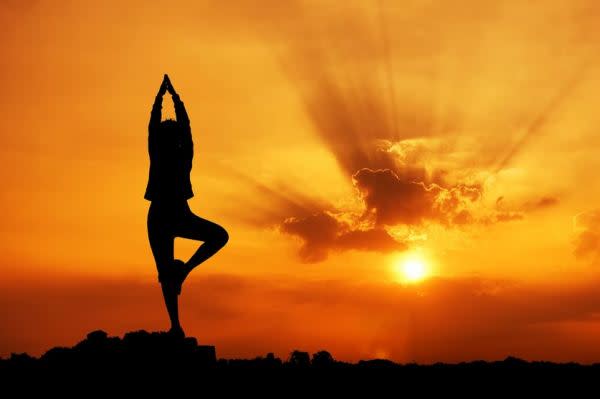 The fabulous yogis at Karma Yoga are all over Denton, offering yoga classes! They have classes on Monday on the Courthouse Lawn (at 6 p.m.), Tuesdays at Springbok Academy (6:15 p.m.), Wednesday at Dan's Silver Leaf (at 3 p.m.) and then Saturday mornings at the Denton Community Market (at 10 a.m.). They have plenty of other awesome classes, at places like Audacity Brew House for as little as $5. Check out their calendar for their full line-up of classes.
Twisted Bodies Pilates & Yoga also does free classes in their yoga studio (709 S Elm). They do a yoga class on Wednesday mornings at the Golden Triangle Mall (at 8:30 a.m.) and then free classes on Sundays at their studio at 1 p.m. You must register for a space on their calendar. Twisted Bodies also offers many other fitness classes, including pilates, total barre and aerobics classes for a fee.
So get out there, Dentonites! Explore this original, independent town, whether it's on foot, on bike or just viewing it between namastes.