It's been difficult to pay attention at my desk today to anything but blue sky and the final preparations for the Thin Line Fest opening this evening.  After days of dreary and cold, the sun is out and our forecast for the foreseeable future looks gorgeous.  My weatherman actually suggested this morning that perhaps the groundhog missed the mark this year because with the exception of a cold day here and there, he thinks spring has sprung.  That is thrilling news!
Here's how I envision my Thin Line experience this year.  I'm heading over for the 6:30 p.m. opening film "When We Were All Broncos" at the Denton Municipal Electric Tent, climate controlled in the parking lot across from the Oak St Drafthouse.  Brave Combo follows the film at the same location.  I'm in for the whole show – film and music.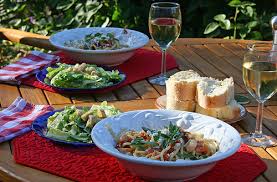 Tomorrow, temps really get pleasant and keep getting warmer and sunnier through the weekend.  I see a film here, some music there, and lots of patio time and alfresco dining in between.  This is my favorite kind of Dentoning!
I thought I knew my doc decisions for tomorrow, too.  But this afternoon, one of my colleagues clued me in to an important nugget of knowledge I had missed in my planning.  Keep Denton Beautiful (KDB) and the Greater Denton Arts Council (GDAC) are two Denton-centric organizations I admire and 100% believe in their purposes.  These two groups have joined up to co-present "Sign Painters" Thursday, February 13, at 8 p.m.  The historic Campus Theatre will host this screening and a portion of the ticket sales will go back to support of these two groups.  This is a can't-miss must!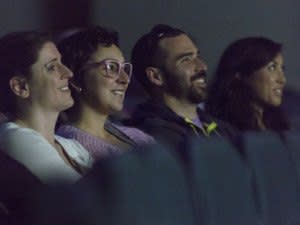 It's one of the things that makes Thin Line so much fun.  The ebb and flow of seeing, learning and sharing feedback after the films spark perpetual Thin Line program re-reads and curiosity shifts.  I don't think the festival has even once unfolded exactly according to my pre-event strategy.  And I wouldn't have it any other way.