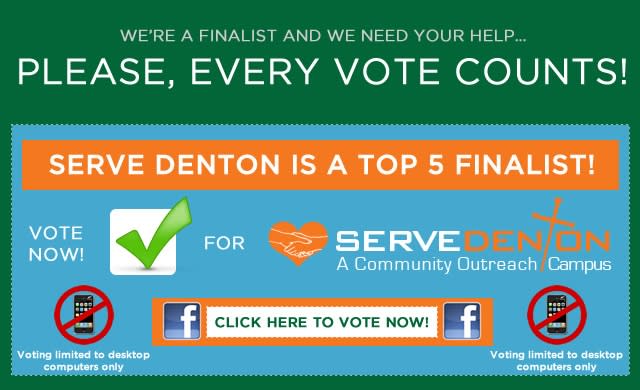 Serve Denton, a local non-profit organization whose goal is to "help nonprofits fulfill their mission and advance the common good of Denton County" is seeking the help of Denton's online community.  A request to install energy-efficient appliances and a 6 kilowatt solar energy system to a local center has landed the organization in WFAA's Project Greencompetition.
Organizations in WFAA's Project Green compete for a $15,000 first-place grant and $5,000 second-place grant.  Serve Denton will be featured on "Good Morning Texas" this Friday, August 10, 2012.  Tune in to watch the organization's representatives discuss how the grant proposal will leverage Denton Municipal Electric's $15,000 solar energy rebate program to install a system that will enable the Wheeler Center to operate with no costs for electricity.
Serve Denton will be featured on the Project Green Facebook page and will rely on votes in the form of "likes" on the page.  The project that receives the most "likes" wins.
Help keep Denton Green and cast your vote to Serve Denton!