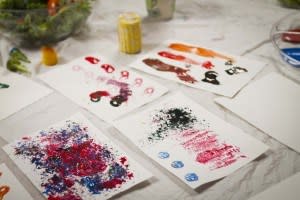 photo by Jessica Power
Coming up on Saturday, April 12 from 1 to 3 p.m. will be the final workshop in the Saturdays in the UNT Art Gallery series.  This time the focus will be on poetry!  Lynn Lewis, a UNT alumna, will lead the workshop for children in grades K-12 and their caregivers.
Lewis is a Fort Worth poet and is the 2012 winner of the Poetry Society of Texas' Edwin M. Eakin Memorial Book Publication Award.  The attendees will also be able to view the gallery's current exhibit, the 54th annual Voertman Student Art Competition.
For those interested in attending this great experience, please send an email to gallery@unt.edu to reserve a space.  The UNT Art Gallery is located at 1201 W. Mulberry St., Denton.  940-565-4316