Have you had a chance to take your family to one of UNT's Saturdays in the Art Galleries event?  The next event is coming up on Saturday, November 8 from 1-3 p.m.
Join art education students from the UNT chapter of the National Art Education Association as they teach children about the art on display, which is the 2014 Annual Faculty and Staff Exhibition.  Then, they will share in a theater activity led by acting coach and former theater teacher Nancy Hendrex Chumbley.  Ms. Chumbley works at Denton Community Theatre's Theatre School, where she recently directed "The Hobbit."  She also taught for 25 years for Argyle ISD.
I took my children and one of their friends to the previous event, and they really enjoyed their time there.  They had a chance to look around at the art and discuss which pieces spoke to them.  Then, they had an interactive lesson with the guest artist before working on their own projects.  It's not often that families will take the time to go into the UNT gallery, so this gives us a great excuse to get in there and see new work.  Plus, the parking is easy on a Saturday, and the event is free!
To RSVP, go here to fill out the new online form.  The gallery is located at 1201 W. Mulberry St. and parking is just outside in the parking lot at Mulberry and Welch.  This event is best for children in grades K-12 and their caregivers.  Hope to see you there!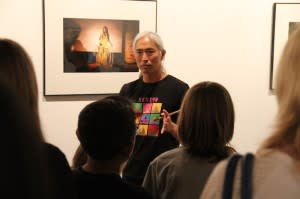 photo by David Herman from the previous Saturday event